Rail Tours in India
Discover the Jewels and Treasures of India by train
There are 12 holidays in this category
India's Golden Triangle & Tiger Safari
This amazing adventure through historic India takes us to some of the glorious country's most exciting sights. On our fascinating journey we discover thriving cities, spectacular forts, and have a chance to see a tiger in the wild, culminating with a night in a 200-year-old palace.
Departs in November 2016 and from January 2017 to December 2017.
Late departures available
SPECIAL OFFER
View Details
India's Golden Triangle
The kaleidoscopic sights of this colourful country take your breath away. Our Indian rail tour takes in the Red and Amber Forts, historic temples, beautiful palaces and ornate gardens, as we visit Delhi, the 'Pink City' of Jaipur and Agra with its white marble icon, the Taj Mahal.
Departs from November 2016 to December 2016 and from January 2017 to December 2017.
Late departures available
SPECIAL OFFER
View Details
To Kerala on the Konkan Railway
Embark on this incredible adventure travelling south along India's west coast by rail. Explore an array of India's most impressive sights, from bustling Mumbai and the old port of Mangaluru, as we travel on the famous Konkan Railway.
Departs from February 2017 to October 2017.
A Royal Indian Odyssey
Discover the heritage of Royal Rajasthan on this Indian odyssey travelling across enthralling India, from Delhi to Mumbai. Delve into the history of the Maharajas, discover centuries of tradition as you visit a traditional village, explore magnificent palaces and the contrasting bright lights of Bollywood, as well as the electric atmosphere of New Delhi.
Departs from March 2017 to November 2017.
Grand Tour of India & Nepal
Explore the ultimate highlights of India and Nepal on this once-in-a-lifetime grand tour which includes some of the world's most beautiful buildings, temples, sights and scenery. We witness colourful and moving ceremonies, take an elephant safari and experience breathtaking views of the Himalaya from Pokhara.
Departs from February 2017 to December 2017.
Kerala & Exotic Southern India
During this truly unforgettable tour of southern India, we visit the cities, temples and tea plantations of the Tamil Nadu region before heading to Kerala. We explore the captivating city of Kochi, relax on Kerala's beaches and cruise through the backwaters of Vambanad Lake.
Departs from February 2017 to November 2017.
The Ganges & the Himalaya
Explore authentic rural life in the villages along the Lower Ganges on this spectacular all inclusive tour. Discover the bustle of Indian cities with tours of Delhi and Kolkata, taste Darjeeling tea in the Himalayas, and visit the iconic Taj Mahal, in addition to a stunning 7-night cruise along the 'reborn' Hooghly River on board the luxurious ABN Rajmahal.
Departs from March 2017 to December 2017.
SPECIAL OFFER
View Details
Darjeeling & the Last Himalayan Kingdom
On this incredible adventure packed with ancient traditions and treasures, we explore colourful Kolkata, before travelling in to the Himalayan foothills and onwards to Bhutan - the sole surviving Himalayan kingdom, shrouded in mystique, and steeped in history.
Departs from February 2017 to November 2017.
SPECIAL OFFER
View Details
India's Palace on Wheels
Magnificent palaces and forts are waiting to be discovered on this Indian rail adventure aboard the Palace on Wheels train. Experience the lifestyle of the Maharajahs as we visit walled cities, marvel at the astonishing Taj Mahal and enjoy tiger spotting in Ranthambore National Park.
Departs in November 2016 and from February 2017 to November 2017.
India & The Undiscovered Himalaya
Explore the ultimate highlights of North India on this once-in-a-lifetime tour which includes some of the world's most beautiful buildings, temples, sights and scenery. We witness colourful and moving ceremonies, the Himalayas painted orange by the sunrise on Tiger Hill and the majesty of Darjeeling and Sikkim, enjoying a journey on the UNESCO listed Darjeeling Himalayan Railway.
Get in touch with one of our India Specialists
Helping you plan your holiday to India...

James

Kathryn

Lori

Phil
An escorted rail tour of India with Great Rail Journeys presents an adventure in a land which is both exotic and, in places, surprisingly familiar. India is a destination that has everything a visitor could want, and delights in sharing its treasures with guests. Journeying by train through India, you'll be enchanted by its magnificent landscapes.
Our India rail holidays reveal other stunning wonders in the form of the country's diverse architecture. From the spectacular UNESCO-listed temples at Mahabalipuram to the spectacular twentieth-century Lotus Temple in New Delhi, India's architectural heritage never disappoints. And, of course, no rail tour of northern India could omit the journey to Agra, site of the most majestic and iconic of all India's buildings. The Taj Mahal, a sublime vision in white marble, is perfectly framed by its immaculate gardens.
It's often the case on an escorted rail tour with Great Rail Journeys that the train travel between destinations is as enjoyable and memorable an aspect of the tour as the destinations themselves. India is no exception. For many of our journeys between India's great cities we travel in air-conditioned comfort aboard the Shatabdi Express; a modern, clean and efficient service that is the pride of its operator. Frequently our India rail tour itineraries feature excursions on truly remarkable trains, such as the Darjeeling Himalayan Railway which ascends almost 7,000 feet into the mountains. At the opposite end of the scale, India's Palace on Wheels is one of the country's most sumptuously-appointed trains and, for our guests, the closest experience to travelling in a luxury five-star hotel. Each of our Indian train holidays is an adventure in itself, and whichever you choose you're assured of an experience that is unforgettable.
Touring India with Great Rail Journeys
India offers our guests a wealth of unmissable highlights and at Great Rail Journeys we want to introduce you to a selection of the most memorable natural, historical, and cultural wonders whilst also providing exceptional value for money.
Our escorted rail tours of India provide an easy, comfortable and exciting way to see this remarkable country, and the price of each includes return scheduled flights, rail and other transport costs, quality accommodation, many meals and an extensive programme of guided sight-seeing tours and excursions.
Escorted throughout your Indian train holiday by our experienced and knowledgeable Tour Manager, you can sit back and enjoy all that India has to offer with the reassurance that expert assistance, advice and information is on-hand whenever it's needed.
You're also assured of a high standard of accommodation in India as we handpick our hotels for their location, comfort, service and value. Whenever possible we like to choose reputable family-run hotels for the personal service they offer and for their relaxing informal atmosphere.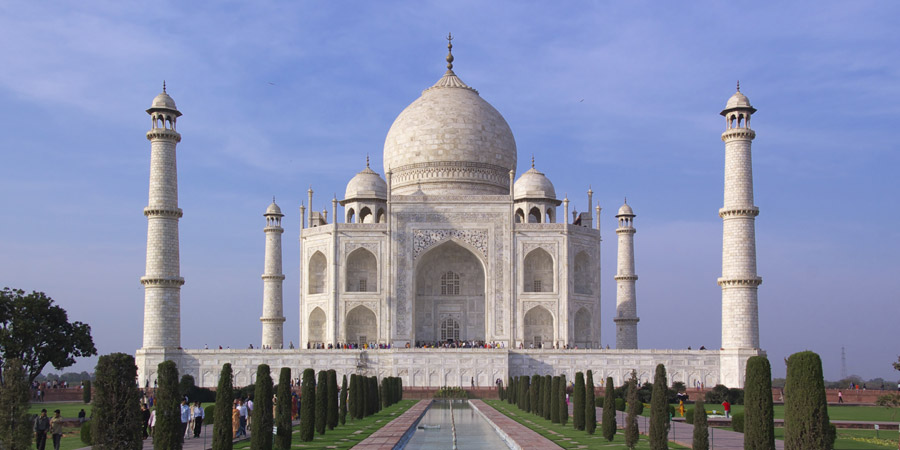 India Traveller's Guide
Home to more than a billion inhabitants, India is the world's seventh largest country and is bordered by Pakistan, China, Nepal, Bhutan, Burma and Bangladesh.
India's history begins with the establishment of the Indus Valley Civilization in the Bronze Age (3300-1300 BC), and the later arrival of Indo-Aryan settlers. These two phases are known as the pre-Vedic and Vedic periods. It is in the Vedic period that Hinduism originated; India's oldest manuscripts, the Vedas, date from this period.
In the fifth century, the emperor Ashoka united large regions of India. His conversion to Buddhism led to the religions adoption in other parts of Asia. During the third-century's Maurya Dynasty the principles, belief systems and behaviours that still inform modern Hinduism were incorporated into the religion.
Islam arrived in India in the eighth century and three centuries later had established Muslim rule over Northern India. In the sixteenth century the Muslims were ousted by the invading Mughal Empire, under which India was unified again and Indian culture flourished. European traders arrived in India the following century, eventually asserting dominance over Mughal-controlled regions and ultimately deposing the empire via military action. This marked the beginning of British colonial rule in India. An initial Indian Rebellion in 1857 failed to restore Indian governance and the country formally became part of the British Empire. It was not until 1947, following the Second World War, that India regained the independence that it still enjoys today.
The majority of India is subject to a tropical climate. Summer, which lasts from April to October is very hot; temperatures in northern and western areas can exceed 40°C (104°F). Monsoon rains fall in June and October and can bring thunderstorms and flooding depending upon their severity. Except in the mountainous regions of northern India which receive snowfall, India's winters are relatively mild with temperatures averaging between 5°C-12°C (41°F-54°F).
India's cuisine has been shaped over centuries by different cultures and civilizations. Although virtually every different region of India has evolved its own distinctive cuisine the common feature that links them all is the generous use of spices. Rice, lentils and chick peas are common ingredients of Indian dishes, with chicken, pork and fish the most popular meats. The spicy heat of southern Indian dishes is often tempered by the addition of coconut milk. Meals may be accompanied by flatbreads including naan, puri, or paratha. Aloo dishes feature potatoes as their main ingredient, whilst paneer is a type of Indian cheese. Chai, a blend of rich black tea, milk and spices, is effectively India's national beverage and is found everywhere.
One of the best pieces of advice when touring India by rail is to carry a cheap pair of sandals with you. Many of India's temples will only allow visitors to enter them barefoot and having a pair of sandals that easily slip on and off saves time and effort.
Indian markets have a thriving bargaining culture. When negotiating with a street merchant never accept the first price you are offered. This could be ten or even twenty times the price they will settle for. In return, offer a much lower bid than you're actually prepared to pay for an item and enjoy a good-natured haggle until you reach a mutually agreeable price.