One of the best-planned cities of the world in its time, Jaipur is the capital city of Rajasthan, popularly known as the Pink City, founded by Maharaja Sawai Singh II in 1727 AD. Following independence, Jaipur merged with the states of Mewar, Bikaner, Jodhpur and Jaisalmer, and became state capital of Rajasthan in 1956. Jaipur is known for its striking buildings and sights, including the magnificent Amber Fort, one of three ancient hilltop forts that dominate the hills above Jaipur, along with the imposing Palace of the Winds, and the fascinating observatory, which consists of fourteen large geometric structures designed for astronomical measurement.
Other destinations and city guides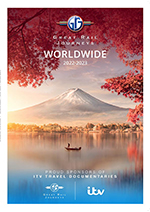 Prefer to browse our brochures!
Sign up to receive one of our Free holiday brochures and our email list to discover more about our fantastic holidays.
Get in touch with one of our Travel Specialists
Helping you plan your holiday...
Lynne
Simon
James