A sacred city of the Hindus, Varanasi is one of the oldest continuously inhabited cities in the world. The city attracts hundreds of thousands of Hindus on pilgrimages; one of Varanasi's most famous sights is the Holy River Ganges - and more specifically, the sight of hundreds of Hindu pilgrims bathing in the river at sunrise in front of one of the many wonderful temples. The banks of the Ganges are lined with 'ghats', the word for the series of steps that lead from each riverside temple to the edge of the water. Varanasi is also famous for the production of fine silk; there are shops, stalls and factory outlets throughout the city. As with any purchase in India, shop around and barter the price down.
Find out more with a free brochure and enjoy weekly travel inspiration and offers in our e-newsletter.
Holiday ideas for Varanasi
Other destinations and city guides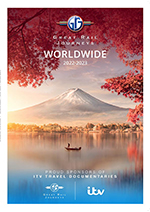 Prefer to browse our brochures!
Sign up to receive one of our Free holiday brochures and our email list to discover more about our fantastic holidays.