Rail Tours in Canada
Canadian Rail Journeys – The Last Wilderness
If you have always wanted to visit Canada but were daunted by the wealth of environments, cities, and sights on offer, why not take advantage of one of Great Rail Journeys' touring holidays and leave the details to us? We know all the best routes to take, the friendliest hotels to stay in, and the most interesting sights to visit.
Ride along heritage routes in world-famous trains, such as the Rocky Mountaineer, The Canadian, and the Ocean, and visit the ice-covered prairies of Vancouver in winter. Rare wildlife, imposing peaks, sprawling forests; Canada is one of the most stunningly beautiful countries on Earth, offering visitors a uniquely visual experience.
Great Rail Journeys is one of the largest specialist tour operators in the UK, and we have been creating first-rate rail holidays for more than thirty years. Whichever tour of Canada you choose, our professional team will ensure that your journey is unforgettable - from the moment you land in this vast country.
Browse our exciting range of tours crossing Canada by train to find one that meets your requirements and start planning your unforgettable journey today. Call 01904 521 936 to speak to one of our specialist Tour Advisors or browse our range of tours below. You can also request a brochure from the menu above.
There are 10 holidays in this category
Canada & the Rocky Mountaineer
From the laid-back city of Toronto to the dramatic Pacific Ocean setting of Vancouver and the natural beauty of Vancouver Island, this incredible adventure takes us across Canada by rail, lifting us high into the mighty Rockies in style and comfort on board the iconic Rocky Mountaineer, one of the world's greatest trains
Departs from May 2017 to September 2017.
SPECIAL OFFER
View Details
Polar Bears of Canada
Discover a wealth of native wildlife in one of Canada's most secluded regions. From the thrill of husky mushing and the chance to witness the Aurora Borealis, to intimate encounters with one of the most majestic creatures on the planet, the polar bear, this tour will provide you with new experiences, each more unique than the last.
Departs in October 2017.
SPECIAL OFFER
View Details
Grand Tour of New England & Canada in the Fall
Experience the fiery vibrancy and spectacular colours of Canada and New England in the Fall on this tour. Wander through magical Stowe on an autumnal stroll, gaze at the inspiring waters of Niagara Falls and explore some of Canada and New England's most famous cities.
Departs from September 2017 to October 2017.
SPECIAL OFFER
View Details
Canada Coast to Coast
Discover the best of Canada on this truly epic journey from Vancouver to Halifax. Travelling on iconic trains across the entire continent of North America, the view outside your window changes every day, from the towering Rockies to the central plains, the great lakes and finally the rugged coastline of Nova Scotia.
Departs from May 2017 to September 2017.
SPECIAL OFFER
View Details
The Canadian in Winter
On this intrepid cross-continental adventure by train, we spend three unforgettable nights in fantastic Toronto, visit the incredible Niagara Falls and travel through the spectacular frosted scenery of the Canadian Rockies.
Departs from February 2017 to March 2017.
Canada's Wildlife and Wilderness
Experience the rugged beauty of Canada, on a tour of the nation's greatest natural features. Watch Canada's vast, enchanting landscapes roll by as we travel on the Skeena Train to Prince Rupert, embark on a privately-chartered expedition to spot black bears in their natural habitat, and search for Orca whales on a wildlife cruise off the coast of Victoria.
Departs from June 2017 to September 2017.
SPECIAL OFFER
View Details
Rocky Mountaineer & Alaska Cruise
Breathtaking mountain scenery in Canada, followed by the dramatic coastline of Alaska, all slowly revealed on this stunning Rockies & Alaska cruise and rail holiday. Snow-capped peaks look close enough to touch, whilst icebergs float by as you cruise along the Inside Passage.
Departs from May 2017 to September 2017.
SPECIAL OFFER
View Details
The Canadian at Christmas
Celebrate the festive season with a fabulous holiday on this famous cross-continental train. We spend three unforgettable nights in fantastic Toronto, visit the incredible Niagara Falls, and stay two nights in cosmopolitan Vancouver. Here we enjoy a wonderfully festive sleigh ride on the snow-capped Grouse Mountain.
Departs in December 2016.
Late departures available
Pacific Coast - Canada to California
Journey along North America's Pacific coastline, travelling from the Canadian seaport of Vancouver, to bohemian San Francisco aboard some of the most iconic railways on the continent. Along the way discover some of the western seaboard's hidden gems such as the popular cities of Seattle and Portland, and the rolling vineyards of California.
The Canadian Rockies and Vancouver
Experience the very best of western Canada on this sensational tour travelling through some of the most scenic routes in the world. Discover this country's most impressive natural wonders, explore the Rockies in style on the renowned Rocky Mountaineer train and unwind in Canada's most desirable city, Vancouver.
Get in touch with one of our Canada Specialists
Helping you plan your holiday to Canada...

James

Julie

Lori

Phil
Experience Canada with Great Rail Journeys
At Great Rail Journeys, we want our customers to enjoy the ultimate travel experience, which is why we make sure all of our Canadian rail holidays provide exceptional value for money.
Included in the price of your holiday are various excursions and sightseeing tours that demonstrate the highlights of each of the destinations you arrive at. Leisure time is built into many of our itineraries, meaning that you can book your own excursions, such as a boat trip to the foot of Niagara Falls or a helicopter flight over Toronto.
On some tour itineraries, you will get the chance to go to the top of the impressive CN Tower in Toronto (one of the tallest free-standing structures in the world) for breath-taking views of the city below. In other locations, such as Quebec, Halifax, and Vancouver, you can take advantage of guided sightseeing tours.
Fine dining is a feature of our Canada touring holidays, and gourmet food is prepared on board our trains by talented chefs, using only the freshest ingredients. Some of our holidays include a memorable dining experience at the Penthouse Restaurant of the Sheraton Hotel, overlooking the thundering Niagara Falls.
On other days, especially when visiting cities, you will be free to choose your own cafés and restaurants, and perhaps even sample some of the Canadian nightlife.
Every last detail of our Canada tours is taken care of on your behalf, and your professional Tour Manager will be on hand to help at all times, whether you have questions about the local area or simply want some pointers on where to visit. However, our Tour Managers are unobtrusive and will let you enjoy your holiday as you please.
At Great Rail Journeys, we make certain that accommodation is selected due to its convenient locality, great value, and range of facilities. The hotels you'll stay in when crossing Canada by train are hand-picked by us. We often choose family-run hotels so that customers benefit from a more friendly and personal atmosphere.
"My wife and I are just about coming down to earth. Did we really do all those things in the past 18 days? It was a trip that we will remember for the rest of our lives."- Mr and Mrs Salmon, Canada and the Rocky Mountaineer
Travel on World-Famous Trains
See the most beautiful scenery through panoramic observation carriages and unabridged domed windows; when you book one of our Canada touring holidays, you can expect to travel on stylish trains that bring some of the world's most breath-taking backdrops right to the comfort of your seat.
From The Canadian to the Rocky Mountaineer and The Ocean, there are several famous trains and railway lines that journey through Canada, connecting Toronto in the east to Vancouver in the west.
The Rocky Mountaineer is an exceptional example, taking in the sights of Banff National Park and Fraser Canyon on its way to Kamloops. Our Canada tours on this superb train occur strictly during the daytime, ensuring that you enjoy the best viewing conditions throughout your journey - all from the comfort of reclining seats.
Our customers with a love for trains will appreciate the romance of travelling in the carriages of the Canadian, which have been restored to their 1950s elegance. You can stay overnight on sleeper trains on some of our Canada railway holidays, waking up to a new destination each morning.
On the Ocean service and The Canadian, guests are provided with their own fully-serviced cabin, complete with WC and armchairs that convert to comfortable beds at night. All cabins are tastefully-decorated.
The staff on board our trains serve complimentary drinks and snacks to your seat, and also provide a commentary on the landscapes as you pass through. A newspaper is available on some of our trains, which lists much of the flora and fauna that can be seen on the journey, as well as detailing any places of interest.
"This tour had been on my wish list for a while and I was not disappointed; in fact, it exceeded my expectations. I cannot praise the holiday enough."- Ms Cole, The Canadian at Christmas
Canada Traveller's Guide
As the second-largest country in the world (after Russia), Canada boasts a wealth of diverse landscapes, from the stark beauty of the glacier-hewn valleys to the lush forests surrounding Maligne Lake. Striking in any season, Canada's natural environment is immediately memorable - and best appreciated by rail.
Take a tour of Canada with us to Winnipeg, Edmonton, and the Jasper National Park; cross the Coastal Mountains to the Pacific Ocean, and unearth some of the country's most picturesque gems along the way. On your journey, don't forget to keep an eye open for the country's iconic wildlife, such as the grizzly bear, beaver, wolf and moose.
Canada's combination of contemporary architecture, vibrant nightlife, and incredible scenery makes travelling through the country an irresistible prospect for many people. On our Canada railway holidays, you will be given the chance to learn about the rich history and diverse cultures that make the locals so proud of their heritage.
Explore Banff and Jasper National Parks and marvel at the impressive Icefields Parkway. The latter destination, a 140 mile road flanked by verdant trees and towering mountains, is one of the country's most treasured gems, and lies within the Canadian Rocky Mountain Parks UNESCO World Heritage Site.
There are many ways to experience a tour of Canada with Great Rail Journeys. Join us on our epic Coast to Coast tour, which takes you on a memorable journey west from Vancouver to Halifax, some 6,000 miles. Alternatively, you may prefer to travel from Toronto to Vancouver at Christmas, when crisp snow blankets the land.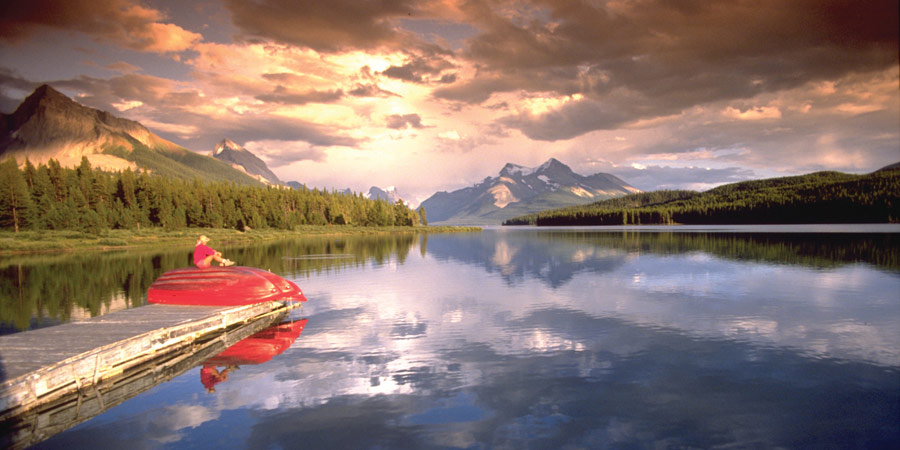 Experience an alternative perspective of this awe-inspiring country when you book a Rockies and Alaska cruise. This unique tour, which takes advantage of both sea and overland routes, offers a rewarding way to explore the glaciers, plunging fjords, and inlets on the west coast of North America.
Meet like-minded travellers and perhaps even make lifelong companions when you embark on one of our outstanding Canadian rail holidays.