Québec City is the only fortified city north of Mexico City. The area celebrated its 400th anniversary in 2008, having been founded by French explorer Samuel de Champlain in 1608. Few cities in North America have reached this milestone.
When Champlain chose the location of his settlement he named it 'Kébec', which was an indigenous word meaning 'place where the river becomes narrow'. During the 17th and 18th centuries, Québec City was the centre of New France and its enormous territory, which at the time covered all of Eastern Canada, the Eastern United States, the Great Lakes and Louisiana, extending from Hudson's Bay in the North to Florida in the South.
Find out more with a free brochure and enjoy weekly travel inspiration and offers in our e-newsletter.
Holiday ideas for Québec City
Other destinations and city guides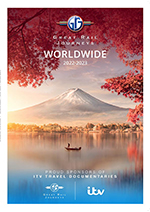 Prefer to browse our brochures!
Sign up to receive one of our Free holiday brochures and our email list to discover more about our fantastic holidays.