North America
Discover the USA & Canada by Train
If holidaying in North America poses one problem, it's 'where to begin'? North America possess a daunting variety of fabulous towns and cities to visit, man-made and natural wonders to marvel at and pleasureable activities to partake in.
Planning an itinerary which captures the highlights of either the USA or Canada, seamlessly integrates all necessary accommodation and transport and is guaranteed to please everyone can be a logistical nightmare.
A far better plan is to let Great Rail Journeys do all of the hard work for you. Specialising in the provision of quality escorted rail tours for more than thirty years, we offer unforgettable rail holidays in the USA and rail tours of Canada.
Whether your dream is to take the rail trip of a lifetime traversing America coast to coast by train, have your breath taken away by the sublime and dazzling scenery of Canada's Rocky Mountains, sample the bright lights of Las Vegas in the Nevada Desert or the thrilling rush of the Niagara Falls in southern Ontario, we have the perfect rail holiday in North America for everyone.
Travelling in comfort and style on some of the USA's and Canada's most iconic trains and railways, you're guaranteed to enjoy a rail holiday that's packed with the best scenery, wildlife, landmarks, towns and cities and cultural experiences. All you have to do is relax and enjoy.
There are 25 holidays in this category
USA Coast to Coast
Experience a once-in-a-lifetime coast to coast rail journey across the most diverse country in the world! Your photo album will include many of America's highlights including the Statue of Liberty, the White House, the Wild West, the Rockies, the Grand Canyon, Hollywood Boulevard and the Golden Gate Bridge.
Departs from April 2017 to October 2017.
SPECIAL OFFER
View Details
New England in the Fall
Spectacular colours and beautiful mountain scenery come together on an autumn adventure along America's East Coast. We stay in Cape Cod, Boston and the White Mountains, experiencing the region's terrific scenic railways on a seasonal tour that brings out the very best of stunning New England.
Departs from September 2017 to October 2017.
SPECIAL OFFER
View Details
The Trans-American Rail Tour
Wake up in the city that never sleeps at the end of this epic adventure. This once in a lifetime journey takes you to some of America's most famous sights including Alcatraz, the Las Vegas strip, the Grand Canyon and Niagara Falls, and travels on some spectacular railroad excursions, including the Grand Canyon Railroad.
Departs from April 2017 to September 2017.
SPECIAL OFFER
View Details
Tracks of the Deep South
Historic tracks lead us on a rail tour through the heartland of great American music - from Nashville, home of Country Music, to the Blues, Soul and Rock 'n' Roll of Memphis and the jazz of New Orleans. Then enjoy an unforgettable private dinner and performance with a member of the Cash Family.
Departs from February 2017 to October 2017.
SPECIAL OFFER
View Details
Las Vegas & the Golden West
Awe-inspiring scenery at the Grand Canyon and Yosemite contrasts with the glitz and glamour of Las Vegas on this truly sparkling holiday. Combine that with the charming towns and pretty scenery of the Golden State, stunning scenic daytime railway journeys, the Grand Canyon and the magic of Hollywood for a truly unforgettable experience.
Departs from April 2017 to October 2017.
SPECIAL OFFER
View Details
Canada & the Rocky Mountaineer
From the laid-back city of Toronto to the dramatic Pacific Ocean setting of Vancouver and the natural beauty of Vancouver Island, this incredible adventure takes us across Canada by rail, lifting us high into the mighty Rockies in style and comfort on board the iconic Rocky Mountaineer, one of the world's greatest trains
Departs from May 2017 to September 2017.
SPECIAL OFFER
View Details
Polar Bears of Canada
Discover a wealth of native wildlife in one of Canada's most secluded regions. From the thrill of husky mushing and the chance to witness the Aurora Borealis, to intimate encounters with one of the most majestic creatures on the planet, the polar bear, this tour will provide you with new experiences, each more unique than the last.
Departs in October 2017.
SPECIAL OFFER
View Details
Grand Tour of New England & Canada in the Fall
Experience the fiery vibrancy and spectacular colours of Canada and New England in the Fall on this tour. Wander through magical Stowe on an autumnal stroll, gaze at the inspiring waters of Niagara Falls and explore some of Canada and New England's most famous cities.
Departs from September 2017 to October 2017.
SPECIAL OFFER
View Details
Canada Coast to Coast
Discover the best of Canada on this truly epic journey from Vancouver to Halifax. Travelling on iconic trains across the entire continent of North America, the view outside your window changes every day, from the towering Rockies to the central plains, the great lakes and finally the rugged coastline of Nova Scotia.
Departs from May 2017 to September 2017.
SPECIAL OFFER
View Details
Premium USA Coast to Coast
Experience the USA in style on this enhanced version of our successful USA Coast to Coast tour, staying in many unique hotels entangled with key moments in American history. Take in the Rockies by rail, enjoy a dinner cruise around the San Francisco Bay and view the Grand Canyon by air.
Departs from April 2017 to September 2017.
SPECIAL OFFER
View Details
Get in touch with one of our North America Specialists
Helping you plan your holiday to North America...

Kathryn

James

Julie

Lori
Explore the USA and Canada with Great Rail Journeys
Whilst exploring the USA by train or enjoying your rail holiday in Canada, you will be joined by one of our experienced and helpful Tour Managers, who will answer any questions you may have.
Our dedicated team of travel experts goes to great lengths to produce rail tours of Canada and the USA that not only offer a wide variety of pleasureable and memorable experiences but which also represent the best possible value for money.
The price of your rail holiday in North America includes all flights, accommodation, rail and other travel and a number of excursions and sightseeing tours that demonstrate the highlights of each of your tour's destinations.
Leisure time is also built into our itineraries, giving you the freedom to add your own activities such as a boat trip to the foot of Niagara Falls, a stroll along Hollywood's iconic Walk of Fame or a helicopter flight over Toronto. Alternatively you may simply choose to relax and enjoy your hotel's facilities.
At Great Rail Journeys, we hand-pick accommodation that is suitably located and offers excellent value, facilities and service. Whenever possible we choose hotels that are locally run so guests can enjoy a more personal atmosphere. Sometimes, accommodation can be a highlight of the tour for example, selected tours in the USA include a night aboard the RMS Queen Mary.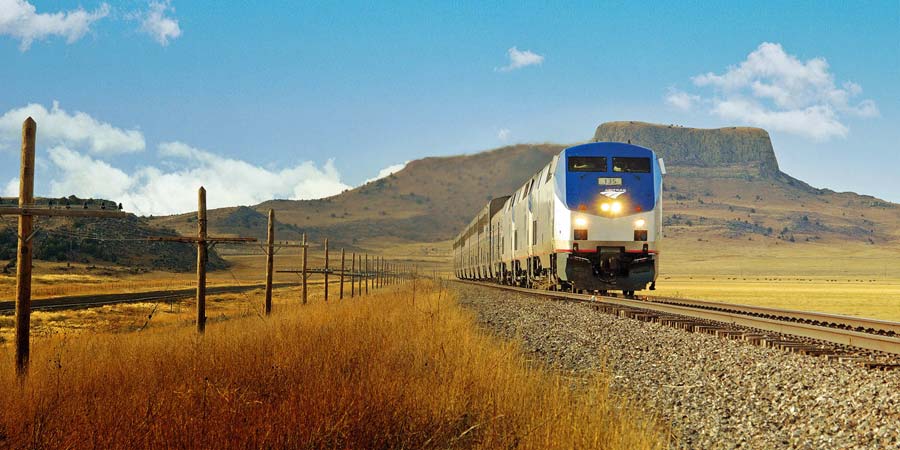 Our professional staff are very familiar with the places you will visit and know all the essential details, from must-see places to the best eateries in town. Local guides are also used on a variety of activities and are happy to share their knowledge of the immediate area and its attractions.
The Rail Heritage of North America
North America's railways have come a long way since the days of the 'iron horses' that traversed the old Wild West. Modern, comfortable and fast railways create a network that reaches almost anywhere on the continent that a traveller might wish to visit.
The Rocky Mountaineer
Carrying upwards of 100,000 passengers a year, the Rocky Mountaineer has earned a well-deserved reputation for offering the most comfortable and pleasureable means of viewing Canada's famous and spectacular Rocky Mountains.
Passengers can relax and enjoy spacious reclining seats, air conditioning, an at-seat service of complimentary drinks and snacks and an on-board commentary, as they are treated to some of the most magnificent scenery on earth from their window. An open-air viewing platform at the rear of the train brings the spectacle even closer and is the ideal spot from which to take photos.
The Grand Canyon Railway
One of the USA's most famous and celebrated natural phenomena, the Grand Canyon needs no introduction. Its namesake railway, which makes the sixty-four mile journey from the town of Williams, Arizona to the canyon's southern rim, was inaugurated in 1901.
Abandoned and in disrepair by the 1960s the railway was eventually rescued and lovingly restored as a heritage line. As the train's beautiful vintage locomotive and carriages pass through Arizona's breath-taking landscapes, passengers are entertained by singers and also witness an attempted train robbery and shoot out performed by actors.
American Pullman
The name Pullman is synonymous with luxury train travel. Based in Chicago, the Pullman Rail Company was established in 1897 and became famous for its lavish Art Deco-styled trains and impeccable standards of service. Although the Pullman Company went out of business in the 1980s its legacy lives on courtesy of the authentically restored American Pullman train that runs between Chicago and New Orleans. Returned to its former glory in every detail, this exquisitely furnished and decorated train offers passengers a nostalgic journey back to America's golden era of luxury rail travel.
About North America
Occupying almost five percent of the earth's surface, North America is the third largest continent. Accounting for the majority of North America's area, The USA and neighbouring Canada, share many of the same attributes - varied landscapes of ravishing natural beauty, iconic cities and rich cultures and histories - which make them endlessly enjoyable and rewarding to explore. Side by side, however, if the USA is imagined as the world's greatest theme park, Canada must surely be its best adventure playground.
Canada spans six time zones, such is its size, but every inch of space beyond its towns and cities is occupied with vast, breath-taking landscapes. The country boasts thirty-seven National Parks and a further eight National Park Reserves which between them cover every kind of terrain from grasslands to glaciers. This makes Canada an unrivalled destination for all kinds of outdoor activities from hiking and wildlife-spotting to snow-sports and mountain climbing.
Canada's climate is as varied as its scenery and will differ depending upon location. In summer, the western prairies tend to be hot and dry, central and southern areas experience humidity with the heat, whilst coastal areas remain milder. Spring and autumn are both generally temperate throughout Canada although rainfall is greater in the west. Winters can be extremely cold and snowy with temperatures commonly dropping below -20°C.
It's difficult to imagine a visitor that the USA doesn't cater for. Like Canada, the country is blessed with areas of magnificent scenery and natural wonders, but the USA's colourful and diverse history, culture and entertainments are equally compelling. Music lovers, wildlife-spotters, sports fanatics, sun-worshippers, gastronomes and culture buffs will all find plenty to delight them in the USA but for those who want it all, there could be few better ways to experience a little of everything that the country has to offer than by making the legendary journey from coast to coast.