Rail Tours in the USA
Discover the United States by Train
Known as much for its bustling cities as its wild, dramatic landscapes, the United States needs no introduction. The Statue of Liberty in New York, San Francisco's Golden Gate Bridge, and the White House in Washington DC are recognisable even to people who have never visited this awe-inspiring country.
Take in Mann's Chinese Theatre in Hollywood or witness the cosmopolitan splendour of the Big Apple; ponder the history of the infamous Alcatraz on the West Coast or discover spectacular natural phenomena like the Grand Canyon; every one of our USA rail tours is designed to make your holiday as enjoyable as possible.
There are 29 holidays in this category
Tracks of the Deep South 2015
Historic tracks lead us on a rail tour through the heartland of great American music - from Nashville, home of Country Music, to the Blues, Soul and Rock 'n' Roll of Memphis and the jazz of New Orleans. Walk in the footsteps of legends and enjoy fine Southern hospitality.
Special Offer
SECURE YOUR 2015 HOLIDAY FOR A LOW £100PP DEPOSIT
The Trans-American Rail Tour 2015
Wake up in the city that never sleeps at the end of an epic adventure across the most diverse country in the world. This once in a lifetime journey takes you to some of America's most famous sights including Alcatraz, the Las Vegas strip, the Grand Canyon and Niagara Falls, and travels on some spectacular railroad excursions.
Special Offer
SECURE YOUR 2015 HOLIDAY FOR A LOW £100PP DEPOSIT
USA Coast to Coast - Departing London 2015
Experience a once-in-a-lifetime coast to coast rail journey across the most diverse country in the world! Your photo album will include many of America's highlights including the Statue of Liberty, the White House, the Wild West, the Rockies, the Grand Canyon, Hollywood Boulevard and the Golden Gate Bridge.
Special Offer
SECURE YOUR 2015 HOLIDAY FOR A LOW £100PP DEPOSIT
Las Vegas & the Golden West 2015
Awe-inspiring scenery at the Grand Canyon and Yosemite contrasts with the glitz and glamour of Las Vegas on this truly sparkling holiday. Combine that with the charming towns and pretty scenery of the Golden State, scenic daytime railway journeys and the magic of Hollywood for a truly unforgettable experience.
Special Offer
SECURE YOUR 2015 HOLIDAY FOR A LOW £100PP DEPOSIT
America's Great National Parks 2015
An oasis of spellbinding scenery and memorable experiences await on this enthralling tour of America's great natural gems. From cosmopolitan Chicago to breathtaking Mount Rushmore, tour the best of the best of Wyoming and Yellowstone, explore Salt Lake City, journey on the world's highest cog railway and discover the magical desert landscapes of Colorado.
Special Offer
SECURE YOUR 2015 HOLIDAY FOR A LOW £100PP DEPOSIT
Premium USA Coast to Coast 2015
Experience the USA's wide-ranging attractions in style on this enhanced version of our successful USA Coast to Coast tour, staying in many unique hotels entangled with key moments in American history. Sample Waldorf Salad in the hotel where it was invented, take breakfast at the top of Chicago's Hancock Tower, and view the Grand Canyon by air.
Special Offer
SECURE YOUR 2015 HOLIDAY FOR A LOW £100PP DEPOSIT
California's Parks & Pacific Coast 2015
From Seattle to Los Angeles, we discover America's west coast on this spectacular adventure by rail. We visit dramatic Yosemite National Park, marvel at California's golden coastline from the Coast Starlight, experience the bohemian cool of San Francisco, relax on Lake Tahoe and enjoy a taste of Hollywood in Los Angeles.
Special Offer
SECURE YOUR 2015 HOLIDAY FOR A LOW £100PP DEPOSIT
Classic American Railroads 2015
There are three iconic Amtrak journeys on this epic adventure across America. We also enjoy a dinner cruise around Manhattan and a lunch cruise on Lake Michigan, as well as a dinner jazz cruise on a Mississippi steam boat, 22 meals in total during the tour and a live Broadway show.
Special Offer
SECURE YOUR 2015 HOLIDAY FOR A LOW £100PP DEPOSIT
America's Founding History 2015
Discover some of the most pivotal moments in the history of the world's largest superpower, the United States of America. From the hardships of the pioneers, who came to colonise an unknown land, through the Revolutionary and Civil wars, to the founding fathers and the creation of the US constitution. America's history may not be long, but it is most certainly captivating.
Rockies & Alaska Cruise 2015
Breathtaking mountain scenery in Canada, the craggy coastline of Alaska, and the attractions of cosmopolitan Vancouver are all slowly revealed on this stunning Rockies and Alaska rail and cruise holiday. Snow-capped peaks look close enough to touch, whilst icebergs float by as you cruise serenely along the Inside Passage.
Special Offer
SECURE YOUR 2015 HOLIDAY FOR A LOW £100pp DEPOSIT
Travelling to the USA with Great Rail Journeys
At the heart of each of our escorted USA tours is a programme of excursions chosen for their particular social, historical, or cultural interest. These short expeditions range from journeys on heritage railways to steamboat cruises along the mighty Mississippi. For example, some of our American tours include visits to Mount Washington Cog Railway in New Hampshire and Martha's Vineyard in New England.
When exploring the USA by train, you will be joined on your journey by one of our experienced Tour Managers, who will answer any questions you may have. Our professional staff are very familiar with the places you will visit and know all the essential details, from must-see places to the best eateries in town.
Tour Managers understand the traditions of the American people and can help unravel the social idiosyncrasies of any location on your route, such as tipping in restaurants - in many cases, the gratuity - usually 10% - will be paid for you by the Tour Manager, leaving you to enjoy your holiday.
Local guides are used on a variety of activities to share their knowledge of the immediate area and its attractions. Guests also have plenty of free time for exploring independently on our USA rail holidays, or to enjoy the amenities of their hotel.
Accommodation, flights, rail travel, and excursions are all included in the price of your holiday. The comprehensive nature of our great value itineraries means that our customers have little extra to pay whilst they are travelling through the USA.
Flights to North America depart from London but there may be the option to fly from Manchester, and seats are provided in Economy Class with the possibility of upgrading to Business Class or First Class for an extra supplement. However, you should discuss this with your agent when booking one of our USA rail tours.
Accommodation is chosen because it offers value for money, excellent service, and a good location. Whenever possible we pick hotels that are locally run so guests can enjoy a more personal atmosphere. Often, accommodation can be a highlight itself; for example, selected tours of the USA by rail include a night aboard the RMS Queen Mary.
"We couldn't have had half the experience under our own steam. The itinerary was chosen judiciously to take in all the 'must sees' in the states we visited."- Mr and Mrs Pugh, Las Vegas & the Golden West
Our USA Trains
The infrastructure that connects the Atlantic and Pacific coasts of the United States is one of train travel's greatest achievements, and our escorted America tours are set up to take advantage of this heritage. Our trains have lounge chairs positioned to provide the best views, all in air-conditioned comfort.
For long distance travel, our USA train tours use the legendary Amtrak trains, including the Coast Starlight and the California Zephyr. On our themed railway excursions, nostalgic carriages and uniformed staff evoke the same elegant atmosphere of the golden age of rail travel.
The cabins on our American routes are comfortable and practical with two reclining seats by day and double bunks by night. Upgrading provides a larger room and an extremely generous lower bunk. Overnight journeys through North America are in Superliner roomettes.
On-board dining is provided in the buffet carriage. A range of snacks and sandwiches is also available on our trains. The American predilection for caffeine means that customers on our America rail holidays can always enjoy a cup of quality coffee on their journey.
In addition, fresh towels and complimentary water are available to travellers on our USA holidays, with a shower and W.C in the carriage.
"The organising ability and friendliness of our Tour Manager greatly helped to make the holiday so enjoyable."- Mr and Mrs Berry, West Coast and Yosemite
Discover the United States of America
The United States is one of the most environmentally diverse places on earth; the dry climate of the Deep South - Texas, Georgia, Alabama, etc. - stands in stark contrast to the serene, snowy landscape of Alaska and the tropical wetlands of the Everglades in southern Florida.
As part of our brochure of USA holiday packages, Great Rail Journeys offer you the chance to explore as little or as much of North America as you would like.
In the northeast, our escorted tours in New England introduce the passenger to the most incredible sights at times when they are at their most extraordinary; in this case, the autumn, when the local forests are aflame with colour. Visits to Boston, Cape Cod, and the stunning White Mountains are also included on some of our tours of the north-eastern USA.
The Midwest, inclusive of Illinois, Indiana, and the rolling plains of Kansas, is home to an array of awe-inspiring monuments and natural attractions. Chicago and Detroit are arguably the most well-known settlements in the region, and passengers on our USA tours can experience the 'Windy City' for themselves with a trip up the 103-floor Willis Tower.
The West Coast of America is the location of such memorable places as Seattle, Santa Barbara, and the Napa Valley. The latter destination benefits from a Mediterranean climate, and is famous throughout the United States for its wine. The granite cliffs of Yosemite National Park can also be found here on the West Coast, close to Sacramento.
Moving south, the city of New Orleans in Louisiana is regarded by many music fans as the home of jazz. Equally, Nashville in Tennessee has a rich history in country music, and lays claim to the world's largest music museum - as well as the world-famous Jack Daniel's Distillery, a popular destination with USA rail travel enthusiasts.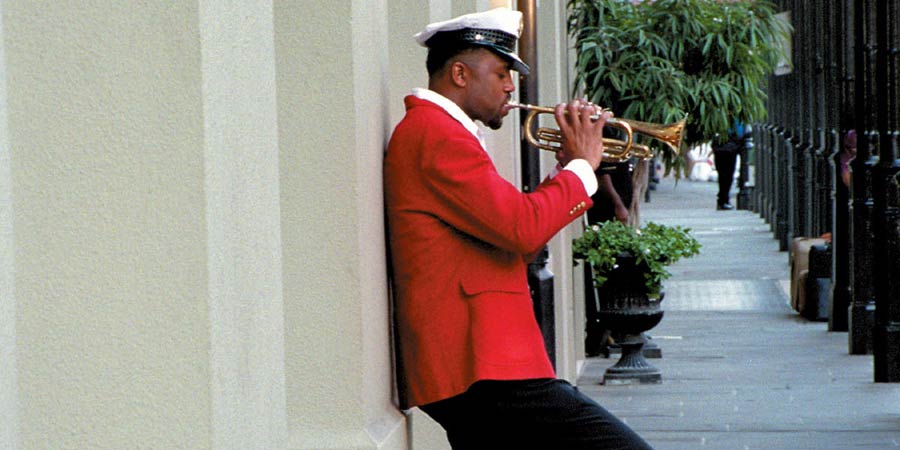 Visits to Elvis Presley's Graceland and the Lookout Mountain Incline Railway - the world's steepest passenger railway, climbing to an incline of 72.2 percent - also feature in some of our USA rail holidays.
Standing apart from the mainland United States, Alaska is the country's largest state but the least densely populated. Towering fjords and unspoilt scenery, as well as wildlife such as bears, beluga whales, and bald eagles, combine to ensure our USA rail holidays are a memorable experience for guests.