Set on the shores of the vast Lake Michigan, the 'Windy City' of Chicago is the capital of the state of Illinois. The area was first settled by Europeans in the early 19th century, though by 1830 it still had a population of just fifty. However, it was able to develop as a centre for trade with the more established East Coast cities; when the railway reached it in 1848, Chicago soon became the largest railway hub in the world. By 1900, the city was home to more than two million people, and it is now the third most populous city in the USA.
Today, Chicago boasts a magnificent skyline along with many highly-rated museums, restaurants and cafés. Naturally for such a large city, there are a range of diverse activities to be enjoyed here. The 110-storey Willis Tower was the world's tallest building on its completion in 1974, and has a great observation deck for views over, on a clear day, four states - Illinois, Michigan, Wisconsin and Indiana.
Find out more with a free brochure and enjoy weekly travel inspiration and offers in our e-newsletter.
The nearby Hancock Centre also offers fantastic views of Chicago, with some excellent refreshment facilities at the top. Millennium Park, with its interesting sculptures, is also worth a visit. Boat trips (with guided commentary) are available, with themed trips including an "Architecture of Chicago" tour. The 'Magnificent Mile' of North Michigan Avenue offers excellent shopping opportunities, and nobody should leave Chicago without taking a ride on the "Loop" - Chicago's famous and iconic overhead metro.
Holiday ideas for Chicago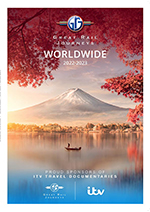 Prefer to browse our brochures!
Sign up to receive one of our Free holiday brochures and our email list to discover more about our fantastic holidays.