Inspiring your next holiday
Why choose us?
We believe that a holiday doesn't just start when you reach your destination, but the moment you arrive at your departure point. Our journeys really are a part of the adventure.
Unique Rail Journeys
Unforgettable Experiences
Destination Experts

Popular destinations
With a range of holidays to top destinations, we're sure you'll find a few to fall in love with. If you're looking for some inspiration, why not consider these popular destinations.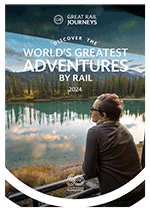 Browse our brochures.
Explore our amazing range of destinations at your own leisure, order your free brochure today.
See what our customers are saying about us
Excellent