Rail Tours in Scotland
Rail Travel in Scotland – Burns' Country
There are 13 holidays in this category
Edinburgh, the Highlands & Islands 2016
Majestic lochs and glens lie in wait as we cross Edinburgh and the Highlands and visit historic castles and the Isle of Mull. We travel through the West Highlands and Cairngorms on this fabulous round trip climaxing with a 'Scottish Evening' on Edinburgh's stately Royal Mile.
Special Offer
View Details
A Castle On The Shores Of Loch Fyne 2016
Set in idyllic, undiscovered surroundings overlooking picturesque Loch Fyne, a 19th century Baronial Castle awaits you on this magnificent tour. Cruise the open waters to the southernmost island of the Inner Hebrides, explore nearby Oban and Inveraray, and sample the renowned locally-sourced produce.
Special Offer
View Details
Western Highlands & Hebrides 2016
Discover the incredibly picturesque Western Highlands and the rugged, breathtaking coastal islands which lie off Scotland's western coast. This tour takes us on some of the world's most scenic railway journeys, on a cruise to spot wildlife in the Atlantic, and finishes in Pitlochry as part of a truly memorable exploration of the Highlands.
Special Offer
View Details
A Scottish Christmas 2016
Spend Christmas in Inverness, with hearty food, warming drinks, entertainment and festive cheer. Enjoy the proud cities of Edinburgh and Inverness and travel through the yuletide scenery on beautiful rail trips.
Christmas at Glenborrodale Castle 2016
Celebrate Christmas or New Year in the welcoming, homely surroundings of Glenborrodale Castle, located on the stunning west coast of the Scottish Highlands. Spoil yourself with mouth-watering cuisine and stunning scenery.
Edinburgh Tattoo 2016
Experience the spectacle of marching bands when you visit the Edinburgh Tattoo by train, with pipes and drums resonating from the castle's setting. Complimenting the trip, witness incredible lochs, glens and mountains as we explore the West Highlands.
Special Offer
View Details
Highland Adventure 2016
Breathtaking scenery and fantastic journeys by mainline and steam railways; this tour takes in the very best of northern Scotland from our base in Inverness- the gateway to your Highland adventure
Special Offer
View Details
Iceland & The Northern Isles 2016
After a tour of Glasgow and Edinburgh, we board MS Marco Polo and head for Iceland. Our journey takes us to the isolated Faroe Islands before exploring the fjords and glaciers of volcanic Iceland, the beautiful Westmann Islands and the magnificent landscape of the Orkney Islands.
Special Offer
View Details
New Year at Glenborrodale Castle 2016
Celebrate the New Year in the dramatic surroundings of Glenborrodale Castle, nestled deep in the Scottish Highlands. Travel on the West Highland Line and indulge in mouth-watering cuisine on this festive holiday.
Northern Belle & The Edinburgh Tattoo 2016
Immerse yourself in the glitz and glamour of the 1930's on board the elegant Belmond Northern Belle train to Edinburgh. Enjoy a delicious five-course lunch as you relax in the comfortable carriages. Then explore the bustling city of Edinburgh, including an awe-inspiring evening at the world-famous Military Tattoo.
Special Offer
View Details

Kathryn

Julie
Lynne

Lori
Get in touch with one of our Scotland Specialists
Helping you plan your holiday to Scotland...
Scotland doesn't waste an inch of its compact area in order to delight and impress visitors. The space between beautiful and historic cities such as Glasgow, Aberdeen, Edinburgh and Dundee is filled with the breath-taking mountains, lochs, glens and valleys that have inspired poets, artists and visitors for hundreds of years. Wild and unspoilt, Scotland's landscapes are timeless, and few pleasures can compare with stepping aboard a magnificently-restored steam train and gently rolling through the dramatic heather-clad hills of the Scottish Highlands.
In truth Scotland is packed with unique and unforgettable experiences. Here you can search for a pre-historic monster that lurks beneath the placid surface of Loch Ness. You can visit one of Scotland's iconic distilleries and sample the finest single-malt whiskies in the world. Take a cruise to the ruggedly pretty Hebridean Islands, Orkney or Shetland. Witness the spectacle of the world-famous Edinburgh Military Tattoo. These are just a few of the countless pleasures that are you'll enjoy on an escorted rail holiday in Scotland with Great Rail Journeys.
Exploring Scotland with Great Rail Journeys
Great Rail Journeys ensures that when customers select any of our superb escorted rail tours of Scotland they will enjoy the best possible experience and customer service and receive exceptional value for money. The cost of each of our Scottish rail holidays covers all travel arrangements, overnight accommodation, an itinerary of sightseeing excursions and guided tours that show Scotland at its best, and a selection of meals.
A helpful and experienced Tour Manager accompanies each of our rail tours of Scotland and can answer questions, provide assistance and offer information to help our guests to have a pleasureable and memorable time in Scotland.
We carefully plan our itineraries to include a selection the most interesting and enjoyable highlights among Scotland's many historic, cultural and natural attractions. These might include a journey along a scenic or heritage railway such as the Jacobite Steam Train or the Kyle Line, a visit to an historic castle, a cruise on Loch Lomond or a tour of a whisky distillery. Whatever your particular itinerary includes, we endeavour to choose excursions and activities that have something to delight every guest.
We only choose tour accommodations which are conveniently located, comfortable and provide excellent value, service and amenities. In order for guests to enjoy a friendlier and more personal service and to relax in informal surroundings we often opt for quality family-owned and run hotels.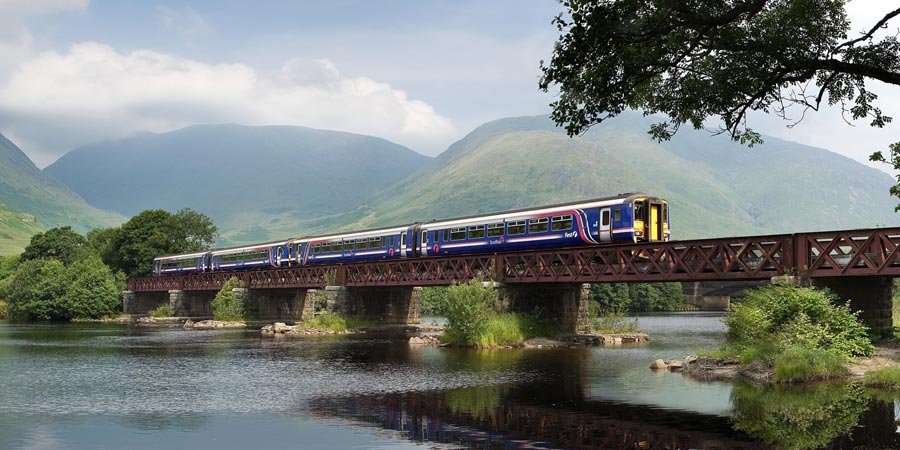 From the moment our guests join Great Rail Journeys on an escorted rail tour of Scotland to the moment they return home we want them to enjoy a safe and stress-free holiday. As the UK's longest-established specialist rail tour operator our guests can take confidence from the fact that we are members of AITO and ABTA.
A Brief Overview of Scotland
Bordered only by England to the south, Scotland occupies the northernmost third of the island that constitutes Great Britain and is otherwise surrounded by the Irish Sea, the North Sea and the Atlantic Ocean.
Scotland's History
In the First Century AD, the hostile Pictish tribes that had settled in Scotland shortly after the last ice age, confounded attempts by the invading Romans to add the country to their empire. Instead, the Romans built Hadrian's Wall to prevent the 'barbarians' entering Roman Britain. That same spirit of fierce independence saw Scotland become an independent sovereign state in the Middle Ages; a status it retained until the creation of the Kingdom of Great Britain, the union of England and Scotland, in 1707. Almost a century later political agreement with Ireland was reached and the United Kingdom of Great Britain and Ireland was established. Despite this union with its closest neighbouring countries, Scotland's spirit of independence remains and the country has striven to protect its unique identity, character and culture and is fiercely proud of its notable achievements.
Climate
Despite its compact size, Scotland's climate is remarkably variable. Accusations of continuous rain throughout are exaggerated, although the Western Highlands are particularly wet. Scotland's high position in the northern Hemisphere means that it has longer daylight hours than other areas of Britain during the summer and shorter days during the winter. Whilst extreme temperatures are rare, January and February tend to be Scotland's coldest months although still mild with daytime maximum temperatures averaging between 5° to 7 °C. Late summer, July and August sees Scotland at its warmest when temperatures generally reach an average 19 °C.
Scottish Cuisine
Scotland has always benefited from an abundance of fresh local produce of excellent quality and this has shaped the country's cuisine, producing traditional dishes and specialities that have become globally recognised and renowned. Among some of the best Scottish fayre that our guests should sample is Haggis, Scottish Tablet, Cullen Skink, Aberdeen Angus Beef, Cranachan. Arbroath Smokies, and of course Whisky.
Travel Advice
Should you choose to dine in a Scottish restaurant it is customary to leave a tip of 10% of the bill's value, although if you have received exemplary food and service you may leave a greater tip. It is polite to leave the tip on your table when you leave rather than hand it directly to your waiter. You may hear a toast "slàinte mhath" (pronounced 'slanja m'vah') - this is the Gaelic phrase for 'good health' and often precedes the intake of a dram or two of whisky!