Rail Tours in Switzerland
There are 44 holidays in this category
Classic Glacier Express Fly:Rail
Spectacular views and stunning scenery have made the Glacier Express from Brig to Chur famous the world over. Discover Zermatt by mountain railway, visit beautiful Interlaken, take a journey on the Bernina Express and explore the Alps at your own pace during this incredibly popular mountain holiday
Departs from May 2017 to August 2017.
SPECIAL OFFER
View Details
Classical Rhine Cruise
Follow the winding Rhine on this fantastic tour through central Europe. Explore the canals of Amsterdam before charting a course through the charming vineyards of northern Germany, pass briefly through France and end your exploration in the Swiss city of Basel
Departs in October 2016.
Late departures available
Jungfrau Express Fly:Rail
From our base in the quintessentially Swiss town of Meiringen, we enjoy journeys by mountain railway and lake steamer, crowned with an excursion on the Jungfrau Railway to the breathtaking 'Top of Europe'.
Departs from May 2017 to August 2017.
SPECIAL OFFER
View Details
Traditional Glacier Express
Stunning scenery and spectacular views are enough to take your breath away as we travel by rail through the heart of the Swiss Alps on the world-famous Glacier Express train. We enjoy thrilling mountain railways, charming towns and dramatic Alpine scenery for which Switzerland is justly famous.
Departs in October 2016 and from April 2017 to September 2017.
SPECIAL OFFER
View Details
Jungfrau Express
From our base in the quintessentially Swiss town of Meiringen, we enjoy journeys by mountain railway and lake steamer, crowned with an excursion on the Jungfrau Railway to the breathtaking 'Top of Europe.'
Departs from April 2017 to October 2017.
SPECIAL OFFER
View Details
First Class Glacier Express in Winter
Spectacular views and stunning scenery have made the Glacier Express from Brig to Chur famous the world over. Shimmering winter peaks and sugar-frosted forests provide a picture-postcard backdrop to our wonderful winter rail adventure, taking in some of the very best that Switzerland has to offer.
Departs from January 2017 to March 2017.
Grand Tour Of Switzerland
Journey through the heart of the Alps on this grand tour of majestic Switzerland. Visit the picturesque cities of St Gallen and Lucerne, explore delightful Lugano and Bern and experience wonderful Swiss rail over and around the spectacular Swiss peaks.
Departs from June 2017 to September 2017.
SPECIAL OFFER
View Details
Glacier Express & St Moritz
Dramatic mountain scenery and beautiful lakes provide the setting for this magnificent tour, as we take the iconic Glacier Express through the Swiss Alps, staying in glamorous St Moritz, and Zermatt, where we enjoy breathtaking views of the Matterhorn.
Departs from May 2017 to September 2017.
SPECIAL OFFER
View Details
Glacier Express in Winter (Chur-Kandersteg)
This adventurous twin-centre rail holiday provides ample opportunity to explore the majestic Swiss Alps cloaked in their winter finery, and to enjoy our trip on the famous Glacier Express, surely the slowest, and certainly one of the most scenic 'express' trains in the world.
Departs from January 2017 to March 2017.
Jungfrau Express in Winter
Take in some of Switzerland's finest winter scenery on this magnificent holiday. From our base in the wonderfully unspoilt town of Meiringen, we visit the lakeside town of Lucerne, ride a carriage in the mountain village of Grindelwald, and take a trip to the 'Top of Europe' on the famous Jungfrau Railway.
Departs from January 2017 to March 2017.
Get in touch with one of our Switzerland Specialists
Helping you plan your holiday to Switzerland...

Phil

James

Julie

Kathryn
Everywhere you look, Switzerland is a country that is blessed with outstanding beauty. Travelling to the town of Interlaken by train truly presents the best mountain-and-lake panoramic vistas you've ever seen. The Swiss Alps, by their nature, are spectacular but when you join us for a journey on the iconic Glacier Express - the world's slowest express train - you're spoiled with unparalleled views of majestic alpine landscapes.
The true joy of a rail tour of Switzerland is that its numerous scenic and mountain railways provide easy access to some of the most awe-inspiring destinations in Europe. Switzerland also reinforces the observation that sometimes the journey is as great an experience as the destination as you pause to admire some of the near-miraculous feats of engineering that were required to construct these railways.
If you can tear yourself away from staring at Switzerland's scenery for a moment you'll realise that the cities, towns and villages we visit are almost equally stunning. Pretty Chur nestles on the bank of the Rhine and is a delight to explore thanks to its cobbled streets and medieval architecture. Zermatt offers plenty of attractions for our guests including a selection of specialist food shops and chocolatiers.
Spectacular glaciers, charming towns and magnificent Alpine views are only part of what Switzerland has to offer. Exploring by rail takes you through the different regions that make up an intriguing melting pot of German, Italian and French cultures. With so many natural, cultural and historic facets to explore, an escorted rail tour in Switzerland provides an exciting and rewarding alpine adventure for everyone.
Discovering Switzerland with Great Rail Journeys
Travelling by train is indisputably the best way to enjoy Switzerland's scenery and cities and at Great Rail Journeys we do our utmost to provide escorted tours of Switzerland that highlight its best attractions and experiences whilst also representing unrivalled value for money.
The cost of your Swiss train holiday covers all of your travel and overnight accommodation arrangements, a selection of meals and a varied itinerary of guided tours and activities which also incorporates free time for you to enjoy. Also included in the cost are the services of a professional and helpful Tour Manager whose role is to extend every assistance to guests, answer questions and dispense information about the places you'll visit to ensure that you have the most relaxing and rewarding holiday.
You'll also enjoy a high standard of accommodation during your Swiss rail tour as we hand-pick our hotels to ensure the optimum combination of location, value, service, comfort and guest facilities. For the more personal service and friendly environment they offer we'll often choose quality family-run hotels which we find are more conducive to a relaxing stay.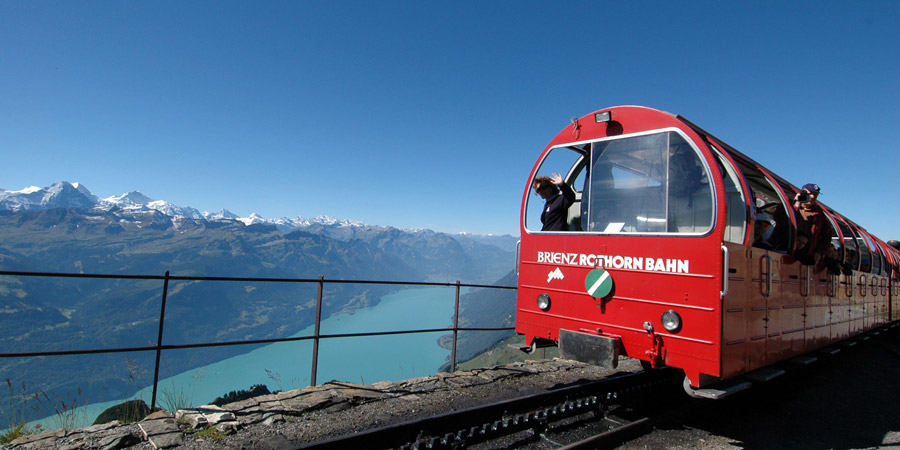 Switzerland traveller's guide
Opinions vary as to whether Switzerland is situated in Central or Western Europe or perhaps both. The country is landlocked by France, Germany, Austria, Liechtenstein and Italy. Geographically, the Alps cover almost two thirds of Switzerland's total area and are largely responsible both for Switzerland's climate and for its long-established popularity as a tourist destination.
Switzerland's history follows a similar path to that of many other European countries in that its earliest settlers were displaced by the attentions of the Roman Empire, which prospered here in the first and second centuries AD but began to decline under pressure from Europe's Germanic tribes in the fourth century. For the next few centuries Switzerland fell under Frankish (French) rule and subsequently became part of the Holy Roman Empire until gaining independence in 1648. A century and a half later, during the French Revolution, Switzerland was occupied by France once more but regained independence and neutrality via the Congress of Vienna in 1815. Since then, with the exception of minor involvement in the Second World War, Switzerland has retained its neutrality and independence and is a peaceable country.
Switzerland enjoys a temperate Atlantic climate which whilst generally mild and hospitable becomes increasingly colder the higher the altitude. Rainfall is spread fairly evenly over the year although from June to August thunderstorms may occur in Switzerland's low-lying areas. The lowlands typically enjoy warm-to-hot summers and almost Mediterranean conditions in the southernmost regions of the country. In alpine valleys the snow season lasts from November to May but at elevations greater than 2,500 feet snow cover is permanent.
Whilst Switzerland possesses an identifiable cuisine of its own this has largely been influenced by the country's many neighbours. Nevertheless, our guests are in for a gastronomic treat in Switzerland where colder conditions favour heartier dishes. Some must-try Swiss classics include fondue; Swiss cheese melted until bubbling in a pot over a gas flame, and mixed with wine and garlic. Bread is dipped into the fondue and eaten, rosti; a national dish traditionally eaten at breakfast, rosti is grated potato shaped into a shallow cake and deep-fried until the exterior is golden and crunchy, bündnerfleisch; this is a beef sausage in which the meat has been air-dried rather than cured. Freshwater Alpine fish such as trout are considered a delicacy thanks to the purity of the water in the lakes and rivers in which they are caught. Needless to say, for any guest with a sweet tooth sampling Switzerland's particularly fine chocolate is virtually obligatory.
Compared to some of their neighbours the Swiss are a formal people. When you address a question to someone it is polite to preface the question with "excuse me" or "good morning". Guests who take the train to travel through Switzerland should not worry that the Swiss are stuffy; once they have befriended you they are as sociable as anyone.