Africa
Uncover Africa's Treasures by Rail
Magical, mysterious, romantic and exciting, the vast continent of Africa rewards exploration with memories of an adventure that will stay with you forever. Great Rail Journeys, a provider of outstanding and unique escorted rail tours for more than thirty years, enables you to discover the very best of Africa by rail in safety and comfort.
Renowned for its diverse landscapes and astonishing beauty, Africa's wealth of natural highlights range from the spectacular Victoria Falls in Zimbabwe and the breath-taking sand dunes of Sossusvlei in the Namib Desert to Cape Town's iconic Table Mountain.
Our rail holidays in Africa take in some of the continent's most inspiring and fascinating cities and towns. Whether you're haggling for a souvenir in the ancient souks of Marrakech, or sampling some of South Africa's finest wines in Stellenbosch, the experience will be memorable.
For many visitors, one of Africa's most compelling aspects is its remarkable wildlife. That's why many of our escorted rail tours in Africa offer superb opportunities to observe the fabled 'big five': the African lion, African elephant, Cape buffalo, African leopard, and the rhinoceros. These and countless other species of birds and animals can be spotted both as you journey across Africa by train or visit destinations such as the Kruger or Etosha National Park or the Hluhluwe-Imfolozi Game Reserve.
Africa truly offers something to amaze and delight every visitor, and our selection of unique train holidays in Africa has been created with the utmost care to ensure that our customers enjoy the most fulfilling and memorable experiences that this historic, culturally-rich and naturally spectacular continent has to offer.
There are 8 holidays in this category
South African Adventure
Fascinating wildlife is waiting to be discovered on this South African rail adventure on the Pride of Africa - one of the world's great luxury trains. Our voyage of discovery takes us through South Africa's most well-known game parks and ends with four nights in the cosmopolitan city of Cape Town.
Departs from May 2017 to November 2017.
Imperial Cities Of Morocco
This remarkable rail odyssey takes us through North Africa's most beguiling cultural destination, Morocco. During this exciting rail adventure we encounter royal palaces, ancient mosques and minarets, while immersing ourselves in the true flavours of Moroccan life.
Departs from March 2017 to September 2017.
SPECIAL OFFER
View Details
Cape Town, The Blue Train & Kruger National Park
Discover the highlights of South Africa with a rail journey on the luxurious Blue Train from Cape Town to Pretoria. Ascend Table Mountain, sample local wines in Stellenbosch and enjoy fantastic game drives during a wonderful three-night stay at a hotel at the gate of Kruger National Park.
Departs from January 2017 to November 2017.
Late departures available
Namibia & the Pride of Africa
Discover the highlights of Namibia and South Africa on this fantastic holiday by rail. Explore Cape Town and Table Mountain, see the Big Five in Etosha National Park, experience the mighty Sossusvlei and enjoy six indulgent nights on the incredible Pride of Africa - the world's most lavish and luxurious hotel train.
Departs in May 2017.
Victoria Falls, Cape Town and the Garden Route
Marvel at the natural wonders of southern Africa on this incredible adventure. Join the sumptuous Pride of Africa for a truly elegant journey in luxurious air-conditioned suites with 5-Star service. Later, enjoy a safari in Botswana and bask in the majesty of Victoria Falls.
Departs in October 2017.
Dar Es Salaam, Victoria Falls & The Pride of Africa
Explore the magnificent attractions spanning Africa on this incredible adventure aboard the luxurious, 5-Star Pride of Africa train. Journey across lush wildernesses and dusty desert plains, taking in natural wonders, rare creatures and spending time in cosmopolitan cities.
Departs in January 2017.
Kwazulu-Natal Battlefields and Big Five
Re-live the defining moments of South Africa's infamous Anglo-Zulu War as local experts guide you through battle sites steeped in history, combine this with a possible Big Five encounter, a luxurious two-night stay aboard a Rovos Rail train and the sights of Cape Town.
Premium Madeira, Canaries & Morocco Cruise
Fabulous sights and cities brimming with culture await as you cruise in splendour aboard the MV Aegean Odyssey. We inhale the charm and classy sophistication of evocative Seville, enjoy ancient Cadiz and bask in the sun drenched charm of the Canary Islands. We then take in the exotic beat of Tangier and Rabat on this fantastic cruise adventure.
Get in touch with one of our Africa Specialists
Helping you plan your holiday to Africa...

Lori

Julie

James

Kathryn
Experiencing Africa with Great Rail Journeys
Great Rail Journeys is committed to providing our customers exceptional value for money whilst ensuring that the quality of our tours is not compromised. The cost of each of our rail holidays in Africa covers all flights and travel throughout, overnight accommodation, an itinerary of exciting and memorable excursions and activities and, where appropriate, meals.
A knowledgeable and experienced Tour Manager accompanies every rail tour of Africa to answer questions, provide assistance and make recommendations in order to ensure that our customers have the most pleasurable and rewarding time. Customers will also benefit from the additional insights and information that local guides bring to some of our African excursions and activities.
We take great care to build itineraries which introduce our guests to the most interesting and enjoyable aspects of Africa's history, culture, wildlife and natural beauty. Whether that's visiting a traditional Berber village in the foothills of Morocco's Atlas Mountains or sipping wine among the vineyards of Franschhoek, South Africa, we aspire to leave every customer with happy and lasting memories of their African rail holiday.
We're equally selective about our overnight accommodation, which must be suitably comfortable, conveniently located, and provide excellent service and guest facilities. In order for our customers to enjoy a higher degree of friendly, personal service and a relaxing environment we often choose family-owned and run hotels.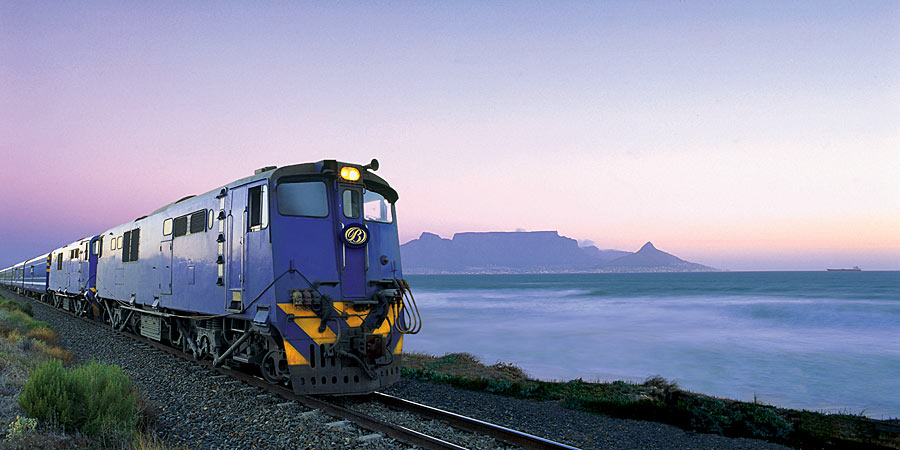 From the moment our customers join Great Rail Journeys on an escorted rail tour of Africa to the moment they leave us we want them to enjoy a safe and worry-free experience. We have been the UK's foremost provider of rail tours and holidays for over thirty years and for the assurance of our customers' financial protection we are members of ATOL, AITO, and ABTA, and the flights we provide are protected by the CAA.
Our Africa Trains
Africa's railways offer a safe, comfortable and rewarding means of exploring this spectacular continent, and Great Rail Journeys provides the opportunity to ride aboard some of Africa's most celebrated and luxurious trains.
The Blue Train
Since its introduction in the 1920s, South Africa's Blue Train has made the sixteen-hundred kilometre journey from the northern city of Pretoria to Cape Town in the south. The Union Limited and Union Express trains, as they were then known, catered for travellers that had grown wealthy as a result of Africa's diamond and gold mining industries. Lavishly decorated and furnished, these trains raised the bar for luxury travel.
Requisitioned for military use during the Second World War, the trains resumed service in 1946 with a new blue and cream livery - giving rise to the name 'the Blue Train'. Fully refurbished in the 1970s and again in 1997, the Blue Train continues to maintain its reputation for providing the highest standards of service, comfort and opulence. From the gourmet cuisine and fine wines presented in the beautiful dining car to the fully-appointed cabins each with its own butler, South Africa's Blue Train promises an unforgettable luxury rail travel experience.
The Pride of Africa
Fully justifying its name, the Pride of Africa is effectively a five-star luxury hotel in the guise of a train. The Pride of Africa's operator, RoVos Rail, suggests that this is 'the most luxurious train in the world' and travellers observing the stunningly re-furbished Edwardian carriages and sleeping compartments would be hard-pressed to disagree. The train's design offers gorgeous wood-panelled suites that are larger than those aboard the legendary Venice Simplon-Orient-Express, each beautifully furnished and equipped with every modern amenity for passengers' enjoyment and convenience.
Elsewhere, passengers can relax on sumptuous sofas or in wingback chairs in the Pride of Africa's lounges or admire the passing scenery from the Observation Car which features extra-large viewing windows and an open-air balcony. Two lovingly-restored restaurant cars, staffed by a team of chefs, provide gourmet-standard cuisine from fresh local ingredients. Harking back to a pioneering age of luxury rail travel, journeying aboard the Pride of Africa is an experience not to be missed.
About Africa
As might be expected of a continent that occupies one-fifth of the world's land area, Africa is diverse in every respect. Its landscapes encompass everything from dense, lush rainforest to arid desert, its settlements range from remote tribal villages to ultra-modern and cosmopolitan cities and its climate from tropical warmth to sub-arctic cold.
It is this diversity that makes Africa such a compelling, exciting and inspiring destination. Graced with a seemingly unlimited fund of unique historic, cultural and natural wonders, Africa rewards even the briefest visit with a host of sights and experiences that will become cherished memories.
Whether for the adventure of a safari in one of Africa's remarkable game reserves such as the Kruger National Park, the exploration of Africa's rich colonial heritage, the celebration of a culture steeped in tradition, art, music and dance or simply to enjoy a journey through some of the most spectacular scenery on earth, Africa provides something to amaze and delight every visitor.