At twenty miles in length, Martha's Vineyard is the largest offshore island in New England. With its undulating hills and verdant pastures - in addition to its charming shoreline - the island packs an enviable diversity into its diminutive area. The island was inhabited by First Nation Americans during the 16th century, though very little is known from before this time. In 1602 the English explorer Bartholomew Gosnold (who named Falmouth on Cape Cod) sailed here and named it Martha's Vineyard, reportedly after his daughter.
From about this time the English settlers began to develop towns here, and before long Martha's Vineyard had become not only a thriving fishing and whaling community, but also a fantastic summer retreat for those on mainland Massachusetts. In 1974 the island reached a new level of fame when Steven Spielberg filmed the classic film "Jaws" here. Perhaps ironically, the film did a great deal to boost tourism to Martha's Vineyard even further.
Find out more with a free brochure and enjoy weekly travel inspiration and offers in our e-newsletter.
Holiday ideas for Martha's Vineyard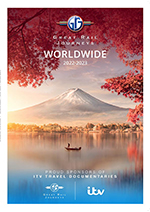 Prefer to browse our brochures!
Sign up to receive one of our Free holiday brochures and our email list to discover more about our fantastic holidays.