Nestled at the base of Mount Juneau, the city of Juneau is Alaska's capital city. It still retains a small-town charm, noted for its friendly locals and beautiful setting. A number of Juneau's attractions are centred on the natural landscape surrounding it, such as the magnificent, easily-accessible Mendenhall Glacier located just thirteen miles from the town centre. This huge glacier can also be seen from a number of roads in the city centre.
Juneau is also the starting point to other wonderful attractions including Glacier Bay National Park and Tracy Arm Fjord. In addition, the city boasts some of the most spectacular wildlife viewing in the world. From Juneau, whales, brown bear and eagles can be just minutes away. A variety of wildlife tours can get you up close to black bear, porpoise, sea lions, harbour seals, sea otters, mountain goats and Sitka black tail deer.
There are also plenty of attractions in the centre - Juneau is home to a number of shops, restaurants and galleries, each well worth a visit. Other highlights include Saint Nicholas Russian Orthodox Church, the oldest original and continuously used church in southeast Alaska. Another popular option is AJ Mine/Gastineau Mill Enterprises, where you can experience the feeling of being 'underground' and view historic mining equipment dating back to the 1880s - the time of the region's original gold rush.
Find out more with a free brochure and enjoy weekly travel inspiration and offers in our e-newsletter.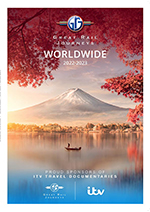 Prefer to browse our brochures!
Sign up to receive one of our Free holiday brochures and our email list to discover more about our fantastic holidays.