Svolvaer - Destination guide
Svolvaer, a modern town that has grown from an ancient fishing village, is situated on the east coast of the island of Austvågøy, one of the larger islands of Norway's Lofoten archipelago. Lofoten's location in the beautiful Nordland region ensures that Svolvaer enjoys superb views of the archipelago's snow-capped peaks and shimmering blue fjords.
Just inside the Arctic Circle, Svolvaer's temperature hovers around freezing point throughout the year but when the sun shines this pretty and traditional town and the landscapes that surround it in every direction are never anything less than achingly beautiful.
The establishment of the first villages in this area of Norway can be traced back around nine hundred years, and Svolvaer's long-established historical importance as a fishing village secured it official town status in 1918. Cod, herring and salmon farming are still the major contributors to Svolvaer's economy, but in recent years the town has become a popular destination for visitors who wish to explore the Lofoten archipelago with regular boat and air services bringing in more than two hundred thousand visitors each year.
During October and November Svolvaer offers excellent opportunities to spot Orca whales feeding on the archipelago's vast herring population, whilst other popular activities include mountain hiking; boat trips into the famous Trollfjord, habitat of the magnificent Sea-eagle and observing the enigmatic aurora borealis.
Find out more with a free brochure and enjoy weekly travel inspiration and offers in our e-newsletter.
Holiday ideas for Svolvaer
Other destinations and city guides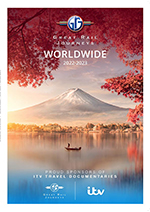 Prefer to browse our brochures!
Sign up to receive one of our Free holiday brochures and our email list to discover more about our fantastic holidays.