Flåm - Destination guide
The beautiful small town of Flåm is nestled deep in a tributary of the world's longest and deepest fjord, the 204-kilometre-long and 1308-metre-deep Sognefjord. Surrounded by steep mountainsides, roaring waterfalls and deep valleys, this area is a truly spectacular natural wonder, whether the sun is shining or rain is pouring from the sky.
The name "Flåm" means "little place between steep mountains," and at the end of the 1800s many cruise ships with English and German travellers found their way here to experience Norwegian fjords, mountains and waterfalls. The ships' passengers laid the foundation for hotel operations and a steady stream of tourists, who were transported in two-wheeled buggies through the spectacular scenery. After the Bergen Railway was opened in 1909, Flåm became a crossroad for passengers, mail and freight to and from the trains between Oslo and Bergen, in connection with the steamships on the fjord.
Find out more with a free brochure and enjoy weekly travel inspiration and offers in our e-newsletter.
Other destinations and city guides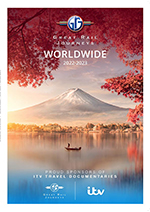 Prefer to browse our brochures!
Sign up to receive one of our Free holiday brochures and our email list to discover more about our fantastic holidays.