Bodø - Destination guide
Despite its location just within the Arctic Circle, the meandering and pretty coastal city of Bodo in Norway's stunningly scenic Nordland region rarely experiences temperatures more than few degrees below zero even in the depths of winter. A relatively young destination, Bodo gained town status in 1816 as a fish trading and export centre intended to reduce northern Norway's reliance upon supplies from Bergen, some fifteen-hundred kilometres further south.
It wasn't until the 1870s that Bodo truly realised its ambition, when a boom in the herring trade not only saw the town's population grow from five hundred inhabitants to more than three thousand but also saw Bodo, now a city, established as an administrative and financial centre in its own right.
Prosperity and security remained for Bodo until May 27th 1940 when it was entirely destroyed by German bombing raids. Rebuilt from scratch in the decade following the end of the Second World War, Bodo has since re-established itself as an important hub of finance, commerce and communications, whilst the addition of an airport and the arrival of the railway has brought tourism to the city.
Today, Bodo is an excellent destination in which to experience the midnight sun between June and the beginning of July. Surrounded by mountains and numerous national parks the city is also a perfect base from which to explore Nordland's outstanding natural beauty and to observe the white-tailed or sea-eagle which commonly inhabits the area.
Find out more with a free brochure and enjoy weekly travel inspiration and offers in our e-newsletter.
Other destinations and city guides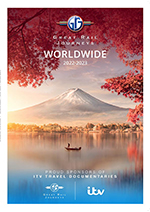 Prefer to browse our brochures!
Sign up to receive one of our Free holiday brochures and our email list to discover more about our fantastic holidays.