The Pride of Africa
Travel in style on 'The World's Most Luxurious Train'
Operated by the private, family-run Rovos Rail, the elegant Pride of Africa lives up to its name and is described by its operator as "the world's most luxurious train". Guests travelling with us on an escorted rail tour of Africa will be apt to agree. Each of the Pride of Africa's lovingly-restored Pullman-style carriages is finished in polished teak, and decorated and furnished in the opulent and decadently comfortable style of the 1920s, recalling the halcyon days of luxury rail travel at its most romantic.
Despite the authentically-detailed beauty of these heritage carriages, our guests benefit from every modern amenity and the highest standards of on-board service. Wherever our guests join and depart the Pride of Africa they will enjoy the nearest equivalent to a luxury five-star hotel that runs on railway lines and will be transported through some of South Africa's most compelling and spectacular landscapes.
There are 4 holidays in this category
South African Adventure
Fascinating wildlife is waiting to be discovered on this South African rail adventure on the Pride of Africa - one of the world's great luxury trains. Our voyage of discovery takes us through South Africa's most well-known game parks and ends with four nights in the cosmopolitan city of Cape Town.
Departs in November 2016 and from May 2017 to November 2017.
Namibia & the Pride of Africa
Discover the highlights of Namibia and South Africa on this fantastic holiday by rail. Explore Cape Town and Table Mountain, see the Big Five in Etosha National Park, experience the mighty Sossusvlei and enjoy six indulgent nights on the incredible Pride of Africa - the world's most lavish and luxurious hotel train.
Departs in May 2017.
Victoria Falls, Cape Town and the Garden Route
Marvel at the natural wonders of southern Africa on this incredible adventure. Join the sumptuous Pride of Africa for a truly elegant journey in luxurious air-conditioned suites with 5-Star service. Later, enjoy a safari in Botswana and bask in the majesty of Victoria Falls.
Departs in October 2017.
Dar Es Salaam, Victoria Falls & The Pride of Africa
Explore the magnificent attractions spanning Africa on this incredible adventure aboard the luxurious, 5-Star Pride of Africa train. Journey across lush wildernesses and dusty desert plains, taking in natural wonders, rare creatures and spending time in cosmopolitan cities.
Departs in January 2017.
Places of interest visited by the Pride of Africa
Our guests will find Pretoria's pretty, tree-lined streets both delightful and rewarding to explore. Founded at the end of the nineteenth century this cosmopolitan city has many historic buildings to admire including the Union Buildings - the seat of South Africa's Government, the Melrose House Museum and the literally unmissable Voortrekker Monument.
Diamonds placed the South African town of Kimberley on the map. In the forty-three years following the discovery of the first diamond in the area as many as fifty-thousand miners excavated the land in search of the precious stones. Our guests will see the result of their efforts; the remarkable 'Big Hole' - a vast crater from which more than 2,700 kilograms of diamonds have been extracted.
Visiting the village of Matjiesfontein really is a curious and enjoyable experience. The village is little changed since its establishment by Scottish entrepreneur James Douglas Logan in 1884. Reminiscent of a British colonial outpost, in Matjiesfontein our guests will find original Victorian architecture, an authentic public house and even an old Routemaster London bus.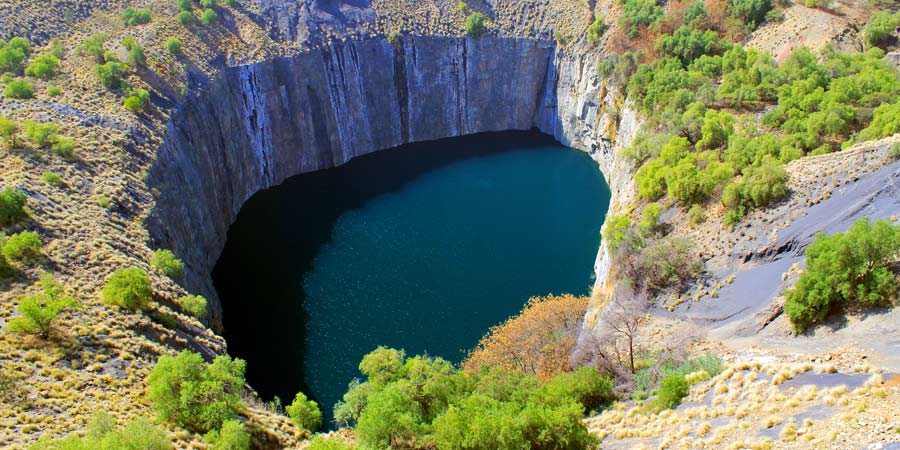 Luxury accommodation aboard the Pride of Africa
Guests who travel with us on the Pride of Africa are accommodated in the train's newest Pullman Suites. The epitome of luxury, these spacious wood-panelled suites are air-conditioned and finished with Edwardian fixtures and fittings. The suite's comfortable sofa-style seat is converted at night into double or twin beds and, to ensure an undisturbed night's sleep, the train halts at midnight for around six hours, resuming its journey each morning. Each Pullman Suite has its own en-suite WC and shower room equipped with an electric shaving point and a hair dryer. Guests also enjoy a writing desk, a personal safe and 24-hour room service.
Staffed by a team of skilled chefs the train's elegant restaurant cars offer an extensive menu of regional specialities freshly prepared from seasonal ingredients. Pristine linen and tableware, impeccable table-waiting service and a selection of fine South African wines to accompany your meal ensure an unforgettable dining experience.
The Pride of Africa also features a sumptuously furnished lounge and bar carriage with upholstered armchair seating, in which guests may relax with a drink from the bar and observe Africa's breath-taking beauty from the window.
At the rear of the train guests will find an open-air observation platform which provides the perfect opportunity to photograph the passing scenery.