Rail Tours in Zambia
Discover Zambia's remarkable wildlife, wilderness, waterfalls and more
Alongside better publicised African safari destinations, Zambia seems like a well-kept secret. Yet this sprawling country at the heart of the continent boasts enough spectacular animal and birdlife to satisfy the most dedicated enthusiast: almost a third of Zambia's area is dedicated to National Parks and the conservation of wildlife.
If Zambia presents a problem for the conventional traveller it is that of getting from place to place via largely unmaintained, and sometimes non-existent, roads. Journeying in comfort and style by train is the best way in which to fully appreciate Zambia's sublime scenery, which ranges from rough-hewn mountain plateaus to verdant floodplains and from vast expanses of open grassland to terracotta-hued desert.
Punctuating these breath-taking landscapes, towns and cities such as Livingstone are equally rewarding to explore. Once a British colony named after the celebrated explorer David Livingstone, Zambia's former capital city today serves as the main gateway to the Zambezi River's most famous natural feature: the Victoria Falls. To witness from a distance the raw power of nature in action at this spectacular waterfall is unforgettable, but those who join Great Rail Journeys on an escorted rail trip in Zambia can enjoy the magical experience of a close-up view of the falls at sunset on a Zambezi river cruise.
There are 2 holidays in this category
Victoria Falls, Cape Town and the Garden Route
Marvel at the natural wonders of southern Africa on this incredible adventure. Join the sumptuous Pride of Africa for a truly elegant journey in luxurious air-conditioned suites with 5-Star service. Later, enjoy a safari in Botswana and bask in the majesty of Victoria Falls.
Departs in October 2017.
Dar Es Salaam, Victoria Falls & The Pride of Africa
Explore the magnificent attractions spanning Africa on this incredible adventure aboard the luxurious, 5-Star Pride of Africa train. Journey across lush wildernesses and dusty desert plains, taking in natural wonders, rare creatures and spending time in cosmopolitan cities.
Departs in January 2017.
Get in touch with one of our Zambia Specialists
Helping you plan your holiday to Zambia...

Julie
Lynne

Lori

James
Adventures in Zambia with Great Rail Journeys
Zambia is a truly remarkable country and at Great Rail Journeys we do everything possible to ensure that our customers enjoy the most pleasurable and memorable rail tour. Every aspect of the trip is covered in a single upfront cost, including return flights to Africa, all onward travel costs during the tour, a high standard of overnight hotel accommodation, an exciting and varied itinerary of sightseeing excursions and activities, and many meals.
Throughout their Zambia rail holiday our customers are in the safe hands of an experienced and professional Tour Manager who will provide assistance and information whenever needed in order to ensure that everyone enjoys a rewarding and worry-free experience.
Our tour programme is carefully designed to include the very best cultural, natural and historical highlights of Zambia, yet includes sufficient free time for our customers to relax or to pursue activities which they enjoy.
At the end of each day we retire to a hotel which has been selected according to our stringent criteria based upon the quality of its location, facilities, standard of comfort and reputation for service. The hotels we choose must also represent excellent value for money.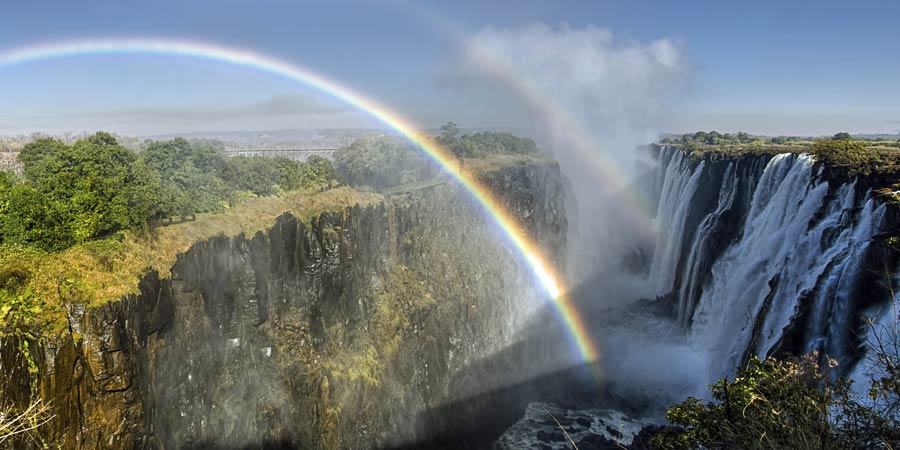 Great Rail Journeys is the UK's longest-established operator of specialist escorted rail tours operator and our customers can relax in the knowledge that we are members of ATOL, AITO, and ABTA and that any flights we provide are protected by the CAA.
Zambia's traveller's guide
Zambia's earliest known inhabitants were the Khosian people; nomadic tribes of hunter-gatherers. The Khosians were displaced in the fourth century by the arrival of the Bantu people from the north of Africa. Accomplished tool makers and potters, the Bantu people established village settlements and introduced agriculture, livestock herding and copper mining to Zambia. It wasn't until 1855 that the first European explorer, Doctor David Livingstone, set foot in Zambia but four years later The British South African Company had founded a British colony which became 'Northern Rhodesia' when administrative control passed to Queen Victoria's government. Zambia retained British sovereignty from 1924 until 1964 when the country regained independence. Three decades of political and civil unrest followed but today Zambia is a multi-party democratic republic and one of the world's safest and most hospitable countries for visitors.
The landlocked African country of Zambia sits on a vast natural plateau surrounded by Angola, the Democratic Republic of Congo, Tanzania, Malawi, Mozambique, Zimbabwe and Botswana to the south and Namibia to the southwest. The country enjoys a tropical climate but this is tempered by the plateau's elevation which ensures that extremes of temperature are avoided with the exception of the plateau's valleys.
From May to September Zambia's weather is mild to warm, and dry. It remains dry in October and November but temperatures increase significantly. These long dry periods are followed by a rainy season which lasts from December to April when temperatures and humidity are at their highest.
Zambian cuisine is built around the staple ingredient of nshima; a type of porridge made from ground maize. Sweetened with sugar this is eaten on its own for breakfast, whilst nshima of a thicker consistency is the regular accompaniment to dishes of fish, meat or vegetables. Traditional Zambian dishes that the traveller with an adventurous palate might try include: ifisashi - a thick stew of ground peanuts and green vegetables with meat or fish; finkubala - the Mopani caterpillar, seasoned and shallow fried in oil, and samp - a starchy dish of coarse ground maize and crushed beans. Freshwater fish, which are abundant in Zambia's rivers, are also a popular meal option. Locally brewed beer is the alcoholic beverage of choice, whilst Zambian coffee is renowned for its quality.
If you are invited into a Zambian home as a guest, it is good manners to accept with grace and eat any food you are offered even if you are not hungry.
Whilst tipping in hotels has been abolished by law, a 10% sales tax is automatically added to all bills and it is still customary to add a 10% tip for good service in bars and restaurants.