Rail Tours in South Africa
Luxury Train Travel in South Africa
Exciting and enigmatic, few countries can match South Africa for sheer diversity. Where else could you sunbathe on a sweltering beach in the company of a colony of mischievous penguins? Observe the world's most magnificent wildlife at close range? Or visit a former diamond mine?
These, and many other extraordinary experiences, can be enjoyed on one of Great Rail Journeys' escorted rail tours of South Africa. Travelling in comfort and style aboard a luxury train, you can toast another South African sunset with champagne in the dining car, safe in the knowledge that tomorrow brings another unforgettable adventure.
There are 6 holidays in this category
South African Adventure
Fascinating wildlife is waiting to be discovered on this South African rail adventure on the Pride of Africa - one of the world's great luxury trains. Our voyage of discovery takes us through South Africa's most well-known game parks and ends with four nights in the cosmopolitan city of Cape Town.
Departs from May 2017 to November 2017.
Cape Town, The Blue Train & Kruger National Park
Discover the highlights of South Africa with a rail journey on the luxurious Blue Train from Cape Town to Pretoria. Ascend Table Mountain, sample local wines in Stellenbosch and enjoy fantastic game drives during a wonderful three-night stay at a hotel at the gate of Kruger National Park.
Departs in November 2016 and from January 2017 to November 2017.
Namibia & the Pride of Africa
Discover the highlights of Namibia and South Africa on this fantastic holiday by rail. Explore Cape Town and Table Mountain, see the Big Five in Etosha National Park, experience the mighty Sossusvlei and enjoy six indulgent nights on the incredible Pride of Africa - the world's most lavish and luxurious hotel train.
Departs in May 2017.
Victoria Falls, Cape Town and the Garden Route
Marvel at the natural wonders of southern Africa on this incredible adventure. Join the sumptuous Pride of Africa for a truly elegant journey in luxurious air-conditioned suites with 5-Star service. Later, enjoy a safari in Botswana and bask in the majesty of Victoria Falls.
Departs in October 2017.
Dar Es Salaam, Victoria Falls & The Pride of Africa
Explore the magnificent attractions spanning Africa on this incredible adventure aboard the luxurious, 5-Star Pride of Africa train. Journey across lush wildernesses and dusty desert plains, taking in natural wonders, rare creatures and spending time in cosmopolitan cities.
Departs in January 2017.
Kwazulu-Natal Battlefields and Big Five
Re-live the defining moments of South Africa's infamous Anglo-Zulu War as local experts guide you through battle sites steeped in history, combine this with a possible Big Five encounter, a luxurious two-night stay aboard a Rovos Rail train and the sights of Cape Town.
Get in touch with one of our South Africa Specialists
Helping you plan your holiday to South Africa...

Kathryn

Phil
Lynne

Lori
Visiting South Africa with Great Rail Journeys
As the UK's leading provider of specialist rail holidays for more than thirty years, Great Rail Journeys has perfected the art of creating escorted rail tours in South Africa which combine the best and most memorable experiences with outstanding value for money.
The cost of your South Africa train holiday covers flights and all other transport arrangements including luxury train travel, an itinerary featuring excursions which showcase South Africa's greatest historical, cultural and natural highlights, quality overnight accommodation and selected evening meals.
Guests on our escorted rail tours in South Africa also benefit from the services of our experienced and friendly Tour Manager and local guides who will be happy to assist guests, answer questions and share their knowledge of the destinations we visit.
Overnight stays are in quality accommodations that we have hand-picked for their beneficial location and for the high standards of comfort, facilities and value they offer. Where possible we choose family-run hotels, enabling our guests to enjoy a more personal service and relax in an informal and hospitable atmosphere.
South Africa Traveller's Guide
The country at the foot of Africa where the South Atlantic and Indian Oceans meet has a history spanning more than two million years according to the wealth of pre-historic fossils found here. The world's oldest-known cave paintings suggest that man has been in South Africa for the last eighty-thousand years, and whilst the last two centuries proved to be particularly turbulent and challenging South Africa has changed for the better and is embracing a new era of cultural tolerance and optimism.
South Africa's major cities, including Cape Town, Durban, Pretoria and Johannesburg are thoroughly modern and multicultural, offering visitors as much entertainment, nightlife, cultural activities and shopping as they desire. Most visitors are here for South Africa's natural wonders, however.
South Africa's landscapes, all of them sublimely beautiful, encompass mountain ranges, deserts, vast open savannah, rainforest and almost every other terrain in between. Guests on a Great Rail Journeys tour of South Africa will experience the best of this natural beauty both from travelling through it by train and by visiting spectacular locations such as the wine country of Franschhoek and Stellenbosch, Kruger National Park and the Knysna Heads.
South Africa's Climate
Bad weather is rarely an issue in South Africa thanks to a largely subtropical climate which provides year round sunshine and warmth. From May to September - South Africa's winter - there is almost no rainfall. In summer, from October to April, rainfall is usually characterised by heavy downpours which helpfully cool down temperatures typically ranging between 32°C (90°F) and 38°C (100°F).
South African Cuisine
South African cuisine is a tantalising blend of indigenous African cookery and influences inherited from a diversity of historical colonists including Dutch, German, French, Italian, Greek, British and Asian immigrants. South Africans are as least as devoted to their braii (barbecues) as Australians.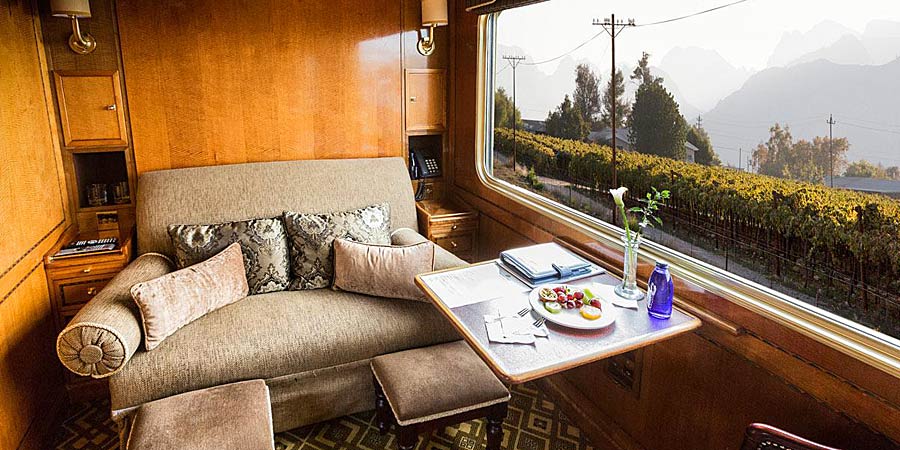 Travelling By Train in South Africa
The carriages on our luxury tours of South Africa can claim to be fitted with the most spacious train suites in the world. Five star dining, polished wooden interiors and 24 hour room service make these some of the most luxurious train journeys in the world. On board the train your Tour Manager will take care of tipping but when dining out we recommend a tip of between 10% and 15% the value of a meal.
For more information on luxury train travel in South Africa please call to speak to one of our Tour Advisors on 01904 521 936.