Rail Tours in Belgium
Experience the best of Belgium by train
Whether visiting the battlefields and memorials to the Great War at Flanders and Ypres, admiring the architecture of medieval Bruges or sampling arts, culture and cuisine in Brussels, an escorted rail tour of Belgium promises guests a memorable trip. Despite its compact size, Belgium's rail network not only provides high-speed links to neighbouring countries but also offers efficient InterCity and InterRegio services. These allow visitors to explore Belgium's highlights by train, whilst travelling in comfort.
Great Rail Journeys has rail tours to delight everyone, from festive visits to the Belgium Christmas Markets to nostalgic steam railway weekends, and with so much to see and do here we're sure that once you've visited Belgium with us you'll want to return again and again.
There are 6 holidays in this category
Bruges & the Battlefields of Ypres
Visit Ypres and enjoy a tour of fabulous Bruges, with its perfectly preserved centre and myriad of attractive waterways making it a wonderful destination to explore. We will also discover some of the most significant battlefields fought upon during the Great War, as well as experiencing what life was really like in the trenches.
Departs from April 2017 to September 2017.
SPECIAL OFFER
View Details
Floralia & the City of Flowers
From the Floralia Spring Flower Show, to one of the world's largest botanical gardens and Ghent's 35th Floraliën celebrations, discover the kaleidoscopic displays of Belgium in the spring on this delightful five day rail tour.
Departs in April 2017.
Lille, Flanders & the Somme
A short rail journey to Lille takes us close to the Battlefields of Ypres and the Somme, two of the most infamous and iconic sites of the First World War. We also explore the fascinating city of Lille on a guided tour which includes a traditional beer and waffle tasting.
Departs from April 2017 to October 2017.
SPECIAL OFFER
View Details
Premium Tulips Cruise
Discover the beauty and history of the Dutch and Belgian waterways from our elegant 4-star Superior cruise ship, visit the spectacular Keukenhof Gardens during their colourful tulip season, and medieval gems like Antwerp and Ghent.
Departs in April 2017.
SPECIAL OFFER
View Details
The Battlefields of Flanders
Visit some of Europe's most moving memorials and museums on this exceptional World War I themed tour to Flanders. Accompanied by an experienced, specialist Battlefields Guide you'll visit some of the largest and most poignant Commonwealth cemeteries, explore original trenches, see the Last Post ceremony and explore battle sites pivotal to the war.
Christmas Markets of Bruges & Brussels
Explore two of Belgium's most popular cities - beautifully preserved Bruges and dynamic Brussels - on this atmospheric festive tour. Be sure to discover the gifts, crafts and mulled wine at their charming Christmas Markets.
Get in touch with one of our Belgium Specialists
Helping you plan your holiday to Belgium...

Lori

Kathryn

Phil

Julie
Discovering Belgium with Great Rail Journeys
Travelling in the company of one of our friendly and experienced Tour Managers, you will find everything taken care of for you on an escorted rail tour of Belgium with Great Rail Journeys.
Representing excellent value for money the cost of each of our rail holidays in Belgium includes all rail fares, an itinerary that includes excursions and activities based upon Belgium's best natural, historic and cultural attractions, quality overnight accommodation and a selection of meals (depending upon the tour).
Guests can rest assured that overnight accommodation has been hand-picked for its quality, value, location and standards of service. Whenever we can we choose family-owned and run hotels that allow our customers to relax and enjoy a more personal service in a warm and informal environment.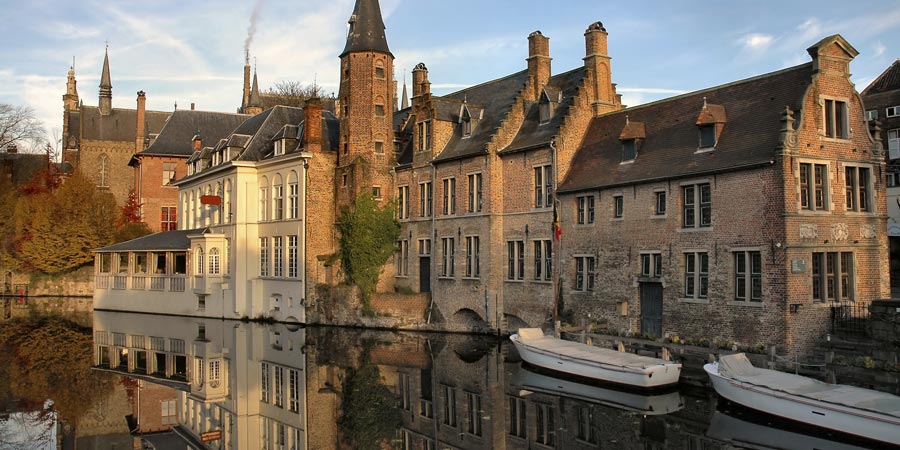 A brief guide to Belgium
The Kingdom of Belgium sits on the edge of Western Europe and is bordered by the Netherlands, Germany, tiny Luxembourg and France. The country's long history is marked by successive conflicts with Europe's great powers and the struggle for independence, but it is Belgium's role in the First World War, and the great battles for control of the Western Front, many of which were fought in the fields of Flanders and Ypres, that have brought the country to the world's attention.
Belgium's small size ensures that its temperate marine climate is largely unvaried throughout the country. Whilst spring and summer, from May to September, are the driest and warmest seasons, rainfall can occur at any time. Peak summer temperatures generally range between 25-30°C (77-86°F), and whilst winters are generally mild temperatures can fall below zero, particularly in January when snowfall is common.
Belgian cuisine is widely respected and is often favourably compared with French cuisine. Unsurprisingly a fair proportion of Belgium's dishes have been influenced by the gastronomy of neighbouring countries, but authentic specialities include Belgian waffles, Moules-frites; mussels served with fries, rich stews of fish or chicken known as Waterzooi and the Speculoos, a popular cinnamon biscuit. Belgium is world-famous famous for its vast range of speciality beers, and for its particularly fine chocolate.
The three official languages of Belgium are Dutch, German and French with the northern half of the country speaking Dutch and the southern half speaking French. German is only officially spoken in the small eastern region of Liége.
Our guests' experience of rail travel in Belgium is often characterised by a blend of the peculiar and familiar. While the Belgians may enjoy their chips with mayonnaise in the continental manner they also make small talk about the weather in a distinctly British way.
Please call 01904 521 936 for more information on rail travel in Belgium with Great Rail Journeys.