Rail Tours in The Netherlands
Discover the Delights of Rail Travel in the Netherlands
The Netherlands is renowned for its historic cities, its bulbfields, windmills and waterways, and its artistic heritage. These and many other aspects of this country can be enjoyed on an escorted rail tour of the Netherlands with Great Rail Journeys.
The Netherlands possesses one of the most modern, comfortable and efficient railway networks in Europe and its continuing expansion ensures that visitors can get to virtually any destination in the country by rail.
Guests on our Netherlands rail holidays travel on the high-speed international Eurostar, the Netherlands' own excellent rail network and, depending upon the tour, an authentic steam locomotive on a heritage railway to provide a complete rail experience. Trains aside, you may also visit the Netherlands' remarkable Keukenhof flower gardens, the famous Royal Delft porcelain factory, historic Amsterdam and many other places of interest.
There are 4 holidays in this category
Premium Rhine Cruise
Join us on the wonderful MS Amadeus Silver II as we cruise our way through Germany along the romantic River Rhine. From Amsterdam in Holland, we explore charming medieval wine towns, admire the breathtaking scenery of the Rhine Gorge and then cross into France, exploring charming Strasbourg before ending in the Swiss city of Basel.
Departs from April 2017 to September 2017.
SPECIAL OFFER
View Details
Luxury Rhine Cruise
Follow the winding Rhine on this fantastic tour through central Europe. Explore the canals of Amsterdam before charting a course through the charming vineyards of northern Germany, pass briefly through France and end your exploration in the Swiss city of Basel
Departs from June 2017 to September 2017.
SPECIAL OFFER
View Details
Premium Tulips Cruise
Discover the beauty and history of the Dutch and Belgian waterways from our elegant 4-star Superior cruise ship, visit the spectacular Keukenhof Gardens during their colourful tulip season, and medieval gems like Antwerp and Ghent.
Departs in April 2017.
SPECIAL OFFER
View Details
Steam Trains & Tulips of Holland
From our base in beautiful Delft, we visit the popular Keukenhof Gardens, the superb Royal Delft Porcelain factory and vibrant Amsterdam. We also make a wonderful journey across the countryside by vintage steam train.
Departs from April 2017 to May 2017.
SPECIAL OFFER
View Details
Get in touch with one of our The Netherlands Specialists
Helping you plan your holiday to The Netherlands...

Kathryn
Lynne

Phil

James
Visiting the Netherlands with Great Rail Journeys
Whichever escorted rail tour of the Netherlands you choose, Great Rail Journeys guarantees that it provides a selection of the country's best cultural and historical experiences and attractions whilst offering remarkable value for money.
The price of each of our Netherlands train holidays includes every rail fare and any other transport costs, a varied programme of excursions and activities, excellent accommodation and a selection of meals.
Guests on our Netherlands rail tours are placed in the capable hands of our friendly and experienced Tour Manager. They are on hand whenever needed to provide assistance, advice and information to help guests have the most rewarding, relaxing and enjoyable time in the Netherlands.
Good accommodation is fundamental to a good holiday and so we hand-pick our hotels to ensure that they are conveniently-located and offer high standards of comfort, hospitality and services as well as good value. Family-run hotels are generally our preference for the warm welcome, personal service and informal atmosphere they provide.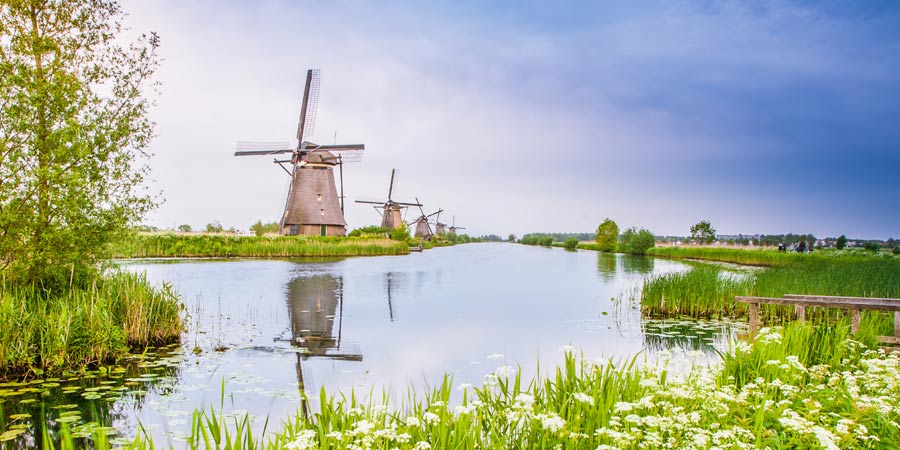 Netherlands traveller's guide
The Netherlands takes its name from its flat geography; translated it means 'low country'. Bordered by Belgium to the south and Germany to the east, this small but densely-populated country has historical associations with agriculture and with pottery that can be traced back to around 5000BC. Today the country is still renowned for both and is the world's second-largest exporter of agricultural products behind the USA.
The Netherlands' temperate maritime climate isn't given to extremes of temperature; summers are warm and winters are mild and whilst rainfall is relatively evenly spread throughout the year it is most common in late summer during July and August. Spring is a beautiful time to visit; vast fields of daffodils bloom in April, followed by multi-coloured tulips in May.
Although relatively small the Netherlands has made a significant impact upon world culture. Iconic symbols such as windmills, tulips and wooden clogs are indelibly associated with the country which has also produced some of world's greatest artists including Van Gogh, Mondrian, Hals, Vermeer and Rembrandt. These and others are celebrated in Amsterdam's extensive collection of museums and art galleries.
Some would argue that the Netherlands doesn't possess an identifiable cuisine of its own simply because the Dutch enjoy all food. Others will insist that the national diet consists of little more than bread, cheese, herring and chips with mayonnaise. If the Netherlands does have its own cuisine it seems to be based upon simplicity; stews, seafood and roast meats with vegetables are all popular.
Thanks to the Dutch predilection for public transport rail travel through the Netherlands, especially the western regions, is like travelling on a metro service. Trains run up to twelve times an hour on major routes and there are even hourly night trains.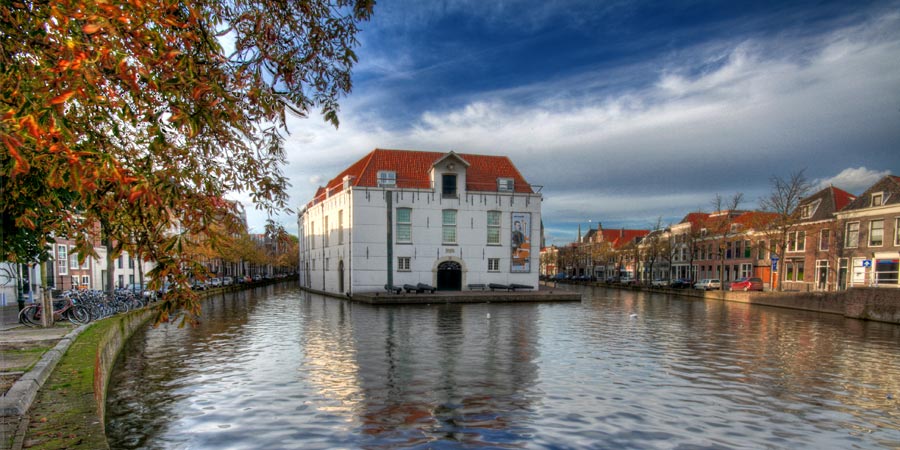 A service charge is added to the price of all meals in Holland so tipping is only necessary if you feel the service warrants it. Your Great Rail Journeys' Tour Manager will be available to answer any other questions about etiquette in the Netherlands.
For more information on rail travel in the Netherlands please call 01904 521 936.