Rail Tours in France
Escorted holidays to enjoy France's History, Culture and Cuisine
There are 39 holidays in this category
The Venice Simplon-Orient-Express
Board the legendary Venice Simplon-Orient-Express to step back in time to a world of romance, indulgence and adventure. This wonderful tour takes in seductive Paris, vibrant Milan and Venice - the most beguiling of cities.
Departs in September 2016.
Nice & the Côte d'Azur
Wonderful hilltop towns of fragrant Provence combine with chic resorts and the glamorous principality of Monaco on this exciting rail tour of Nice and the Côte d'Azur. Join us as we discover the French Riviera, which has long been a favoured destination of the rich and famous.
Departs from July 2016 to October 2016.
Biarritz & the Atlantic Pyrenees
Superb sandy beaches, a mild climate and a delightful ocean promenade have drawn visitors to Biarritz for years. Here we see the region's lovely coastal resorts, the mighty Pyrenees and the unique Basque heritage.
Departs from June 2016 to September 2016.
Late departures available
Classic Garonne & The Dordogne Cruise
Enjoy this relaxing cruise through one of Europe's most famous wine regions. From the handsome city of Bordeaux, we navigate the Garonne and Dordogne, two of France's most scenic rivers, enjoying the unique landscapes lining their banks.
Departs from July 2016 to October 2016.
Lake Annecy, Chamonix & Mont Blanc
Glorious lakes and mountains form the backdrop of this relaxing French retreat. We combine the picturesque scenery of Lake Annecy with the Alpine charm of bustling Chamonix. We travel high into the mountains by rail and enjoy a leisurely cruise across the crystal-clear waters of Lake Annecy.
Departs from June 2016 to September 2016.
Late departures available
Premium Rhine Cruise
Join us on the wonderful MV A-Rosa Viva as we cruise our way through Germany along the romantic River Rhine. From Cologne, we explore charming medieval wine towns, admire the breathtaking scenery of the Rhine Gorge and the majestic Lorelei Rock, and cross the border into Switzerland for a visit to the beautiful city of Basel.
Departs from June 2016 to October 2016.
Late departures available
Premium Rhone Cruise
Let the gentle currents of the Rhône transport you through Burgundy and Provence aboard our fantastic river cruise ship. Discover the region's verdant vineyards and absorb the atmosphere of its historic towns, soaring cathedrals and half-timbered houses as we sail from Lyon, taking in the UNESCO-protected centre of Avignon during the cruise
Departs from June 2016 to October 2016.
Late departures available
Alsace & the Route des Vins
We spend six nights in the crooked, half-timbered town of Colmar - the quintessential Alsatian destination - which allows us to enjoy fantastic Alsatian hospitality, traditional cuisine and superb excursions, while enjoying the distinctive wines produced in world-class vineyards along the famous 'Route des Vins'.
Departs in September 2016.
Arras & the Somme Battlefields
From our base in delightful Arras, we explore the World War I battlefield sites and moving memorials in the Somme, discover how Arras was restored to its former glory and ride the P'tit Train historic military railway.
Departs from August 2016 to September 2016.
Carcassonne & the Canal du Midi
From timeless vineyards and sun-drenched, rugged hills to imposing Cathar castles and historic abbeys, join us on a remarkable tour showcasing the very best of Languedoc. We explore the iconic walled Cité of Carcassonne, enjoy an excursion to the 'Ville Rose' city of Toulouse and take a leisurely cruise along the Canal du Midi.
Departs from June 2016 to October 2016.

Phil

Kathryn
Lynne

Julie
Get in touch with one of our France Specialists
Helping you plan your holiday to France...
France is a destination that really needs no introduction. Its capital, Paris, is regarded as the most romantic city in the world. It is revered for its wine and cuisines. It has an almost unrivalled historic and cultural heritage in its architecture, artworks and music. Beyond compelling cities that routinely feature exquisite palaces, ornamental gardens, gourmet restaurants and world-class museums, France also boasts natural beauty that extends from the snow-clad Alps to the sun-kissed beaches of the French Riviera.
Luckily, France also possesses one of the most modern and efficient rail networks in Europe, and an escorted rail tour in France with Great Rail Journeys is one of the easiest and most comfortable ways in which to explore and enjoy a host of France's greatest attractions.
Discovering the best of France with Great Rail Journeys
At Great Rail Journeys we offer our guests a variety of escorted rail tours in France covering everything from a romantic Seine cruise to a short break in the rustic Dordogne region or a longer relaxing stay on the shores of Lake Annecy. Whichever you choose, you can be sure that our French rail breaks offer excellent value. The price of your trip covers travel to, from and within France, accommodation of a high standard, an itinerary of excursions designed to highlight the best aspects of each French destination and a selection of meals.
You'll stay in hotels that we've personally selected for their quality and value to ensure that you enjoy the best comfort, service and facilities. Where possible you'll stay in family-run hotels which we find are more relaxed and give our guests a more personal service.
You'll be escorted throughout your French train holiday by our friendly and professional Tour Manager who is on-hand whenever needed to provide assistance, answer questions and offer information and advice about the places you'll visit.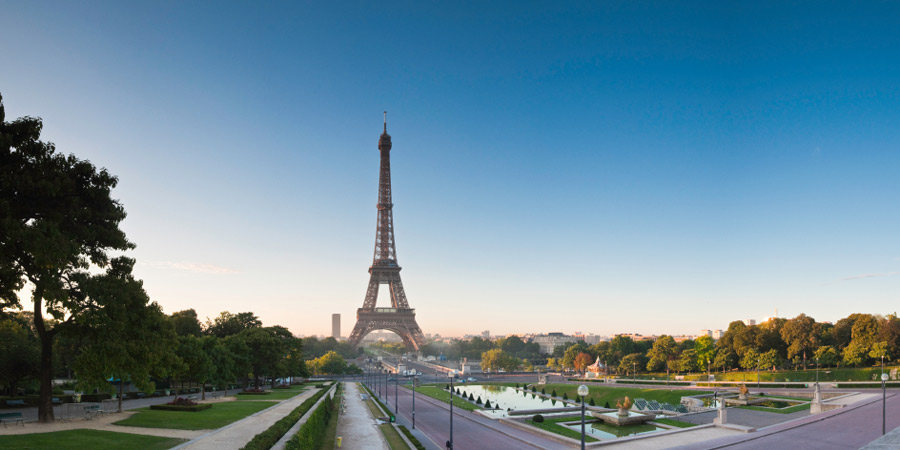 France Traveller's Guide
Rail travel in France is both delightful and practical. High speed trains run on many routes and punctual service makes travelling by rail reliable and relaxing.
France's Geography
Roughly hexagonal in shape and Europe's third largest country, France is bordered by Belgium and Germany to the north, Germany, Switzerland and Italy to the east and Spain to the south. It also has both an Atlantic and a Mediterranean coastline.
History and Culture
France's modern history is a story of invasions and conflicts for control. The region of Europe originally known as Gaul was ruled by Celtic tribes until the Roman Empire, under Julius Caesar, took control in 58BC. When Rome fell, Gaul was ruled by a heathen tribe - the 'Franks', who gave the country its name and its first king: Charlemagne. The monarchy continued despite an attempted invasion by the English during the 'Hundred Years War' between 1337 and 1453. They were defeated thanks to the army-rallying efforts of a young French peasant called Joan of Arc. By the seventeenth-century, ruled by King Louis XIV France had become a European superpower but a subsequent financial crisis and disillusionment with the monarchy sparked the French Revolution in 1789. The monarchy was abolished and France became the republic that it remains today.
Climate
France's climate varies with location, but is generally mild and temperate throughout the year. The north and west of the country are the coolest and experience most rainfall, whilst the Mediterranean coast enjoys the driest, warmest and sunniest weather. Spring and summer are the best times to visit anywhere in the country unless you're a snow sports enthusiast, whilst autumn is typically the wettest season.
French Cuisine
Great Rail Journeys' tours allow you to enjoy French cuisine which is renowned for its culinary artistry, flair and flavour. Should Escargots de Bourgogne (snails in garlic butter) or cuisses de grenouille (frogs legs) not be to your taste there are countless other French classic dishes and specialities to enjoy such as baked Camembert cheese, Moules Marinières; mussels cooked in a white wine broth; Soupe à L'oignon; an onion soup traditionally served with a unique crust; Cassoulet; a popular stew of duck and beans and Bouillabaisse; a colourful stew of fish and shellfish flavoured with saffron.