What can you look forward on our exclusive river cruises? For one thing, you can enjoy the classic high quality of escorted experience for which Great Rail Journeys is famous, but on some of the finest cruise itineraries available.
Our cruises take place on 5-star exclusively chartered ships, sailing on one-way itineraries up the most beautiful rivers in Europe. Each holiday features sublime on-board food inspired by the destination.
In an industry first, you can pick your own cabin using our intuitive booking system, and all of those cabins are some of the most spacious and generous in the European river cruising industry today.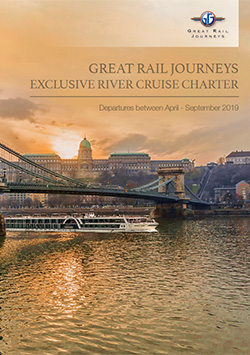 Exclusive River Cruises 2019. Welcome to a new kind of 5-Star river cruising experience.
Why Cruise with us
From your first call until your journey home, we'll be right there to make sure your cruise goes without a hitch from start to finish. And with included excursions, meals and travel you don't have to worry about a holiday budget, just enjoy everything that's been planned exclusively for you.
Our cruises include:
Classic escorted experience
Fine dining
Flexible excursions
5-Star accommodation & facilities
One-way itineraries
Onboard entertainment

Hop aboard a plane from your nearest airport and fly to the closest companion airport in either Switzerland, Holland or Hungary.
We have a number of rail options available, as some departures make the most of the comfort that First Class rail travel has to offer, while some take advantage of the value for money that Standard travel provides.
One exciting option available to you when choosing our cruises is the opportunity to add a brief tour on to the beginning, or end of your cruise.