Stockholm is one of the most beautiful capitals in the world, which was built on 14 islands. These islands have been connected together by no fewer than 57 bridges. With its 750 year history and rich cultural life, Stockholm offers a wide selection of world-class museums and attractions.
Most of the city's attractions are easy to see on foot - the city is compact enough to explore without spending all day on public transport. Visit Stockholm City Hall and climb the City Hall tower for a fantastic view of Stockholm. Don't miss Gamla Stan - Stockholm's oldest attraction - and one of the best preserved medieval city centres in the world. A walk through small winding streets will reveal stores full of handicrafts, antiques, art galleries and cafés. The Royal Palace and Stockholm Cathedral are also located in Gamla Stan.
Find out more with a free brochure and enjoy weekly travel inspiration and offers in our e-newsletter.
More about Stockholm
The green island of Djurgården is home to some of the city's most popular attractions. Visit the world-famous warship - the Vasamuseum; the world's oldest open-air museum - Skansen, or Astrid Lindgren's Junibacken. One of the best ways to experience the beauty of Stockholm is from the water. Naturally, a city built on fourteen islands offers marvellous views over the water. There are many different sightseeing tours to choose from.
If 14 islands aren't enough, Stockholm offers a wonderful archipelago with 30,000 islands, islet rocks and skerries. Over 30% of the city area is made up of waterways and another 30% is made up of parks and green spaces, giving Stockholm perhaps the freshest air of any European capital. Ekoparken was the first National City Park in the world.
Holiday ideas for Stockholm
Other destinations and city guides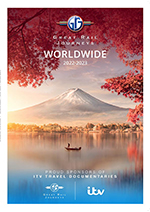 Prefer to browse our brochures!
Sign up to receive one of our Free holiday brochures and our email list to discover more about our fantastic holidays.