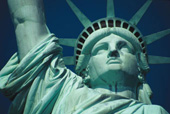 CJ Wheeler explains why rail has always defined travel in America.
February 2013 marks the 100th anniversary of Grand Central Station in New York City, one of the most iconic examples of the great adventure and splendour of rail.
Grand Central - which has been called the world's loveliest station - is both an architectural gem and a spectacular monument to the dream of crossing continental America by train. A rail terminus constructed in the glory days of the 1910s, shortly before the First World War and the Great Depression, Grand Central Station represented both the growing industrial influence of the USA and the bustling metropolis of New York City.
The station, located in midtown Manhattan on 42nd Street and Park Avenue, was constructed for the wealthy Vanderbilt family's New York Central Railroad as a rival to nearby Penn Station, built three years before by the Pennsylvania Railroad Company. Engineering feats were involved in the creation of Grand Central; the station was one of the first to run entirely on electricity, and trains could be boarded at two different levels from its underground platforms.
Above ground, vast ceilings painted with the signs of the zodiac welcomed passengers to the station. Lavish marble, chandeliers, marvellous sculptures and glasswork still attract astonished gazes from visitors to Grand Central Station. This testament to classically-influenced yet futuristic early 20th century design has outlasted Penn Station by half a century. Campaigns supported by prominent public figures helped save the younger station from a similar fate.
Nestled among the colossal skyscrapers, inspirational Statue of Liberty and scenic Central Park of New York, the station built in 1913 has remained more than a symbol of a bygone age before flight became fashionable. After a century of serving travellers from all over the world, the excitement felt when contemplating a journey across America by train has not diminished.
Explore New York and other magnificent American destinations on Great Rail Journeys' USA rail tours