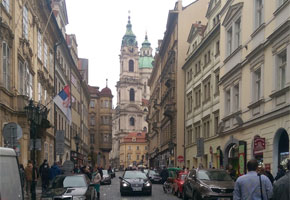 Majestic and eccentric are two words that come to the fore when I consider a recent two-day stint in Prague. We all know it as one of the most popular places to spend a city break in Europe. We know it for its architecture and its beer, yet one of the things that struck me just as much as Charles Bridge, and the vibrating thrum of the Old Town Square, with its famous clock- was the eccentric nature of its streets and the human theatre which inhabits them.
After transferring to our hotel we decided to venture out into town for a cursory glance of our surroundings. The first main thoroughfare we graced was Wenceslas Square, originally named Koňský trh, or Horse Market, the square (which is actually a boulevard) was laid down 650 years ago. This is the epicentre for Prague's main nightclub scene and shopping scene, and is also a mere 5 minutes' walk away from the even busier Old Town Square. Today it has a heavy Western influence but still remains charming despite the presence of Debenhams et al.
Along the boulevard we came across a semi-circle of people watching someone playing the keyboard. As we got closer it became apparent that that person was wearing a rubber horse mask, and rather than simply playing a jaunt on his (or its) chosen musical apparatus, was repeatedly banging its head on the keys, every time someone went up to offer the horse a donation it proceeded to neigh with unbridled enthusiasm. It's something a little out of the ordinary, however, I thought the need to illustrate the quirky side of Prague. It has its own character that isn't confined to the well-trodden flagstones of Charles Bridge, and as a city offers something entirely different to what you might initially expect.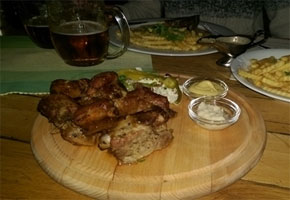 As we arrived in the afternoon we only had a brief time to look around on our first day, following time to refresh in our hotel we headed out to find somewhere to eat. A couple of things you will realise when you visit Prague; the food is very cheap (in the right places) and the meat is exceptional, even while I write this I'm growing a bit peckish just thinking about the fayre we enjoyed. I had the biggest plate of ribs I'd yet seen, cooked to perfection and served with a savagely hot horseradish dip, and in comparison a much cooler mustard alternative, it came with salad and well-seasoned fries. This was all washed down exceedingly well with a pint of Pilsner Urquell, one of Prague's most famous beers, which was also exceptional. My companions both had a great slab of fillet steak, which was around £6 each.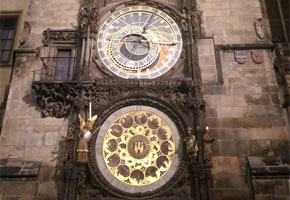 Prague enjoys a metro system that works to surgical precision. Every time we waited for a train the seconds would count down on the digital clock, with just a few seconds remaining you'd be forgiven for thinking it might alight slightly late, the train never did and always arrived to the second. This made it easy and very cheap (a 24-hour pass was around 100 czk, or £2.30) to navigate the city. After our journey on the metro we hopped off and headed towards the Old Town Square to see the Orloj or Astronomical Clock. The clock is one of Prague's biggest draws and it felt like we were sharing the square with half of the Czech Republic. Despite this, the Orloj is an enchanting spectacle, as is the square it inhabits. There is plenty of street food on offer here too, including the ever present Trdelnik, a circular tube of a donut that was originally a Slovakian delicacy, it has spread as far as Prague, well worth a try if you like cinnamon and donuts.
We moved on to the castle district which overlooks the city and provides a fascinating vantage point, here you can take in the urban landscape with a cup of hot mulled wine in one hand and camera in the other. Hradcany's elevation allows you to see the magnificent Gothic St Vitus Cathedral from almost anywhere in the city, and is more than worth the climb to experience. On our way back from the castle we ambled towards Charles Bridge and its hallowed statues, spanning the Vlatava River the Bridge is another of Prague's greatest focal points.
Along the main tourist routes there is plenty of opportunity to buy a souvenir from the overpriced shops on the main thoroughfare, though I recommend hitting one of the markets hosted in Prague, here you can find authentic Czech wares that make much better gifts than an overpriced plastic clock. Often I found that having a little wonder on one of the side streets, or as the cliché goes - off the beaten track oft provides a different experience of Prague, that quiet coffee shop where you can hear yourself think without the constant murmur of tourists allows you to claim a moment of clarity.
All in all I had a great time in Prague, the food was spectacular and the sights and architecture lived up to the hype, even if it was overly busy (we went in October), without a doubt this city is worth adding to your European itinerary, there is a reason why so many people flock here every year.