Budapest was the last Imperial City I visited on a rail journey through Europe. A unique city cut asunder by the Danube, along which now lies Hungary's remarkable Parliament building. Budapest enchanted me with its sights, cuisine, architecture and rich history.
We arrived in Budapest's attractive train station, its interior characterised by looming arches and large window space, letting in plenty of light and making the building feel airy. We were lucky enough to have a ground agent in Budapest who took us to all the main sights, and was kind enough to give us several history lessons along the way.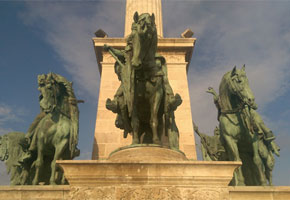 Our first foray into Budapest was a drive along the great boulevard and down to the Rakoczi, which is considered to be the Champs Elysees of the East, in my opinion this is a very accurate observation. The boulevard led us to Heroes Square, which is simply brimming with history. This grand white-stone monument is adorned with characters wrought in copper from Hungary's tumultuous past, a nation that has been captured and re-captured many times. Therefore, Hungary is proud of its tradition of freedom fighters. Seven freedom fighters stand on one side of the monument mirrored by the Magyar Kings of old on the other. The square was started in 1896 to commemorate the 1000th anniversary of Hungary, and can be seen easily as you drive past, though we chose to hop out and inspect it further.
By the time we arrived in Kossuth tér or Parliament Square, the sun was dying and setting fire to the sky behind the Buda hills with the Danube in the foreground, a spectacular sight. As you might expect Hungary's Parliament building is one of the most iconic in Budapest, and we were lucky enough to see it from both sides. This building really is a startling wonder of Imperial wealth and stately presence, after taking a few pictures in the final light as the sun ebbed away - we walked alongside the Danube to our cruise ship. We were fortunate enough to have the entire ship to ourselves. We set sail just as it was turning dark, which meant all the buildings that line the Danube were illuminated, proving to be an unforgettable sight. I strongly recommend if you visit Budapest, go on a dinner cruise. We were furnished with a variety of traditional Hungarian dishes and some fantastic Hungarian wines. After dinner we headed to the top deck and stood in awe as an illuminated Budapest slowly passed us, it was completely dark now and proved to be a great time to take photographs.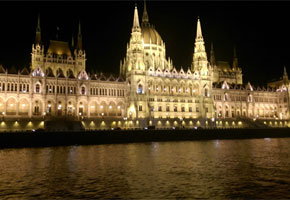 Budapest comes alive in a different way at night, because of the way it's lit up, in the day it is a spectacular place - deeply emblematic of Europe's Imperial past, though at night it is equally as enchanting. To round off what was a great day our ground agent took us to the top of Gellert Hill, named after Bishop Gellert who was thrown to his death inside a barrel in 1046. From the summit we approached a viewing platform and the great illuminated canvas of Budapest came into view, we couldn't have asked for a better way to finish our first day in this magnificent city.
The next day we began by walking up to the castle district, from there we enjoyed grand views of the city below, looking out onto the Danube and Parliament building once again. Budapest's history is permeated by battles and invasions, and its people are proud of that defiant history, our ground agent informed us that the bastion of Budapest's castle once stood against an invading Ottoman army, and is now considered an important site, because of the defiance that it represents.
After our day of sightseeing we were treated to a meal of traditional Hungarian cuisine at a local restaurant, Hungary's food is incredibly flavourful. We enjoyed a starter of goulash soup with an optional addition of fresh paprika, which added a new dimension to the dish. Our main was a choice between roasted duck's leg, catfish or grilled goats cheese, all washed down with another spectacular Hungarian red. Our dessert was a classic Hungarian pancake with homemade apricot jam. The meal really wrapped up a fantastic stay, this city really had everything. We were sad to leave.