Captivating and colourful, Brazil is irresistible in every respect. No-one can fail to be moved by the country's breath-taking natural beauty. Travelling through Brazil's stunning landscapes by train adds a unique dimension to the experience and the opportunity to relax and admire this magnificent country - South America's largest - in comfort.
Sublime scenery aside, Brazil brims with exciting destinations and activities. Rio de Janeiro revels in intoxicating Samba rhythms, gorgeous beaches and a care-free culture. Each February, Rio is gripped by Carnival fever as one of the world's biggest and most colourful festivals erupts into the party of a lifetime. No stay in Rio can be considered complete until the Corcovado Mountain Railway has been ridden to the top of the peak upon which the vast and iconic statue of Christ the Redeemer stands.
Rio is just one of many remarkable destinations in a country steeped in culture, history and natural wonders. Fans of contemporary architecture will find Curitiba, home of the Oscar Niemeyer Museum, unmissable. Wildlife enthusiasts, meanwhile, are guaranteed the experience of a lifetime: Brazil is the most biodiverse country on earth.
Whatever the reason for visiting, however, discovering Brazil by rail is a journey unlike any other through a country that is guaranteed to excite your senses and capture your heart.
There is 1 holiday in this category
Premium Brazil, Argentina & Patagonia
Experience the allure of South America on a wonderful tour that takes you from the vibrant city of Rio de Janeiro, with its famous landmarks and beaches, through lush rainforests and via sensational waterfalls, to Buenos Aires. Fly to Bariloche, in the heart of Patagonia, see the dramatic Perito Moreno Glacier and take a memorable journey on the 'End of the World Train'.
Departs in November 2016.
Late departures available
Get in touch with one of our Brazil Specialists
Helping you plan your holiday to Brazil...

Lori

James

Phil

Kathryn
Visiting Brazil with Great Rail Journeys
At Great Rail Journeys we endeavour to ensure that when customers join us on an escorted rail tour in Brazil they benefit from exceptional value and customer service and enjoy a truly unforgettable experience of this beautiful and hospitable country. The single price our customers pay covers all flights and onward travel arrangements for the duration of the tour, a high standard of overnight accommodation, a varied programme of sightseeing excursions and activities designed to showcase the very best of Brazil, and a selection of meals.
From the moment our customers join us they have the services of our knowledgeable and friendly Tour Manager at their disposal. Accompanying the tour throughout, it is the duty of our Tour Manager to answer questions, provide any assistance required and to recommend attractions, activities and dining options which customers might like to visit in their free time. The presence of a Tour Manager ensures that our customers enjoy a safe, worry-free and pleasurable trip with us.
Each itinerary is carefully planned to feature a selection of Brazil's natural, cultural and historic highlights. These include a guided tour of Rio de Janeiro, a cable-car ride to Sugarloaf Mountain, a visit to the statue of Christ the Redeemer which overlooks Rio and a stunning rainforest journey. Our goal is to choose activities that will be enjoyed by all, but our programme also includes sufficient free time for our customers to explore each destination for themselves.
We choose only accommodation which meets our stringent criteria for convenience of location, quality of comfort, service and amenities whilst representing excellent value for money. Great Rail Journeys is the UK's longest-established specialist rail tour operator and our customers benefit from the reassurance that we are members of ATOL, AITO, and ABTA and that any flights we provide are, where applicable, protected by the CAA.
Brazil Travel Guide
Occupying almost half of the land mass that constitutes South America, Brazil is the fifth largest country on earth. To the north, west and south Brazil is bordered by all of the other South American countries barring Ecuador and Chile, whilst the country's long eastern coastline - famed for possessing some of the world's finest beaches - faces the South Atlantic Ocean.
Brazil is also the world's largest Portuguese-speaking nation; a consequence of the arrival of nobleman and explorer Pedro Álvares Cabral who claimed the country for Portugal in 1500 and established a colony which would remain in power until 1822 when Brazil achieved independence.
Generally speaking Brazil enjoys a tropical and subtropical climate which means it is suitable for visiting, dependent on the region, at any time of year. Winter falls between June and August when average temperatures range between 13 and 18OC (55 and 64OF). In summer, the three-month period between December and February, temperatures can swelter anywhere between 30 and 40OC (86 and 104OF) in the southern regions around Rio de Janeiro with northern, rain-forested areas slightly cooler. Rainfall, in varying degrees, can occur at any time of year but is heaviest in the winter months.
Brazil's cuisine is diverse but inevitably bears Portuguese influences. Feijoada (pronounced fay-zywaa-da) is considered the national dish and is a wholesome stew of pork, beef, pulses and beans. Other must-try Brazilian dishes include Moqueca de Peixe, a fish stew flavoured with coconut; Acarajé, a mixture of shrimp, black-eyed peas and onions rolled into balls and fried; Empadinhas, small pasties filled either with meat or vegetables such as palm hearts and Vatapá, a dish which features shrimps and cashew nuts.
As in neighbouring Argentina, barbecued or grilled meats (churrasco) are immensely popular in Brazil, and the opportunity to experience a meal in a traditional Brazilian churrascaria should not be missed. Here, diners are served at table with an unending procession and variety of freshly-barbecued meats on an all-you-can-eat basis.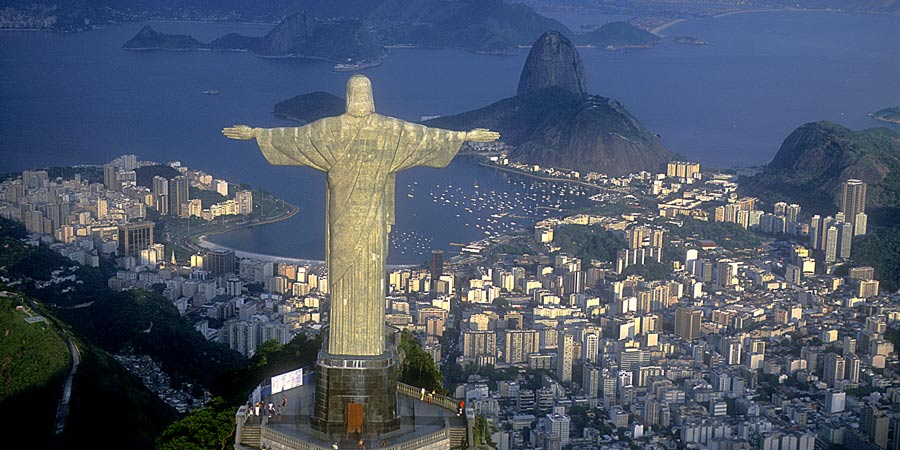 Brazil is renowned for its coffee, and this is the preferred national beverage, whilst the caipirinha, made by mixing a sugar cane spirit called cachaça with fresh lime, brown sugar and ice, is the national cocktail.
Should you choose to dine at your own choice of restaurant in Brazil you may find that it operates on a 'por kilo' basis. At these buffet-style restaurants you may choose as much of whichever food you prefer, but the price you pay is based upon the total weight of your plate rather than for each individual item on it.
If you wish to toast someone (perhaps with a refreshing caipirinha), the Brazilian-Portuguese equivalent of 'cheers' or 'good health' is 'Viva! Saúde'! (pronounced Vee-va! Sa-oo-jay!)