South America
Explore South America by Train
South America possesses a spirit, vitality and passion that is as infectious as its varied landscapes are beautiful. There can be few more pleasureable ways to enjoy the wonders of this captivating continent than on an escorted rail tour of South America with Great Rail Journeys.
Travelling in safety and comfort, some of the marvels that await you include the majestic Andes Mountains, the settlements of ancient civilizations, historic towns with beautifully-preserved colonial architecture and the opportunity to observe magnificent indigenous wildlife.
Combining visits to vibrant modern cities such as Lima and Cusco with excursions to meet remote rainforest-dwelling tribes, a rail holiday in South America provides fascinating insights into the colourful histories and cultures of its people.
There are also opportunities for once-in-a-lifetime experiences; climbing the Cotopaxi Volcano in Ecuador, setting foot onto Lake Titicaca's floating islands made from reeds in Peru or swimming with mischievous and playful sea lions in the Galapagos Islands are adventures that will never be forgotten.
There are 3 holidays in this category
Tren Crucero & the Galapagos Islands
This stunning tour combines the highlights of Ecuador with the amazing wildlife of the Galapagos Islands. You'll experience the fascinating culture and volcanic scenery of Ecuador before flying to the beautiful Galapagos Islands for a truly unforgettable opportunity to see some of the world's most interesting wildlife.
Departs in November 2016.
Late departures available
Machu Picchu & the Andes
The lost city of Machu Picchu and the treasures of Peru are unveiled in this high-altitude adventure, combining scenic rail journeys with first class hotels. An unforgettable experience awaits you in this South American paradise on a tour that includes Lima, Arequipa, Lake Titicaca and Cusco.
Departs in April 2017.
Premium Brazil, Argentina & Patagonia
Experience the allure of South America on a wonderful tour that takes you from the vibrant city of Rio de Janeiro, with its famous landmarks and beaches, through lush rainforests and via sensational waterfalls, to Buenos Aires. Fly to Bariloche, in the heart of Patagonia, see the dramatic Perito Moreno Glacier and take a memorable journey on the 'End of the World Train'.
Departs in November 2016.
Late departures available
Get in touch with one of our South America Specialists
Helping you plan your holiday to South America...

James

Phil

Kathryn

Lori
Travelling in South America with Great Rail Journeys
Travelling in South America with Great Rail Journeys, the UK's leading escorted rail tours specialist for more than thirty years, strives to provide our customers with rail holidays in South America that are pleasureable, worry-free and offer the best possible value for money.
Everything including flights, travel by rail and other transport, an itinerary of activities and excursions, overnight accommodation and a selection of meals, is covered in the cost of the trip. Our customers are also placed in the capable hands of one of our experienced Tour Managers who is there to assist, answer questions, and provide additional information and tips relating to the destinations that we visit on our rail holidays in South America.
To enable our customers to capture the essence of South America we create itineraries that showcase the best historical, cultural and natural experiences offered by each destination.
These encompass everything from visiting traditional local markets to touring ancient Incan temples or observing the spectacular scenery and wildlife in a National Park. We also build free time into our itineraries to enable our customers to explore a destination further and pursue activities they enjoy, or for them to relax and unwind if they wish.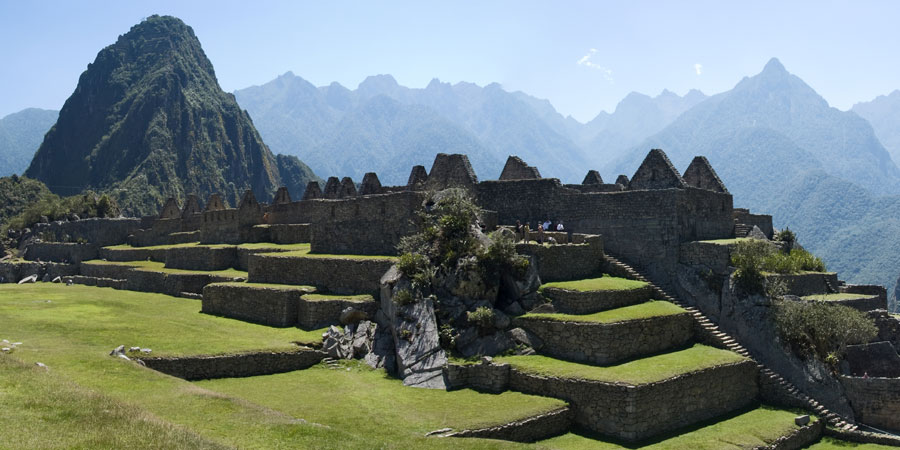 We take equal care in the choice of our accommodation, basing our selection upon the convenience of a hotel's location, its value for money and the comfort, facilities and standards of service it provides. Where possible we choose family-run hotels which offer our customers a friendly and informal environment in which to relax.
Our South America Trains
The opportunity to travel on some of South America's remarkable trains and railways is an important aspect of our escorted tours, and is a pleasureable and memorable experience in its own right.
Devil's Nose
Currently, only a twelve-kilometre stretch of Ecuador's first railway line remains open but it is easily the most spectacular. To negotiate a sheer and almost vertical rock face nicknamed El Nariz del Diablo (the Devil's Nose), the railway's builders carved a steeply zig-zagging route directly out of the rock.
This series of 1-in-18 slopes allow the Devil's Nose train to ascend and descend eight-hundred metres by see-sawing backwards and forwards on the rock face. Passengers are rewarded with the experience of travelling a truly remarkable feat of early twentieth-century railway engineering and with the stunning views the journey provides.
Andean Explorer
The multi-award winning Andean Explorer offers perhaps South America's most luxurious rail travel experience and is hailed by enthusiasts as one of the best train journeys in the world. Authentically recreating the comfort and elegance of a 1920's Pullman train, the Andean Explorer's carriages have been beautifully decorated and furnished with great attention to detail: the lamps are of identical origin to those used on the Orient-Express.
In the course of its nine-and-a-half hour journey between Cusco to Puno beside Lake Titicaca the train travels along one of the highest-altitude standard-gauge railway lines in the world, attaining an elevation greater than 14,000 feet above sea level. Passengers can admire the breath-taking scenery en-route from the Andean Explorer's open-air observation car.
Tren Crucero
Ecuador's luxury Tren Crucero 'Cruise Train' is instantly recognisable by its distinctive red, black and yellow livery. Four vintage carriages, each individually decorated in traditional Ecuadorian style, are hauled by either a diesel or early twentieth-century steam locomotive. Each carriage is air-conditioned.
Seating in the first two carriages comprises fifty-four comfortable arm chairs, each effectively a window seat allowing passengers to sit back and marvel at Ecuador's exceptional landscapes. The third carriage contains a bar and lounge in which drinks and snacks are served whilst the fourth is an observation car with an open-air deck at the back which provides a prime spot for snapping the passing scenery.
About South America
South America's culture stems from a diversity of influences. Many of the continent's indigenous communities still maintain their ancient customs and traditions, but successive colonisation by arrivals from Europe, Africa and Asia have left their cultural calling cards, shaping aspects such as language, architecture and cuisine.
As with other continents, South America's climate varies depending upon location. Whist the southernmost regions towards the equator experience high temperatures, humidity and heavy tropical rainfall, the Andean areas which fall within Peru, Ecuador and Bolivia have distinct seasons: wet and dry. Again, altitude and location has a bearing upon these but the months from May to October are generally the most agreeable weather-wise.
A South America rail holiday with Great Rail Journeys is both an adventure and an inspirational experience. The combination of awe-inspiring natural beauty, diverse wildlife, ancient and modern cultures and historic treasures that you'll encounter as you travel through this captivating continent ensure that this will be a holiday you'll always remember.