Rail Tours in Austria
Holiday Tours through the Land of the Waltz
Austria is a destination of sublime beauty and elegance all year round, the grandeur and spectacle of its mountainous landscapes rivalled only by the richness of its cultural and musical heritage. An escorted rail tour of Austria with Great Rail Journeys allows guests to enjoy the very best of both of these worlds.
Austria's modern railway network spans the entire country making even remote and rural areas accessible by fast, efficient and regular trains. This means that a rail holiday in Austria can easily encompass visits to both historic and cultural cities including Vienna and Salzburg with scenic regions such as Austria's Alps and Lake District.
There are 27 holidays in this category
Christmas in the Tyrol
Innsbruck, our base in the Tyrol, is ideal for yuletide trips to pretty Kufstein, medieval Rattenberg and the Alpine town of Seefeld. The Zillertalbahn steam railway is a real highlight, as it winds its way up to the winter resort of Mayrhofen through stunning scenery.
Departs in December 2016.
SPECIAL OFFER
View Details
Grand Imperial Cities
Fascinating grand imperial cities and high-speed intercity train journeys showcase the turbulent history of Central Europe. Discover what turned these former Habsburg and Prussian cities into four of Europe's greatest destinations.
Departs from June 2016 to October 2016 and from March 2017 to April 2017.
Late departures available
Vienna, Salzburg & the Danube
Combining the magnificent cities of Salzburg and Vienna with some of Austria's most scenic railways is the recipe for a truly wonderful tour. Add to this a scenic river cruise through the stunning Danube valley of the Wachau and a "Sound of Music" tour, for an unforgettable Austrian holiday experience.
Departs from June 2016 to September 2016 and from April 2017 to May 2017.
Late departures available
Grand Tour Of Switzerland
Journey through the heart of the Alps on this grand tour of majestic Switzerland. Visit the picturesque cities of St Gallen and Lucerne, explore delightful Lugano and Bern and experience wonderful Swiss rail over and around the spectacular Swiss peaks.
Departs from June 2016 to September 2016.
Late departures available
Lindau & Lake Constance
Charming castles in both Austria and Germany, and mighty zeppelins can be seen on this wonderful rail tour. Our base is in Lindau, a pretty island set at the edge of Lake Constance, a huge expanse that is bordered by three countries.
Departs from June 2016 to September 2016.
Late departures available
Lake Garda, Venice & The Austrian Alps
Marvellous Alpine scenery makes a brilliant backdrop as we discover the wonderful Austrian Tyrol, enjoying spectacular mountainous narrow-gauge railways before continuing on to the peaceful shores of sparkling Lake Garda. From our base in the pretty lakeside town of Salò we explore beautiful Venice and historic Verona.
Departs in September 2016.
Austrian Alps All-Inclusive
Explore the mighty Austrian Alps on this wonderful tour to one of Europe's most scenic and alluring countries. From our base in the enchanting Tyrolean town of St Johann, we discover the majesty of the Grossglockner High Alpine Road, enjoy a heritage railway journey through the dramatic Ziller Valley and visit the glorious imperial city of Salzburg.
Departs from June 2016 to September 2016.
Late departures available
Austrian Christmas & Italian New Year
Enjoy the festive period in two of Europe's most spectacular settings on this truly memorable rail holiday. Innsbruck at Christmas is enchanting, and Lake Garda is the perfect place to enjoy a fantastic New Year.
Departs in December 2016.
SPECIAL OFFER
View Details
The Austrian Lake District
Idyllic Lake Traunsee, UNESCO-protected Hallstatt, picturesque Wolfgangsee and Mozart's celebrated home city of Salzburg: this tour of the Salzkammergut region takes us by train, boat and coach through the spectacular scenery of the wonderful Austrian lakes.
Departs in July 2016.
Late departures available
Christmas in Vienna & Salzburg
This twin centre Christmas rail holiday gives you the opportunity to experience the festive delights of charming Salzburg in a classical 5-Star hotel, as well as enjoying the musical and cultural delights of elegant Vienna.
Departs in December 2016.
SPECIAL OFFER
View Details

Lori

James

Phil
Lynne
Get in touch with one of our Austria Specialists
Helping you plan your holiday to Austria...
Touring Austria with Great Rail Journeys
Whether you join us to visit some of Austria's magical Christmas markets, journey by train through the magnificent Alps or for an unforgettable cultural experience at Vienna's annual Johann Strauss Ball, Great Rail Journeys promises you an outstanding trip and unbeatable value for money.
We offer a varied selection of escorted rail tours in Austria to suit everybody, and the price of each includes all rail and other travel, an itinerary of destinations, excursions and activities designed to showcase some of Austria's best historic, natural and cultural attractions, quality overnight accommodation and a selection of meals.
We arrange everything for you and place you in the care of an experienced and friendly Tour Manager who is happy to assist whenever needed and will answer any questions guests may have. Possessing local knowledge of the places we visit, our Tour Managers can also provide useful information and even make recommendations regarding places to eat or things to see and do.
We'll also make sure that you enjoy comfortable accommodation in hotels chosen for their convenient location, guest facilities, high standards of service and value. The quality, family-run hotels we prefer offer our guests a more personal service and an informal atmosphere in which to relax.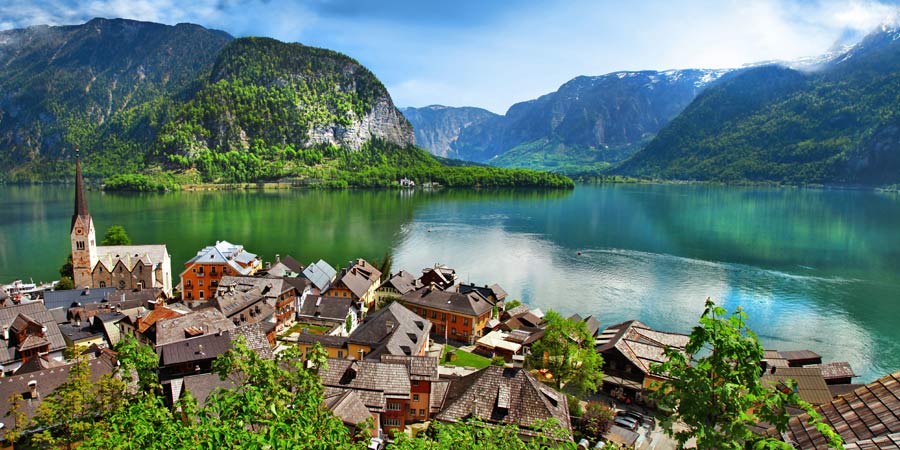 Austria traveller's guide
Although compact in size, the landlocked and mostly mountainous Republic of Austria in south central Europe is one of the world's most financially prosperous countries and has an accordingly high standard of living. For visitors, however, Austria's riches lie in its beautiful landscapes, its Alpine resorts and its cultural legacy, particularly in respect of classical composers. Austria is the country which gave us Mozart, Strauss, Schubert, Mahler and Haydn.
Austria's historic towns and cities also boast a wealth of remarkable and beautiful architecture ranging from Gothic churches to Baroque and Neoclassical palaces and fortresses and even remarkable contemporary architecture as demonstrated by Salzburg's Museum der Moderne gallery.
Austria enjoys a temperate climate, although as a mountainous country temperature decreases as altitude increases. Although rainfall occurs throughout the year, heavy rains may accompany thunderstorms in July and August, whilst November and April are typically the wettest months. Austria's southerly position means that summers can be hot and sunny with daytime temperatures rising to 30°C but cooling in the evening. In the Austrian Alps, snow cover at higher altitudes, if not permanent, lasts from November until May.
Robust, hearty meals form the basis of Austrian cuisine, although many flavours and dishes have been influenced by neighbouring countries. Beef, pork and chicken are popular, and bacon features in a number of traditional recipes. Schnitzels - breaded escalope of pork or veal, beef broths, savoury or sweet dumplings and boiled beef are all specialities, and no visitor to Austria should resist the opportunity to try the world's greatest chocolate cake; the Sacher Torte.
Guests visiting Austria on holiday tours should be aware that the Austrian way of telling a waiter to keep the change is to hand over payment and say thank you or 'danke' (pronounced dank-uh). If you expect change wait until you receive it before thanking your waiter.
Austrians greet each other with a hand shake. While you may see some Austrian men bowing to kiss the hand of a lady this is considered ostentatious and is not expected from guests visiting Austria on holiday.