Situated in the west of Japan's largest island, Hiroshima is clearly best known for being destroyed after the United States Air Force dropped an atomic bomb on the city on 6th August 1945. About 140,000 people were killed in the immediate aftermath of the explosion, and a further 400,000 people died from the effects of the bomb. Approximately 90% of the city was levelled in the sheer destruction, and Hiroshima's busiest commercial district was eradicated - leaving an open field. This was turned into the Hiroshima Peace Memorial Park, which opened on 1st April 1954. The city's annual memorial ceremony, held on the anniversary of the destruction, always takes place in the park.
One of the park's most famous buildings is the A-bomb Dome. It was the closest building to the hypocentre of the bomb that remained at least partially standing. It was originally scheduled to be demolished with the rest of the ruins around it, but this was delayed by the fact that it was more intact than originally thought. In 1966 Hiroshima decided they would keep the building forever, and in 1996 it was designated a UNESCO World Heritage Site. The park's main purpose is to serve as a memorial to the victims of the tragedy, and to advocate world peace at the same time by making a visual representation of the horrors of nuclear war.
Find out more with a free brochure and enjoy weekly travel inspiration and offers in our e-newsletter.
Holiday ideas for Hiroshima
Other destinations and city guides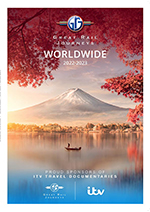 Prefer to browse our brochures!
Sign up to receive one of our Free holiday brochures and our email list to discover more about our fantastic holidays.