Hakone National Park (or, to give it its full name, 'Fuji-Hakone-Izu National Park) was established as a protected space in 1936. Although the park covers a large area collectively, it is not all connected - more that the conservation efforts are dispersed tourist sites throughout the region. The largest attraction in both size and popularity is Mount Fuji, Japan's largest mountain at 12,389 feet (3,776 metres) tall.
The mighty snow-covered peak of Mount Fuji has become an iconic symbol of the country, and is depicted on many of its postcards and souvenirs. Even though the mountain is about 60 miles (97 kilometres) from Tokyo, on a clear day it can be seen in the city's skyline. It is believed that the first ascent was made by a monk in 663 AD, and the first ascent by a non-Japanese person was made in 1860. Close to the mountain is the immense Lake Ashi, a huge crater lake that was created by Fuji's last eruption. At 2,400 feet (732 metres) above sea level, the lake offers great views over the surrounding scenery.
Find out more with a free brochure and enjoy weekly travel inspiration and offers in our e-newsletter.
Another highlight of the park and its unforgettable views is Owakudani, also known as the 'Great Boiling Valley'. Accessible by the cable car known as the Hakone Ropeway, Owakudani is very popular with tourists. The area is favoured because of the fantastic panorama over the valley, but also mainly because of its hot springs and sulphur vents. One unusual attraction here is 'Kuro-tamago', a local speciality of eggs hard-boiled in the hot springs. This particular kind of boiling makes the eggs go black, and they have a slight sulphuric smell, but according to legend, eating one will increase your longevity. It is believed that each one will add seven years to a person's life!
Holiday ideas for Hakone National Park
Other destinations and city guides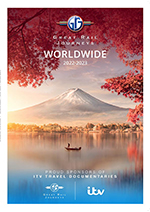 Prefer to browse our brochures!
Sign up to receive one of our Free holiday brochures and our email list to discover more about our fantastic holidays.