Palace on Wheels
Travel through India in the style of the Maharajas
If you've ever dreamed of exploring India's cultural treasures whilst travelling in the style of the Maharajas, the Palace on Wheels brings those dreams to reality.
Each of the carriages that form the Palace on Wheels was designed for use by India's Royalty, Heads of State and the Viceroy of British India from the mid-nineteenth century onwards. When India gained independence in 1947, Indian Railways discontinued the use of these exquisitely decorated rail carriages.
They were returned to service in January 1982 as the Palace on Wheels; an award-winning luxury heritage train which offers the modern-day traveller an unforgettable journey from Delhi through the beautiful provinces of Rajasthan and Uttar Pradesh.
Guests of Great Rail Journeys who join us aboard the Palace on Wheels for an escorted rail tour in India will experience the utmost levels of luxury, comfort, service and relaxation as we visit some of the country's greatest cities and iconic landmarks.
There is 1 holiday in this category
India's Palace on Wheels
Magnificent palaces and forts are waiting to be discovered on this Indian rail adventure aboard the Palace on Wheels train. Experience the lifestyle of the Maharajahs as we visit walled cities, marvel at the astonishing Taj Mahal and enjoy tiger spotting in Ranthambore National Park.
Departs in November 2016 and from February 2017 to November 2017.
An Indian adventure aboard the Palace on Wheels
The Palace on Wheels transports our guests on an eight-day odyssey that begins and ends in the colourful and hectic city of Delhi, where ancient forts, mosques and bazaars meet twenty-first century shopping malls, gourmet restaurants and a host of fascinating museums and monuments.
From here, this remarkable train takes our guests on a voyage that highlights India's remarkable heritage, culture and scenic landscapes. From the stunning and historic forts at Jaipur and Chittorgarh, to the tiger-country jungle terrain of Sawai Madhopur and Ranthambore National Park, every destination on the route taken by the Palace on Wheels is truly stunning. This incredible tour culminates in a visit to Agra's most famous site: the iconic Taj Mahal. This seventeenth-century white-marble mausoleum, built in memory of the third wife of the Mughal emperor Shah Jahan, is one of the Seven Wonders of the Modern World and unmissable for the sublime beauty of its Mughal architecture.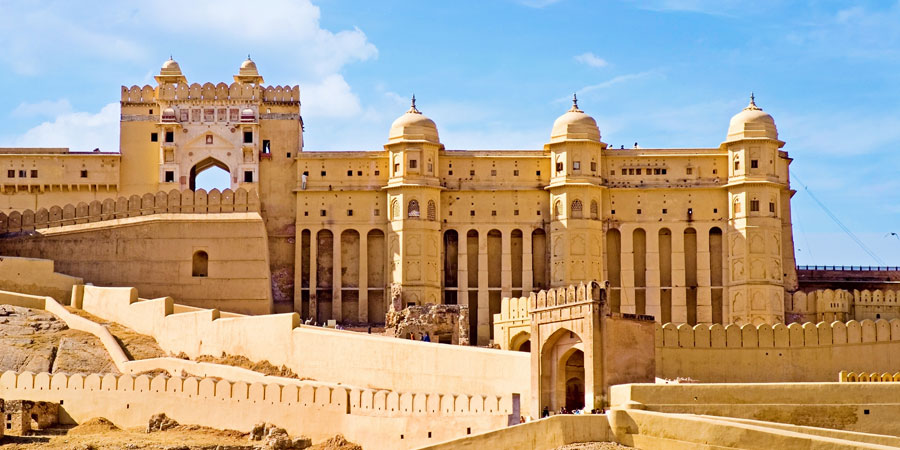 Great Rail Journeys' guests sleep in five-star luxury
Benefiting from extensive refurbishment in 2009, each of the Palace on Wheels' sleeper carriages is uniquely decorated and furnished to regal standards of luxury, and contains four individual suites.
Guests of Great Rail Journeys enjoy sumptuous accommodation in a twin suite. Fully carpeted and air-conditioned, these beautiful suites have a private en-suite bathroom with shower and WC and are equipped with a range of amenities including a television, electrical points, a built-in wardrobe and a personal safe. Free Wi-Fi internet connectivity is available and our guests receive complimentary stationery and bottled mineral water.
Each sleeper carriage also has its own Khidmatgar; a personal attendant who is on hand to provide guests with any hospitality service or assistance they require throughout their journey on the Palace on Wheels.
Palace on Wheels facilities
In addition to the train's indulgently luxurious passenger accommodation, the Palace on Wheels has two restaurant cars: the Maharaja and Maharani. In truly elegant surroundings, and attentively waited upon by courteous uniformed stewards, our guests can enjoy a range of excellent international cuisine or sample authentic Rajasthani specialities freshly prepared by the train's talented chefs using the best seasonal ingredients.
Post-dinner drinks can be taken in the stunning wood-panelled and well-stocked bar, which provides a convivial and comfortable setting in which to engage in conversation or relax with a drink and admire India's diverse scenery as it passes the window.
The train's sumptuously-appointed Lounge Car is perfect both for unwinding with a good book or for socialising with fellow passengers and our guests will also find a number of on-board recreational activities to enjoy here.
Guests seeking the ultimate indulgence will find an extensive selection of spa treatments and therapies in the Palace on Wheels' Rejuvenation Car.