This month, Channel 5 viewers will been joining TV presenter Nick Knowles on the railway adventure of a lifetime as he embarks on the latest leg of his journey around the globe.
We will see Nick explore new destinations that feature some of world's most breathtaking landscapes - including Mexico, Norway, Vietnam, Malaysia and Alaska. Along the way, Nick experiences the incredible views that railway journeys can provide while immersing himself in local cultures.
Nick kicks off his tour in Los Mochis, Sinaloa, before boarding a train to Creel in Chihuahua to see the astonishing Copper Canyon. Keen to make the most of his time, he makes a train pit stop in El Fuerte - a historic Spanish fort town which has featured in many Hollywood films, well-known for its captivating beauty.
Next, it's up to Norway where Nick marvels at the beautiful snow-capped mountains. After a visit to the Viking capital of Trondheim, he boards a train through forest-filled fjords to Bodo - a coastal city brimming with eclectic waterfront houses. Nick then takes viewers to Vietnam, where he boards a train through the mesmerising mountains along the border with China. Here he experiences the breath-taking Ha Long Bay - a place of crystal-clear waters and white sandy beaches.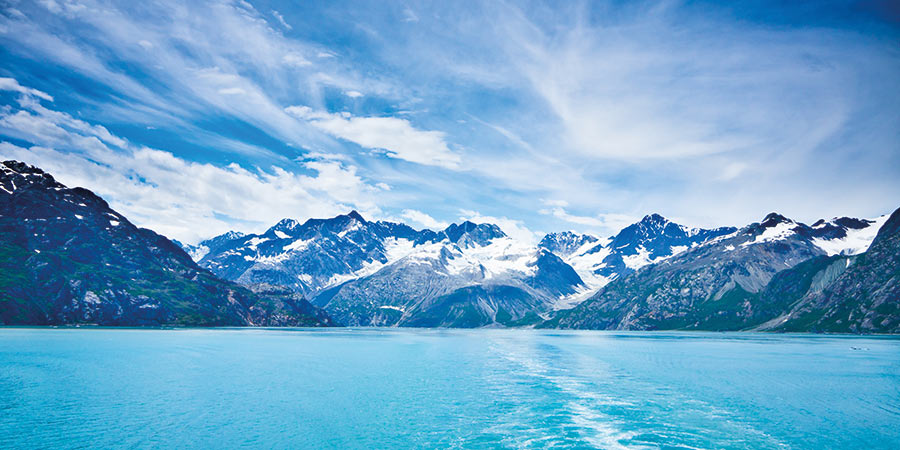 Why choose to travel by rail?
When it comes to railway travel, the world really is your oyster. It gives you a window seat to the spectacular scenes that different parts of the world have to offer - from misty mountain trails, right through to stunning coastal vistas. Travelling by rail empowers you to fully experience the vibrant life and unique landscapes in every continent.
Here at Great Rail Journeys, it's our mission to make every traveller's experience one they will never forget. Our award-winning escorted tours blend safety and comfort with style and class, so all you have to do is sit back and enjoy the ride. Along with being able to capture glorious landscapes from all around the world, you also have the opportunity to meet new friendly faces along the way.
There's never a dull moment with railway travel - and we're here to make sure every second of your trip is just as memorable as the last.
Choose your adventure

The Northern Lights and Lapland - 10 days, £2,495 per person
Aboard Scandinavia's most scenic routes as you embark on a truly awe-inspiring journey around Norway and Swedish Lapland. Experience a husky-hauled sleigh ride leading to the Arctic Circle, then take in the mesmerising Northern Lights for the experience of a lifetime.
Highlights include:
An expertly guided tour of Viking Trondheim.
The opportunity to join the indigenous Sami people for a traditional meal.
A husky-hauled sled ride in Kiruna before enjoying a Swedish coffee break or 'fika'.
The chance to see the Northern Lights in the best areas for experiencing the sightings.
Drinks in the Ice Hotel in Kiruna.
A trip along the Ofoten Railway to Narvik, where you can enjoy the Scandinavian scenes of fjords and rugged mountains.
Travelling on the Nordland Railway, also known as the Polar Express, on a journey through the Arctic countryside.
Witnessing the untouched beauty of the Lofoten Islands - a scenic archipelago of isolated islands.

Grand Tour of Vietnam and Cambodia - 18 days, from £3,295 per person
Immerse yourself in the cultures of Vietnam and Cambodia on this tour of a lifetime. Travel through the stunning rivers and streams that wind through the Mekong Delta, visit the lively Ho Chi Minh City, and marvel in the tranquillity of Halong Bay.
Highlights include:
A trip to Halong Bay on a relaxing overnight cruise, where you can experience its incredible limestone rock formations.
A chance to experience the Water Puppet Theatre for a performance of Vietnam's traditional art form.
Expertly guided tours of the bustling cities of Hanoi, Ho Chi Minh City, and Phnom Penh.
Learning about the unique history of the Vietnam War at Cu Chi Tunnels.
Witnessing the breath-taking views of the ancient temples of Angkor Wat.

The Rocky Mountaineer and Alaska Cruise - 16 days, £4,995 per person
Let the stunning views of Canada and Alaska stop you in your tracks as you travel through the famous Rocky Mountaineer, before enjoying a seven-night cruise through Alaska's serene glacial coastline. It's a tour you'll never forget.
Highlights include:
Two daytime journeys on the Rocky Mountaineer, which boasts incredible views to revel in.
Rocky Mountain views from the Banff Gondola.
Ample time to explore the mesmerising turquoise Lake Louise.
A visit to the stunning Athabasca Glacier - part of the colossal Columbia Icefield.
An unforgettable seven-night cruise through Alaska's spectacular Glacier Bay and Inside Passage.
Why travel with Great Rail Journeys?
At Great Rail Journeys, we're specialists in elevating the railway travel experience. We do this by merging practicality with luxury, so our passengers can enjoy the endless advantages of travelling by rail. Here are just some of the benefits you can expect when booking a Great Rail Journeys tour:
Comfort and style - You can be confident that every mile of your journey will be hassle-free, thanks to our luxury amenities and contemporary interiors. Our journeys provide more than just a relaxing ride, with roomy lounges to unwind in and comfy cabin seating for a truly premium travel experience.
Accessibility - All of our tours are centred on accessibility. Enjoy breath-taking landscapes that you might otherwise miss if you were travelling by any other mode of transport. Let us handle all the travel arrangements, including hotels and layovers.
Gourmet dining - Savour the culinary creations of our highly trained chefs as they make exquisite meals to fuel your journey. We're reinventing food on the go by championing the fresh, local produce from each continent - so you can have a taste of the culture at its core. Choose to eat at your seat or dine in our downstairs restaurant for the ultimate elegant experience.
Excursions and entertainment - The world is bursting with mesmerising culture - from architecture, to food, and history. Our dedicated team of expert tour managers are here to make sure you capture all of this in your travels. You can leave with an abundance of newfound enlightenment to share with loved ones back home.
Competition Time: Win a Great Rail Journeys Adventure and £1,000
Now you've had a taste of the incredible Scandinavian adventures of Nick Knowles, it's time for you to do the same. To be in with the chance of winning an unforgettable 9-night train adventure for two on our Norway and Swedish Lapland tour along with £1,000 spending money, tune into the show from Friday 10th March at 8pm on Channel 5 for details on how to enter.