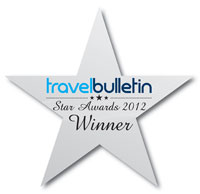 We are proud to announce that Great Rail Journeys won the Star Rail Operator award at the Travel Bulletin Star Awards ceremony in London on 10 September 2012.

The Travel Bulletin Star Awards is widely regarded as the most prestigious awards programme in the UK travel trade. Now in their 16th year, these awards serve to recognise, reward and celebrate excellence across all sectors of the travel and tourism industry.

Voting for the awards is conducted exclusively by high street and home-based travel agents: the agents are invited to vote for the companies they consider to be the very best in 32 industry categories, so it is a completely open vote. Given that Great Rail Journeys has only been working with the travel trade for 3 years, we are particularly delighted that the travel agents voted for us ahead of companies they have been working with for many years.