The GoldenPass Panoramic train which travels the 190-kilometre route between the Swiss cities of Montreux and Lucerne is instantly recognisable by its glittering golden and white livery. The train is as beautiful from the inside as it is from the outside. Light and spacious carriages offer comfortable armchair-style seating beside vast panoramic windows which continue into the train's ceiling. These windows are key, of course, to our guests' enjoyment of their journey.
The GoldenPass Line passes through a dazzling variety of Switzerland's most spectacular lakeside and mountain scenery. From pristine forests of pine and fir to alpine valley meadows, clusters of traditional chalets dotting green hillsides and dramatic peaks, the views afforded by the GoldenPass Line are never less than captivating. Various sections of this stunningly scenic route feature in different Swiss rail holidays offered by Great Rail Journeys.
Highlights
In addition to the sublime scenery that our guests will enjoy travelling on the GoldenPass Line the train calls at a number of interesting destinations. The charming town of Interlaken is uniquely situated between the beautiful Lakes Thun and Brienz. A popular resort, Interlaken offers you the opportunity to ascend to the highest train station in Europe via the historic Jungfraujoch mountain railway.
The chalet-village of Gstaad is renowned as one of Europe's premier ski resorts and is delightful to explore. Situated in the mountainous Bernese Oberland, an area of breath-taking natural beauty, the traffic-free village boasts many fine restaurants and bars along with a selection of exclusive shops.
The city of Montreux in southwest Switzerland enjoys a climate that is more Mediterranean than Alpine. Set beside Lake Geneva and surrounded by vineyards Montreux is a beautiful destination and offers guests many attractions and activities to enjoy. These include paddle-steamer cruise on the lake, walks along the city's flower-lined Riviera Promenade and exploration of the historic 'Old Town'.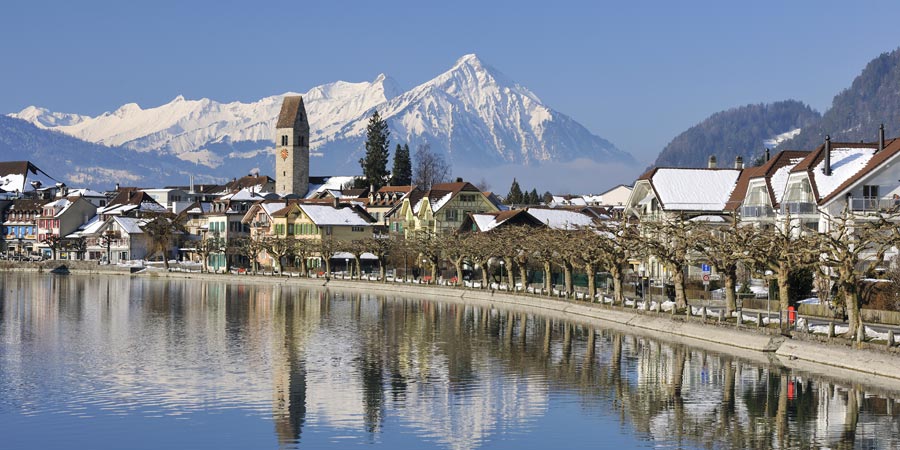 The Goldenpass Classic Train
As an alternative to the panoramic train, some of Great Rail Journeys' escorted tours of Switzerland enable guests to travel in the GoldenPass Classic Train. This beautiful train recreates the Belle Époque style of the luxurious Golden Mountain Pullman Express which was in service during the 1930s.
Reminiscent of the Venice Simplon-Orient-Express, the GoldenPass Classic Train takes guests on a journey back into the golden days of luxury rail travel in the splendour of ornate, wood-panelled carriages with plush and indulgently comfortable seats. The Classic Train's large windows ensure that passengers enjoy outstanding views of the GoldenPass Line's remarkable landscapes and the train even has a dedicated 'wine cellar' carriage in which you may sample a variety of excellent regional wines.