The world is waiting to welcome us back. Once it's safe to do so, we can't wait to help you rediscover your passion for travel. It's time to remember the excitement that comes with ticking a new destination off your travel wish-list, and to indulge in those unmissable, once-in-a-lifetime adventures that we've all missed so much.
As not-so-secret fans of all things rail-related, we think there's little that comes close to the experience of a luxurious train. Even for those not well-versed in the world of rail travel, some trains need no introduction; trains that transcend the idea of rail travel as simply a form of transportation and become journeys of a lifetime in themselves. Here are three of the best.
Ultimate Trans-Siberian Express
Step back into a golden age of rail travel aboard the ever-iconic Golden Eagle Trans-Siberian Express, without question one of the world's most legendary rail voyages. Speeding through the dramatic and remote landscapes of Russia's Siberian tundra, the Golden Eagle whisks you away from the rainbow-swirled domes and Soviet-era monuments of Moscow to the dynamic port city of Vladivostok, by way of some unique cities and awe-inspiring panoramas.
The windows of the Golden Eagle Trans-Siberian Express serve as a scenic picture frame to an incredible quarter of the world, as you make tracks through eight time zones and traverse over 6,000 miles. Along the way, there's memories of a lifetime replete. Who could forget sipping a glass of Champagne while being serenaded by classical musicians in Irkutsk, gazing upon the Russian crown jewels during an exclusive private tour of Moscow's Tsar's Armoury, or sitting down to a traditional dinner of freshly smoked fish on the shores of Siberia's Lake Baikal?
Adding a touch of luxury to this extraordinary adventure is the train itself; simply spending time on the Golden Eagle Trans-Siberian Express is a once-in-a-lifetime experience. Decorated in a classical style, no expense has been spared to turn the Golden Eagle into what is effectively an elegant hotel on wheels. During your time onboard, you can unwind and listen to the gentle tinkling of piano keys as the resident pianist plays in the Bar Lounge Car, and uncover a world of culinary delights in the Restaurant Car. Here, the skilled Executive Chef and his team prepare a range of fine dishes using the very best local ingredients, giving you the opportunity to try Russia's gastronomic specialities - including black sturgeon and red pacific salmon caviar during the Golden Eagle's celebrated 'Caviar Dinner'.
Experience it for yourself on 'Ultimate Trans-Siberian Express'.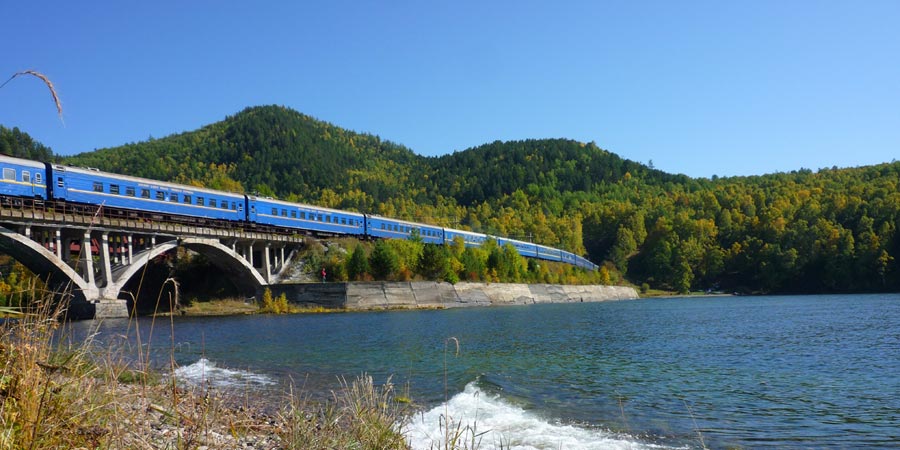 The Pride of Africa
Another train that regularly sits at the top of lists of the world's most unmissable, there are few ways to travel that say 'luxury' quite like Rovos Rail's Pride of Africa. Described as the world's most luxurious train, those who have the chance to travel amidst the beautifully appointed surroundings will be apt to agree. Each of the Pride of Africa's lovingly-restored Pullman-style carriages is finished in polished teak and furnished in the opulent and decadently comfortable style of the 1920s, recalling the halcyon days of luxury rail travel at its most romantic.
The Pride of Africa winds its way along several routes in southern Africa, but the most epic takes you between South Africa's cosmopolitan Cape Town and Dar es Salaam, a quiet fishing village turned bustling metropolis in Tanzania. Criss-crossing the timeless landscapes of Africa by rail is a rare treat indeed; as you're whisked through the plains of some of the world's greatest safari parks, keep your eyes out for majestic elephants, hippos and buffalo from the lavish comfort of the carriages.
Even once you step off the Pride of Africa, you'll continue to make memories that will stay with you forever. Enjoy the chance to get up close and personal with the fabled 'Big Five' on expert-led safari drives, sip world-class wines in the famous Cape Winelands, explore the dynamic city of Cape Town and admire one of the world's finest natural wonders - Victoria Falls, or 'the smoke that thunders'.
Experience it for yourself on 'Ultimate Dar Es Salaam and The Pride of Africa'.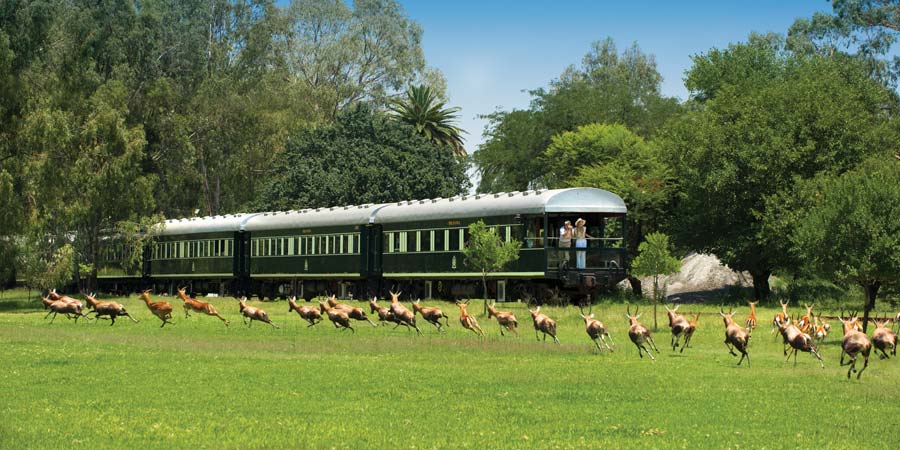 Rocky Mountaineer
Offering the perfect response to the call of the wild, Canada's world-renowned Rocky Mountaineer carves a scenic path through one of the most breathtaking counties in the world. This is truly a first-rate travel experience; with overnight stops at selected hotels along the route, during your time onboard, you'll be treated to unparalleled daylight views of the vast and varied landscapes of the Rocky Mountains.
Settle into your comfortable seat as enormous canyons, remote deserts, natural archways and enchanting hoodoos set the scene just beyond your window. The untouched great outdoors of the Rockies is also home to a myriad of creatures, big and small, and if you're lucky, you could catch a glimpse of an elk, bighorn sheep, or even grizzly bear. To top off this rail journey of a lifetime, you'll dine on meals expertly prepared by award-winning chefs, served at your seat alongside complimentary local wine or beer - without doubt the most relaxing way to soak up the natural splendours of Canada.
The Rocky Mountaineer ends its epic adventure in Banff National Park, the oldest National Park in Canada and a place of breathtaking beauty. Here, you'll soak up picture-postcard views of the vividly-coloured Emerald Lake and spend time by the crystal-clear waters of Lake Louise, where soaring peaks blanketed in verdant pine forests slope away from the shores. For lovers of both iconic trains and panoramic natural scenery, a journey on Rocky Mountaineer is a memory you'll cherish forever.
Experience it for yourself on 'Ultimate Canada and The Rocky Mountaineer'.