This was my first ever long-haul trip and wow, what a way to start! We flew with Vietnam Airlines, the 4-star airline operating out of London Heathrow Terminal 4. We were lucky enough to travel both ways in Premium Economy, meaning we had priority boarding and were well catered for with seat requests. With the 42" seat pitch and reclining back and footrest, I felt comfortable and laid back about the 12-hour flight ahead of me. The staff were very attentive, serving food (with a choice of two options), cold and hot drinks, and cold towels - so I arrived in Ho Chi Minh feeling fresh and ready to start our trip.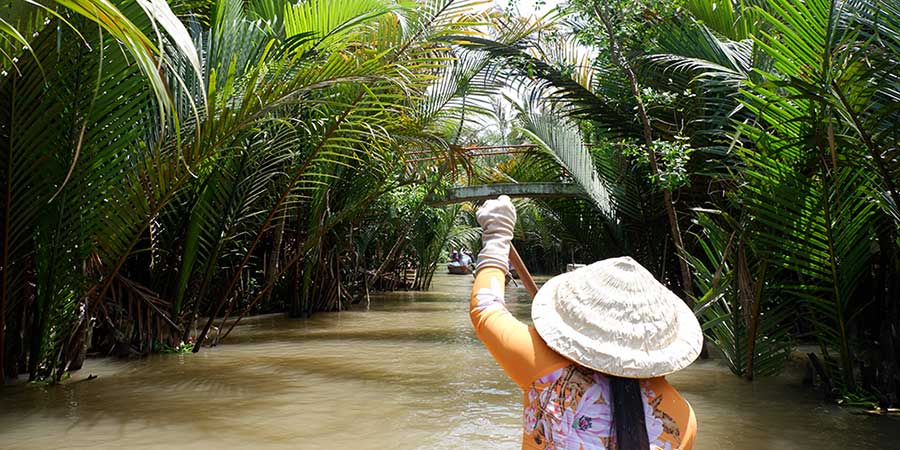 On arrival, we were met by our local guides and taken to a local Pho restaurant for lunch. Afterwards, we visited Coconut Island, famous for the sweets of the same name, and Unicorn Island where we were whisked around on a small private rowing boat. It was our first sense of the Mekong River and made us all excited to experience it further.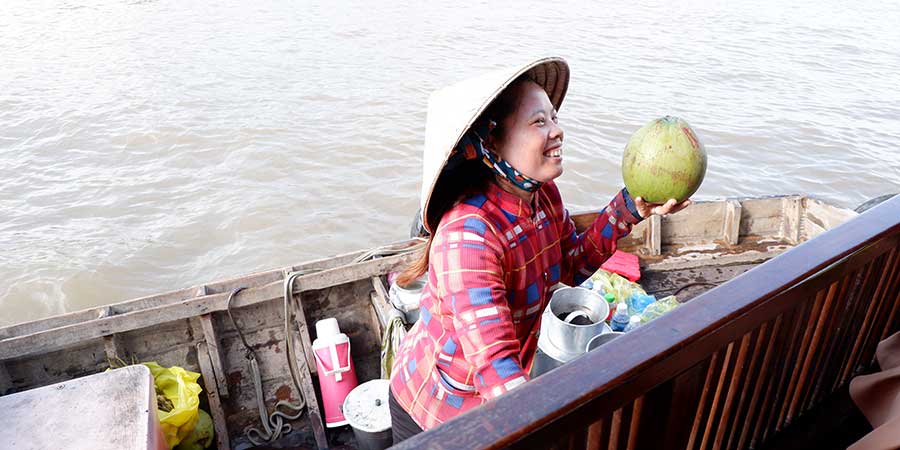 We stayed at the beautiful Victoria Hotel in Can Tho, located on the Mekong River, where the following morning we had breakfast on their private jetty, which is a renovated rice barge! Our journey took us to the Cai Rang Floating Market, I was amazed by the fresh fruit that appeared from the boats as locals just went through their daily routines.
We continued to Ho Chi Minh (commonly known as Saigon) for our second night. It is a dynamic city, bustling with motorcycles and local markets. It worked as a great base to experience some history by visiting the Independent Palace (also known as Reunification Palace), which was used as a home and workplace for the Southern Vietnam President during the Vietnam War. Afterwards, we visited the beautiful Saigon Central Post Office, set in a stunning French-Colonial style building constructed in the late 19th Century.
After our visit to Vietnam, we took the quick Vietnam Airlines flight from Ho Chi Minh to Siem Reap. Taking a speedy 45 minutes, in no time we had arrived in Cambodia. We filled in a simple form on the flight and got our visa on arrival costing around $30.00.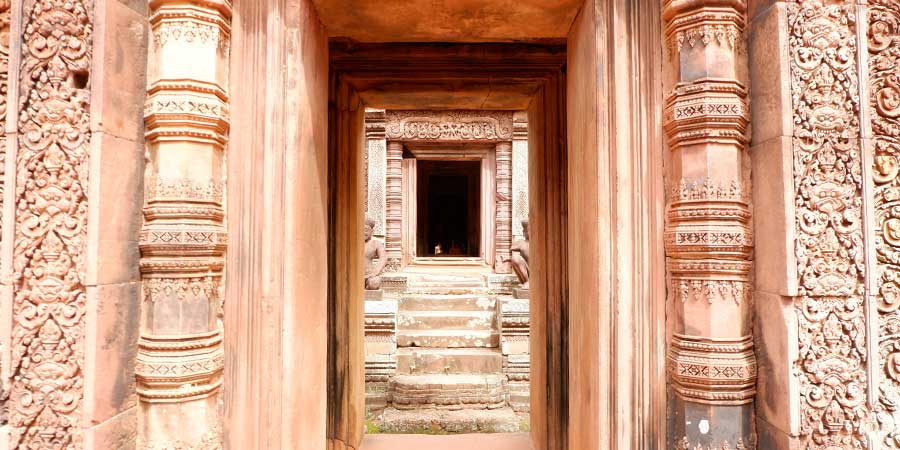 Staying in Siem Reap meant we were in the perfect spot to visit the many stunning temples of Cambodia. We went and got our photos taken and collected our temple passes to allow us access into the temples, so we had to keep them safe.
The first temple we visited was Banteay Srei, a 10th-century temple dedicated to the Hindu god Shiva and well known for its pink sandstone colour.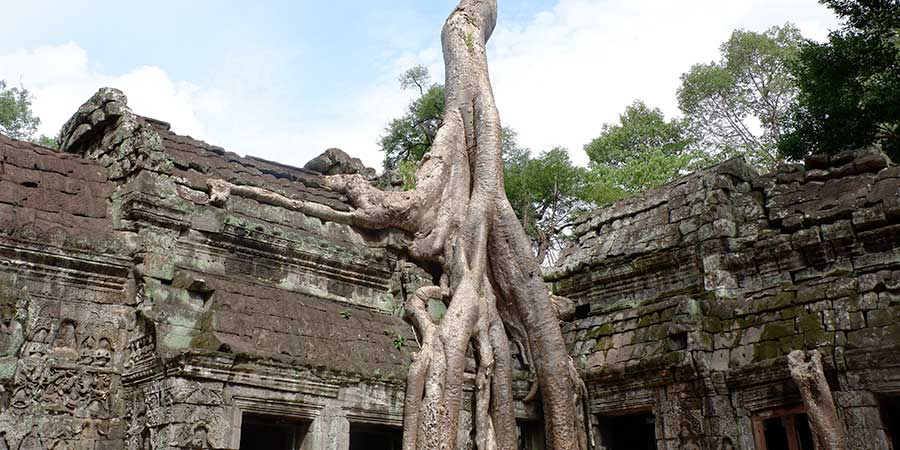 The next temple was by far one of my favourites - Ta Prohm, which was built in the late 12th century and is currently being held in place by the roots of the Banyan Tree. This destination was made famous due to Lara Croft: Tomb Raider being filmed here. The way the trees were merging with the temples, forming a kind of scaffolding structure, was fascinating and truly reflected the power of nature against mankind.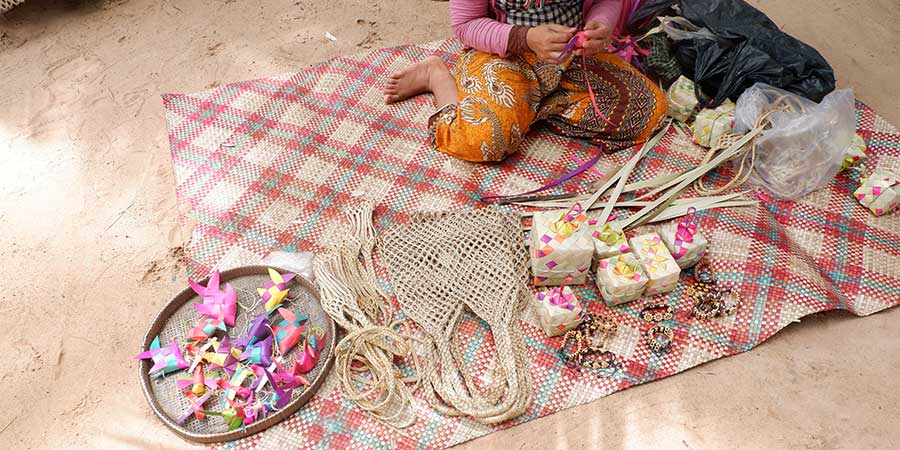 Afterwards, we visited a local village and experienced the process of making Cambodian rice noodles by hand and met a lady who made beautiful crafts from palm leaves. We were then treated to the homemade rice noodles for our lunch.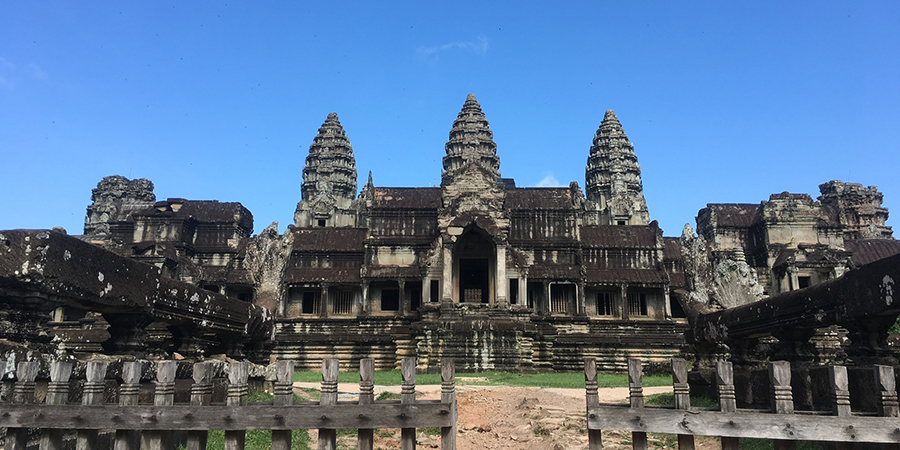 Having a taster of two of the temples made us even more excited for our 4am rise the following day to see Angkor Wat. We were up early in the darkness walking towards Angkor Wat with the outline become more and more visible to us, and as we sat by the lake in front of this famous temple.
The Angkor complex supported between 750,000 to 1 million people and it is fascinating to imagine the life of those living in these temples as you walk through. The temples are all hand carved with images of the famous 'Apsara Dancing Girls' and the doorways cleverly built shorter, giving the illusion that you bow on entrance.
Not only did we see Angkor Wat on our day of departure but also Angkor Thom, the capital city of the Khmer empire. Here, you are greeted by a few of the 216 smiling faces of the King and Smiling Buddha, as well as the gods and demons on entrance into the complex. The many faces will greet you and accompany you on your journey through Angkor Thom, providing some perfect photo opportunities.
The temple complex is an absolute must. Within the Khmer empire, each King built their own temple and the hard work and effort which must have been endured when making these temples is mind-boggling. Hard work is now taking place again, as reconstruction is ongoing to help rebuild the collapsed towers of the many temples we visited.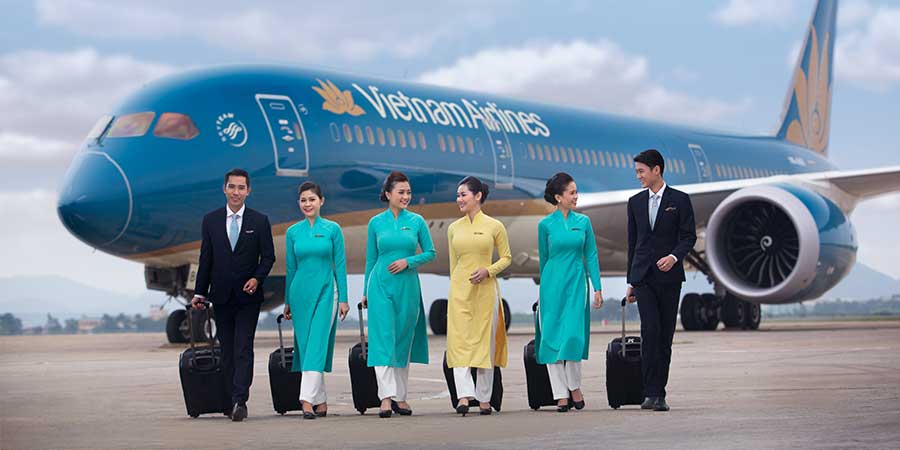 After our two days of temple visits getting the true sense of Cambodia, it was time to say goodbye.
We caught a short internal flight from Cambodia to Hanoi, where we proceeded easily to the transfer desk for our Hanoi to London Heathrow flight. It was straight forward, and we had time to relax and refresh in the Lotus Lounge, which is exclusive to Business Class passengers. In the Lotus Lounge, there are unlimited food and drinks, comfortable seats and most importantly showers with toiletries, so you feel ready for your flight home. It made the time between our flights fly by and we all felt ready to relax back in our Premium Economy Seats.
One of the highlights for me on Vietnam Airlines is the staff, they were outstanding and throughout the flights, they dimmed the cabin lights, so it felt more natural to sleep and get accustomed to the time of day with the 6-hour time difference. My first experience of a long-haul flight was made so much easier with Vietnam Airlines, and even more with the comfort of Premium Economy, or why not treat yourself to a fully flat bed in Business Class with access to the Lotus Lounge?