We're all familiar with the usual Tex-Mex fayre of nachos, burritos and home-made fajita kits, but when in Rome, as the saying goes, you might want to hunt down something a little more authentic. So we're stepping into help you narrow it down; if you're only going to be away for a couple of weeks it might be hard to taste test everything, but there's definitely a few edible treats you shouldn't miss.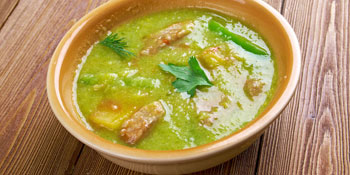 Chileatole
Bear with us on this one as the description is nowhere near as appealing as the taste. Chileatole is usually served up as a street food, often by skilful market vendors, and can vary wildly in appearance (depending on what colour corn is used) and flavour (from hot to blow your head off). But the enticing smell of roasted corn, delicately balanced spices, and aromatic coriander is unmistakable. A slow cooked dish, it's a cross between a thick soup and a thin stew, is often a very appealing shade of green and uses THREE different types of chillies - from the familiar jalapeno to the more obscure poblano and Anaheim.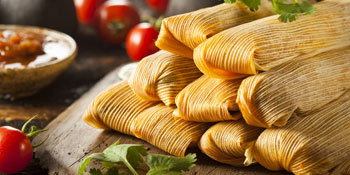 Tamales
These little parcels of deliciousness are made from masa, a speciality dough that uses corn as its base ingredient. Dating back to ancient Mesoamerica, these moreish morsels have been adorning Mexican tables since 8000 BC, and have been traced back to both the Mayans and Aztecs. Filled with everything and anything - meat, cheese and fruit are all popular - they are steamed in banana leaves or corn husks and make a great portable snack, just right to be enjoyed as you sightsee.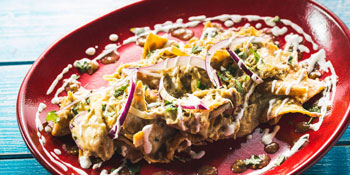 Chilaquiles and as a sneaky extra - mole sauce
Take an ordinary corn tortilla and then cut it into strips, yes into strips! Next deep fry these, then you have the simple base for your very own Chilaquiles. What comes next is the hard part as the tortilla bites are layered together with, deep breath now, (something you won't be able to do after devouring a plate of this) eggs, pulled chicken, sour cream and the very best bit, fresh mole (pronounced molay). Often a term used to describe many different types of sauces in Mexico, it can be green, black, or dark red depending on the ingredients the chef has at their disposal, commonly though it features fruit, chilli and nuts.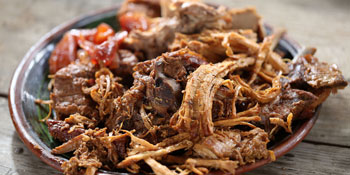 Carnitas
Literally translated as 'little meats', carnitas hail from the Mexican state of Michoacán, and in their most popular incarnation are created with pork. Left to simmer for most of the day, by the time evening rolls around these beauties are mouth-wateringly tender and just ready to be popped inside a soft taco shell along with some chopped coriander, diced onion, guacamole and refried beans. A traditional take on a recognisable favourite.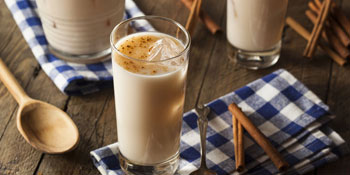 Horchata
Forget tequila, this is the real national drink of Mexico. I cannot begin to describe how scrumptious horchata is and how perfect it is to guzzle on a hot sunny day (though I would happily accept a glass in the midst of a British winter). Brewed like a magic potion, it consists of milk soaked rice, vanilla, sugar, cinnamon and that's it! Sweet and spicy all at once, it's served long over ice and, despite the everyday ingredients, has a totally unique flavour - so get some while you can because this is something I have never seen in the UK.
Whether you visit a high-end restaurant, grab a seat in a traditional cantina or make like a local and eat on the go, Mexican food is packed with bold flavours, passion for a way of life (and a way of cooking) that is incomparable to even the best imitations back home. So make sure to pack your elasticated trousers and be prepared tuck in!