For anyone who has ever had the inclination to 'run away to sea' but didn't relish the hardships of serving before the mast, here's a wonderful opportunity. Sail on the Royal Clipper on our Rome, Sorrento & Sicily and Venice & the Dalmation Coast holidays.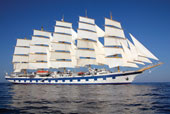 Great Rail Journeys can now offer you a luxury cruise on a ship of entrancing beauty and grace. The Royal Clipper is the largest sailing ship in the world - based on the romantic and speedy tea clippers that sailed to and from the orient - but brought bang up to date with all modern amenities and refinements.
The five-masted ship, carrying 42 sails, offers the chance to experience the wonderful excitement of a true sailing ship without the hazards and uncertainty of the old days of sail. The Royal Clipper is, indeed, a vessel of rare beauty that sets the heart beating the moment you see it, and your anticipation of what is to come is well founded, for the inside is as elegant as the exterior. Fitted out like a magnificent Edwardian country house - even down to the roaring fire and chesterfield sofas in the library - all the suites and cabins, accommodating 227 guests, hark back to an era when travel was both refined and stimulating.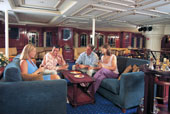 This, however, doesn't mean that modern expectations are not met. There are, for example, three swimming pools on 19,000 square feet of open deck, a three-deck atrium that funnels sunlight into the elegantly appointed, three-level dining room where you enjoy deliciously prepared cuisine and a no-tie dress code, a convenient marina platform that lowers from the stern for watersports, and the ultimate unique Royal Clipper experience, the one-of-a-kind Captain Nemo Lounge - the site of the spa and health club with underwater glass portholes!
This is not a cruise ship in the ordinary sense. On the Royal Clipper you will find that there are no rigid schedules and you are free to do as you wish with your days and evenings, although you can, if you wish, join in events and activities such as knot tying and navigation classes, that have evolved from Star Clippers' sailing heritage.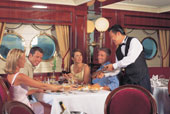 Dining is a wonderful experience. Inspired chefs create the finest culinary presentations, designed to please the eye and the palate and complemented by equally fine wines. You'll find the service is friendly and gracious, befitting a tasteful restaurant. You can decide on your own seating preferences and are free to dine when and with whomever you wish to enjoy an international menu of foods from the far corners of the earth.
Travelling aboard Royal Clipper is an adventure without hazards that, once experienced, is never forgotten. You will find no other ship like this in the world. So make your plans to take to the high seas and enjoy the voyage of a lifetime.