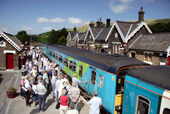 Stewart, from the Great Rail Journeys' Marketing team, recently made the incredible journey through the Yorkshire Dales to Carlisle with one of our groups. This is his experience of the day.
After a summer of excessive rain, today seems to be almost unusually warm and sunny. It's early September and our group of 35, led by Tour Manager Keith Patterson, are setting off from the bustling terminus in Leeds and travelling to the great border city of Carlisle on the famous Settle-Carlisle Line. This route is widely acknowledged as the most scenic rail journey in England; the line through the mountains, and England's answer to the Glacier Express.
It's fair to say that there's quite an atmosphere of excitement hanging in the air. Keith has already travelled along the railway a number of times, and has been more than enthusiastic about what's in store. "It's a fantastic route, it really is. There's always something different to enjoy, especially across the different seasons", he says. This is apparently a sentiment echoed by thousands; we've also been informed that aside from the many tourists, the line is also very popular with rail enthusiasts due to its majestic engineering and historic railway buildings. Michael Portillo, the minister responsible for rejecting British Rail's application to close the route, has named this action his proudest achievement in office.
In addition to all of this, we are even being joined by one of the Friends of the Settle-Carlisle Line (FoSCL), who will give a commentary on the sights and detail some of the history as we pass. I can't think of another trunk route in the UK that has 'friends', let alone friends that would cheerfully point out places of interest.
We arrive at the platform full of enthusiasm and expectation, which dims slightly when our decidedly ordinary sprinter train rolls in. Of course, the train is perfectly comfortable once we're on board, but somehow its 'everyday' image doesn't quite match up to the expectation of grandeur that this famous railway line has commanded in everyone's minds. It's the sort of train that can be seen faithfully serving suburban commuter routes all over the UK.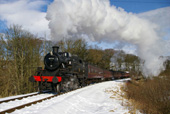 Indeed, the first stage of the journey is a much-used commuter route, passing through the pretty - if not exceptional - Aire Valley. A lot of this stretch remains unspoilt; in fact there are some charming remnants of the Victorian era along the way. Before long we pass the "model Victorian village" of Saltaire, a UNESCO World Heritage site, complete with what was the world's largest mill and neat rows of tidy workers' houses. We then stop at Keighley, where the perennially popular steam engines of the Keighley & Worth Valley Railway can be seen running round their train of preserved carriages.
So far it's all very pleasant, but the view out of the window is nothing of particular note. I do wonder if the scenery has been perhaps exaggerated by over-zealous enthusiasts. But sure enough, as we reach Skipton the landscape becomes greener, the hills become noticeably more dramatic and the classic dry stone walls and cottages associated with the Yorkshire Dales start to appear. With any initial misgivings cast aside, I'm impressed, and I can see the other passengers are too.
At Skipton Junction we begin our first real ascent as we climb into the lower Dales. The ever-shrinking railway lines on the left suggest that we're actually climbing quite steeply but this is not immediately obvious; no one is thrown back into their seats, nor is the train swaying at all. Shortly afterwards we reach Settle station and the official beginning of the beautiful Settle-Carlisle Line which was completed in the 1870s; today the trains begin at Leeds for practical reasons.
This famous stretch of track is now one of the world's best-loved lines, but was ironically not wanted by any railway company when it was first proposed - including the one that eventually built it. The Midland Railway Company submitted their draft of a line to Scotland via Settle in a game of railway politics, when their access to the West Coast Main Line was thwarted by their rivals. Just as an agreement had been reached over access, Parliament approved the Settle-Carlisle Line plans, effectively forcing the Midland Railway to build it. Honourably, they went ahead with the project just as planned, completing the route over adverse and often inhospitable terrain at great expense, creating a main line with the aid of long tunnels and very tall viaducts.
Ultimately the line arrived just a little bit too late to make a major impact in terms of Anglo-Scottish traffic, but its reputation as England's finest scenic rail journey was quickly established - a reputation it retains to this day. Judging by the gasps and smiles from the group as we climb through glorious Ribblesdale with the sun lighting up the ever-more-dramatic panoramas ("It's just perfect, isn't it?" one lady remarks to her companions), I'm not alone in thinking that the claim is still fully justified on today's fantastic journey.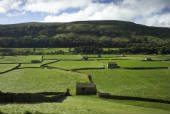 Even amongst this untamed scenery, the railway and its associated structures blend in effortlessly. In the case of the truly monumental Ribblehead Viaduct, it even manages to outshine its wonderful natural counterparts. As we approach, we are overlooked by the lofty summit of Whernside, yet everyone's camera is pointed at the viaduct - which has graced thousands of souvenirs and is an iconic emblem of Victorian enterprise and ambition.
Not that this magnificent structure - or indeed many of the others along the railway - came at no human cost. There were thousands of casualties along the line, as much of it had to be constructed almost entirely by hand. Conditions were understandably tough, and the Ribblehead Viaduct alone sadly claimed 100 victims. The Midland Railway paid for the extension of the churchyard at Chapel-le-Dale to accommodate their graves. It's a sobering thought as our modern train takes less than a minute to cross this fantastic landmark.
Our journey continues across the isolated but attractive Blea Moor before the train dives into the tunnel of the same name. On a journey crammed full with wonderful views, our time in total darkness seems especially long. But that's also because it is; the tunnel is an incredible 1.5 miles in length - and it all had to be blasted with dynamite by hand. However, our stint in the dark is well and truly rewarded as we emerge on a rocky ledge, with an amazing view over the sprawling, tree-lined hills of Dentdale below. This is nothing short of spectacular, and the passengers agree. "Wow. Just wow." one says. Her companion agrees, adding, "You'd never get this perspective from a road."
This is very true - a road would stay far closer to the contours of these steep valleys, thus limiting these fantastic views even as a passenger. But the fact is that there are no comparable roads. So far, all I've seen are glimpses of the odd single-lane farm track or narrow winding lane hugging a valley floor. Naturally, 'by rail' is the only way to travel along here, and unlike most railways running through such undulating terrain, the Settle-Carlisle Line does not require a rack-and-pinion, nor are there severe speed restrictions. No, this was constructed to main line standards, meaning today we can enjoy the magnificent views without being exhausted by the journey. As mad as this arduous route to Scotland must have seemed to those who built it, in truth this line is still the most comfortable, practical and downright enjoyable way through the region.