Rail Tours in Spain
Tour Spain by Train with Great Rail Journeys
There are 12 holidays in this category
Andalucian Parador Experience
From the heart of cultural Andalucía, explore the very best this stunning destination has to offer, including the historic streets of vibrant Seville and the overwhelming beauty of Granada's UNESCO-listed Alhambra. With a fabulous 4-Star hotel in charming Antequera as your base, this Spanish holiday is sure to delight.
Departs from May 2017 to October 2017.
SPECIAL OFFER
View Details
Andalucian Explorer
Showcasing the rich cultural heritage of Andalucía, this tour takes us from Spain's bustling, fashionable capital city, through the iconic Moorish citadel of Granada's Alhambra, to the elegant city of Seville, via the whitewashed passages of Cordoba's Old Town.
Departs from April 2017 to September 2017.
SPECIAL OFFER
View Details
Classic Western Mediterranean Cruise
Step on board the Celebrity Silhouette, for a superb ocean cruise experience through the warm waters of the Western Mediterranean. Boarding at Barcelona, we travel across the sea, stopping at charming ports of call - from Cannes and the Côte d'Azur, to Tuscany and Rome, our tour takes us to the highlights of this beautiful European region.
Departs in September 2017.
Roses, Cadaques & The Catalan Coast
The beautiful, unspoilt town of Roses is our base for nine nights on the rugged Costa Brava. Our relaxed itinerary introduces the cultural highlights of the region, including the incredible Cap de Creus National Park, the picturesque fishing village of Cadaqués, Barcelona, Figueres and the Dalí Foundation.
Departs from April 2017 to September 2017.
SPECIAL OFFER
View Details
Imperial Cities Of Morocco
This remarkable rail odyssey takes us through North Africa's most beguiling cultural destination, Morocco. During this exciting rail adventure we encounter royal palaces, ancient mosques and minarets, while immersing ourselves in the true flavours of Moroccan life.
Departs from March 2017 to September 2017.
SPECIAL OFFER
View Details
Madrid, Santiago & the way of St James
Walk in the footsteps of thousands of pilgrims before you as you follow the legendary Way of St James, from southern France and across northern Spain to the mighty cathedral in Santiago de Compostela, then continue on to discover the wonders of the beautiful Spanish capital of Madrid.
Departs from May 2017 to October 2017.
SPECIAL OFFER
View Details
Majorca & The 'Tren de Sóller'
See another side of Majorca on a tour that takes in hidden gems as much as the splendour of the Majorcan coastline. Trips to Palma and Valldemossa complement a fantastic ride on the Tren de Sóller or 'Orange Express'.
Departs from April 2017 to October 2017.
SPECIAL OFFER
View Details
Medieval Cities Of Spain
From the winding cobbled streets of Toledo to the imposing grandeur of the Alcazar of Segovia, travel back in time to discover the medieval splendour of Spain's illustrious history.
Departs from June 2017 to September 2017.
SPECIAL OFFER
View Details
Spain's Iconic El Transcantabrico
Experience the elegance and style of Spain's oldest tourist train, El Transcantábrico, on its journey from León to Santiago de Compostela. Explore the glorious coastline and discover the culture and food of northern Spain.
Departs in September 2017.
SPECIAL OFFER
View Details
The Beauty of Andalucia
Spectacular Moorish palaces and pretty white-washed streets are nestled amongst a rugged landscape of deep gorges and the dramatic Sierra Nevada mountains - the beauty of Andalucía is waiting to be explored.
Departs from April 2017 to September 2017.
SPECIAL OFFER
View Details
Get in touch with one of our Spain Specialists
Helping you plan your holiday to Spain...

Phil

Lori
Lynne

James
There is another Spain, beyond the endless miles of golden beaches and resorts that have attracted holidaymakers for decades. Let Great Rail Journeys introduce you to a sun-kissed land that is bursting with passion, culture, history and natural beauty on a fabulous escorted rail tour of Spain.
Sit back and enjoy the view as we journey by train to the vineyards and villages of rural Spain. Admire the beauty of the Rioja region before sampling a glass of its famous produce in a rustic wine tavern. If the lure of the coast proves irresistible, join us on an excursion to the fishing village of Cadaques was a favourite retreat of Salvador Dali.
If your preference is for the buzz and excitement of the city you'll be thrilled by our journeys by train in Spain as you'll visit the architecturally-stunning Valencia with its mix of Gothic, Renaissance and Baroque buildings, the historic and picture-postcard perfect Barcelona and vibrant Madrid, Spain's compelling and cosmopolitan capital which is steeped in art, culture and attractions both ancient and modern.
Spain is a destination that can truthfully claim to deliver all things to all people, and when you join Great Rail Journeys for a holiday in Spain by train we'll show you the very best of this beautiful country.
Experiencing Spain with Great Rail Journeys
Whether you're sampling tapas in Seville, marvelling at the exquisite Alhambra Palace in Granada or browning on the beach at Benicarlo it's because Great Rail Journeys seeks out a selection of the best destinations and excursions for its Spanish rail tour itineraries.
Everything that appears on your varied and exciting itinerary is included in the cost of your train holiday in Spain, as are all the travel arrangements, quality accommodation and a selection of meals. Add in the services of our professional and helpful Tour Manager who is on hand to assist and advise guests whenever needed, and you'll agree that our escorted rail tours of Spain provide excellent value for money.
Good accommodation is essential to the enjoyment of your holiday and we ensure that every hotel we use is the best available in terms of value, location, guest facilities and comfort. We like to choose family-run hotels where possible which typically provide a more personal service and an informal environment in which guests can fully relax.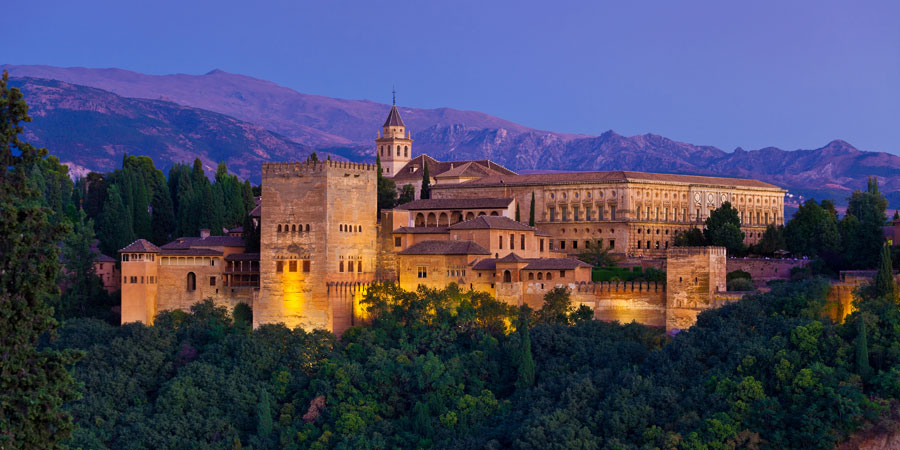 Spain Traveller's Guide
Spain, Europe's fifth-largest country, is situated on the Iberian Peninsula in south-western Europe and bordered by Portugal to the west and France and Andorra to the north-east. Spain's northern coast faces the Atlantic Ocean, its east coast the Mediterranean Sea.
For the last 35,000 years Spain has been settled, invaded and controlled by various races from the Ancient Greeks and Romans to the Germanic Visigoths and the Moors of northern Africa. Following the reclamation of Spain from the Moors at the end of the fifteenth century, rule of the country alternated between Spain and France for the next three centuries until simmering animosity between Spanish Monarchists and Nationalists eventually resulted in the Spanish Civil War between 1936 and 1939. The Nationalists won and Spain effectively became a military dictatorship under General Francisco Franco until his death in 1975, when the current monarchy - and democracy - was restored.
The eastern side of Spain benefits from a Mediterranean climate which provides hot, dry sunny summers and mild wet winters. Winter temperatures grow colder towards Spain's central plateau. On the Atlantic coast summers are slightly cooler and heavier rainfall is experienced in winter.
Spain's cuisine is relatively simple and is based on the easy availability of fresh fruits, vegetables, meat and particularly seafood. The settlement of different races throughout Spain's history has also influenced its gastronomy, such as the widespread use of olive oil; an ingredient associated with Greek and Roman culture. There are many delicious Spanish specialities to try but among those most commonly available are paella - a stew of shellfish, chorizo sausage and rice, the hearty Tortilla Española (Spanish omelette), Gazpacho, soup of fresh tomatoes and herbs served cold, and Jamón serrano; ham that has been cured and aged. Churros, deep-fried doughnuts, piped in a straight line rather than a circle, are a popular dessert and snack. Spain is famous for its red wines such as Rioja, and the fortified sherry, whilst sangria, a red wine punch with fresh fruit, brandy and sugar is popular, refreshing and available everywhere.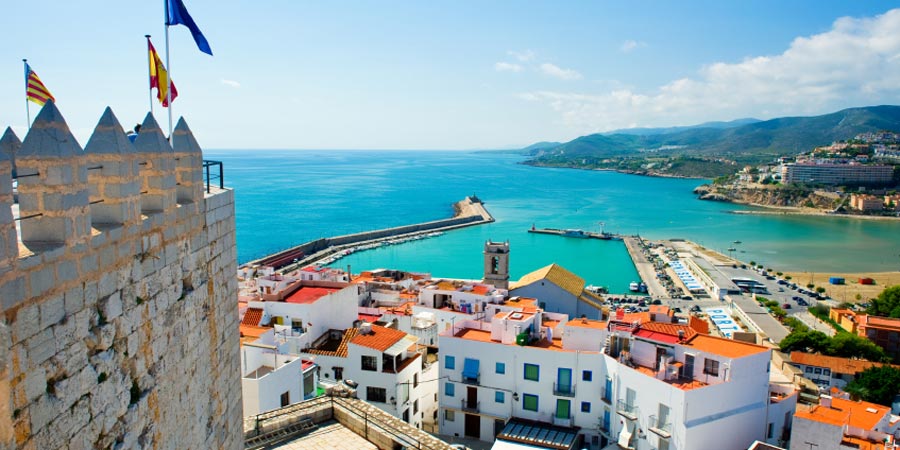 Touring Spain by train it is almost impossible not to be introduced to someone's children and it is here that many visitors show a misunderstanding of Spanish culture. In Spain it is polite to shake everyone's hand starting with the oldest and working down to young children.
Guests on our tours of Spain by train are accompanied by a Tour Manager who arranges for local services including many meals. Should you choose to dine separately at a restaurant of your own choice, it is customary in Spain to tip between 5% and 10% of the value of the meal.