Rail Tours in Portugal
Train Travel in Portugal and the Douro Valley
As guests on an escorted rail tour of Portugal will find, there is so much more to enjoy than the Algarve's golden beaches. The Portuguese people are cheerful and friendly, and this is no surprise when Portugal's scenery, climate, and an abundance of beautiful and historic cities and towns are taken into consideration. Exploring Portugal by train with Great Rail Journeys offers the chance to relax and discover the wonderful landscapes along the Douro River as well as visiting the cities of Porto and Lisbon.
Along the way you might uncover the story of Portugal's famous fortified wine, take a pleasureable stroll through villages steeped in tradition, admire a range of magnificent historic architecture and sample some of the fresh and mouth-watering seafood for which Portugal is justly renowned.
There are 5 holidays in this category
Premium Douro Cruise
Take in the undulating idylls and verdant vistas of the Douro River region on this marvellous cruise. Delve into the popular wine culture of Portugal on a tour that mixes beautiful scenery with outstanding cities.
Departs from May 2017 to September 2017.
SPECIAL OFFER
View Details
Portugal & the Douro
Flowing from northern Spain to the ocean in Porto, the Douro River carves our route through a rolling landscape of vineyards towards historic Porto. Exploring not only the ever-changing scenery, but also the gastronomic delights along the way, we continue to vibrant Lisbon, with its Moorish influences and charming streets.
Departs from May 2017 to October 2017.
SPECIAL OFFER
View Details
Portugal and Madeira
Discover the beauty of Portugal and the island of Madeira on this breathtaking holiday. Explore charming Porto and the Douro Valley, ride the iconic yellow tram through vibrant Lisbon, sip Madeira wine and stroll through the stunning gardens of Quinta do Palheiro on a delightful Fly:Rail tour.
Departs from April 2017 to September 2017.
SPECIAL OFFER
View Details
Pousadas of Portugal
Experience the delights of the worldrenowned Pousadas of Portugal hotels on this fascinating tour. Discover Portugal's rich port history and trace the route of the Douro River, exploring some of the nation's most impressive cities en route. All from the comfort of two of the hotel brand's finest establishments.
Departs from June 2017 to October 2017.
SPECIAL OFFER
View Details
Luxury Douro Cruise
Flowing from northern Spain to the ocean in Porto, the Douro River carves our route through a rolling landscape of vineyards, gorges and villages. From vibrant Lisbon, we head up the coast to Porto where we board our five-star floating hotel for a spectacular cruise through the Douro Valley's incredible scenery and fascinating communities.
Get in touch with one of our Portugal Specialists
Helping you plan your holiday to Portugal...

James
Lynne

Kathryn

Julie
Discovering Portugal and the Douro Valley with Great Rail Journeys
Although relatively small in area, Portugal has a huge amount to offer visitors and lends itself perfectly to exploration by rail. Great Rail Journeys has taken great care to put together escorted rail tours of Portugal that are excellent value for money yet offer a full itinerary of excursions and activities that showcase the best of Portugal's attractions.
Everything is covered by the price of your Portugal train holiday including each-way rail travel by Eurostar (or, optionally a return flight from Lisbon to London), all travel during the tour, a varied programme of exciting and enjoyable excursions, all overnight accommodation and a selection of meals.
You'll also have the services of an experienced and friendly Tour Manager at your disposal. The Tour Manager's role is to provide help and assistance whenever needed, and to ensure that you have the most relaxing, rewarding and memorable rail tour of Portugal possible.
Hand-picked by us for its quality, value, location and guest facilities your accommodation will be of a high standard. We like to choose locally-owned and run hotels for the more personal service and relaxed atmosphere they provide.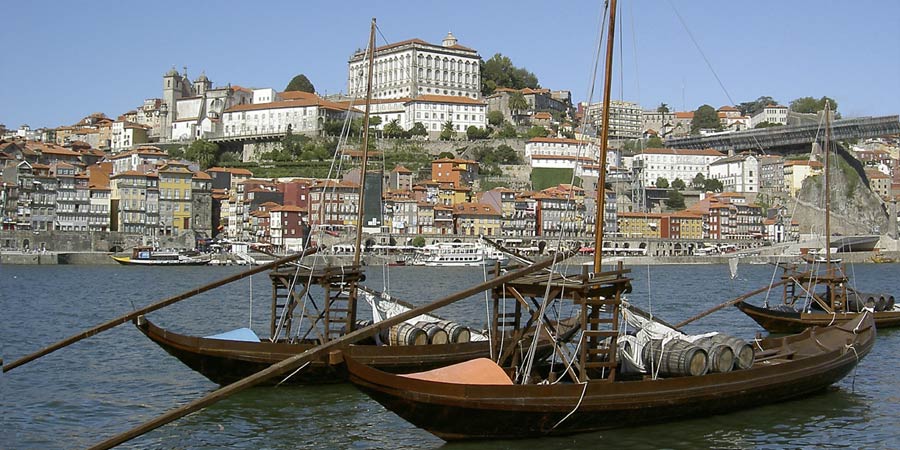 Portugal traveller's guide
Europe's westernmost country, Portugal is located on the Iberian Peninsula and is bordered by Spain to the north and east and the Atlantic Ocean to the south and west. One of Europe's longest-established nations, Portugal's early history was marked by invasions, conquests and settlements by the Celts, Romans, Visigoths and the Moors. Each of these races shaped the country in some respect: the name Portugal itself, for example, is believed to combine the Latin word portus ('port' or 'harbour') with the Celtic word cale ('tranquil' or 'warm').
Northern Portugal is mountainous and receives more rainfall than other regions. As such it is characterised by dense forests and lush mountain valleys which are ideal for supporting vineyards. In central Portugal, the Atlantic coast is defined by its traditional fishing villages, whilst further inland agricultural land dominates. Southern Portugal is hilly, but inland this region sees the least rainfall making it suitable for livestock grazing but not large scale farming. The Algarve, at Portugal's foot, is renowned for its unspoilt beaches backed by sandstone cliffs and is a key destination for holidaymakers.
Portugal's temperate maritime climate differs depending upon altitude and location. Winters are mild, but the north of the country experiences the coolest temperatures and most rainfall. In summer Portugal is largely warm and sunny throughout although inland temperatures can reach 40°C (104°F), whilst the Atlantic and Mediterranean coasts remain cooler.
Gastronomes will find much to enjoy in Portuguese cuisine. Grilled Piri-piri chicken with its distinctive chilli and garlic flavour is found everywhere but other specialities include salted cod - bacalhau - which forms the basis of many traditional dishes, the pork of the naturally-reared Black Iberian pig, and freshly-caught sardines which, when barbecued, are incomparably delicious. The traditional Portuguese custard tart, Pastel de Nata, is equally not to be missed.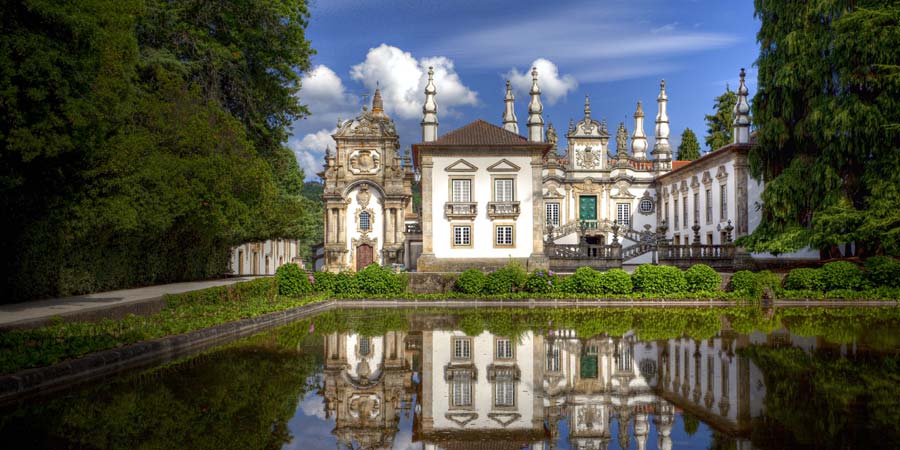 Portuguese greetings are often formal and include a handshake. Most Portuguese people forgive errors in etiquette so long as you make an effort to be respectful. Please and thank you are por favor and obrigado respectively.
Tipping is customary in Portugal but only when the service warrants it. Five to ten percent is sufficient for taxi drivers and waiters. As much of your train travel through Portugal is done as a group, your Tour Manager will provide the gratuity for group meals, tour guides and hospitality staff.