Rail Tours in Israel
Experience this spiritual and inspiring land by rail
Although revered for its association with world religion, Israel has long attracted visitors keen to explore not only the country's wealth of impressive biblical locations but also its countless historic artefacts and attractions and remarkable natural beauty.
At every turn this holy land is blessed with ancient and fascinating religious sites, and customers who embark with Great Rail Journeys upon an escorted rail tour of Israel can expect to be both awe-struck and inspired by destinations including the Sea of Galilee, upon which Jesus is said to have performed the miracle of walking on water, Acre, a former stronghold of the Knights Templar and one of the oldest continuously-inhabited locations on earth and Masada; the mountain-top site of King Herod's fortress and refuge.
In towns and cities such as Tel Aviv, Bethlehem, Nazareth, Haifa and Jerusalem, exploration is its own reward. Each has its own unique character and history and each is steeped in stunning architecture and a diversity of unmissable sights and attractions both historical and modern.
Travelling in comfort between each of these compelling destinations there is ample time to soak up Israel's magnificent and varied landscapes. From multi-coloured rock formations in arid desert scrublands to the lush oasis-like surroundings of the Dead Sea or the panoramic views of offered at the summit of Mount Beatitudes, Israel's ever-changing scenery is as unforgettable as its many other wondrous attractions.
There is 1 holiday in this category
Israel & the Holy Land
The 'Promised Land' of Israel has strong connections to many different religions, especially Judaism, Christianity and Islam. Discover an exciting and enlightening journey to the major cities of Tel Aviv and Jerusalem, the iconic towns of Nazareth and Bethlehem, as well as the enchanting Sea of Galilee and the infamous Dead Sea.
Get in touch with one of our Israel Specialists
Helping you plan your holiday to Israel...

James

Lori

Phil
Lynne
Discovering Israel with Great Rail Journeys
Compact in area, Israel nevertheless packs in a tremendous selection of unforgettable experiences for visitors to enjoy and at Great Rail Journeys we make it our goal to showcase the very best of this spectacular country to our customers whilst also ensuring they obtain unparalleled value for money.
The price of an escorted rail tour of Israel covers all flights and stated travel fares for the duration of the trip, a high standard of overnight accommodation, an itinerary that combines the best of Israel's natural, cultural and historical highlights and a generous selection of meals. During the trip our customers can avail themselves of our professional Tour Manager who is on hand to provide assistance, advice and information at all times. Accompanying each excursion and activity, the Tour Manager is there to ensure that our customers enjoy a safe, pleasurable and unforgettable experience with us.
The hotel accommodation we provide in Israel has been carefully selected by us for its convenience of location, value and high standards of guest service and amenities to guarantee comfort and relaxation at the end of a day's exploration.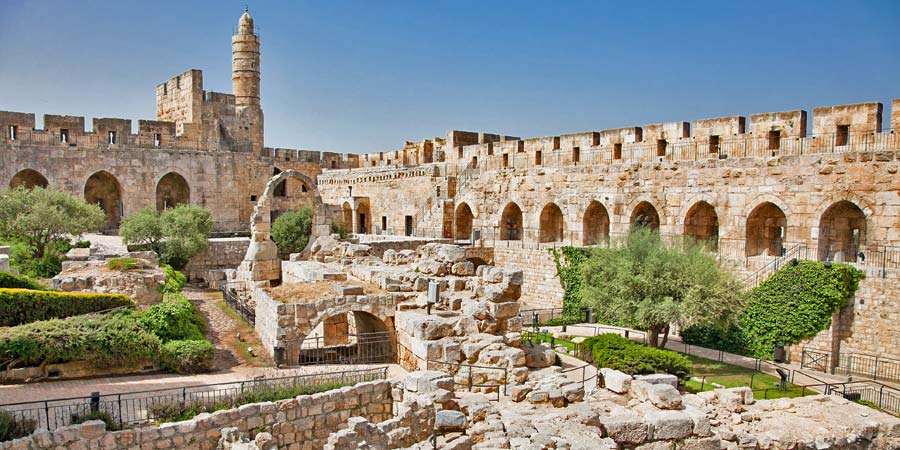 An introduction to Israel
The first recorded use of the name Israel dates to the time of the Egyptian Pharaoh Merneptah, around 1209 BC. A kingdom by around 1000 BC, Israel was ruled by King David and then King Solomon until the latter's death when Israel was divided and ruled by different powers including Egypt, Babylon and Assyria.
The Babylonian King Nebuchadnezzar exiled Israelites in 587 BC and it was only under the rule of the Persian King Cyrus the Great that they were allowed to return to their homeland in 539 BC. Soon after, Israel became a conquest of the Greeks and subsequently, in 63BC, of the Roman Empire during whose occupation Christianity emerged as a religion in opposition to the Romans' Pagan faiths.
A further conquest by the Arabic Rashidun Caliphate in 638 AD resulted in conflict between Arabs and Christians that would culminate in the holy crusades in which the two Empires fought for control of the land. In the thirteenth century Israel fell once again under Egyptian control until the conquering Turks claimed it, in 1517, as part of the Ottoman Empire under whose rule it remained until 1917. Whilst sporadic political turbulence has remained a feature of Israel's history in the decades since the Second World War, in the modern day this tiny and hospitable country has become increasingly popular with global visitors thanks to its many religious, cultural, historic and natural highlights.
Situated in Western Asia on the south-eastern shore of the Mediterranean Sea, Israel is bordered by Lebanon and Syria to the north, Jordan to the east and Egypt to the south-west. The country enjoys a Mediterranean climate with long, hot and dry summers (from April to October) and short, cool, rainy winters (November to March).
Food is at the heart of Israeli culture and the country's cuisine has been influenced over time by a wide diversity of immigrant nationalities. Dishes are typically simple yet delicious and some of the delicacies which can be enjoyed on a rail tour of Israel include: shakshuka, a breakfast dish of poached eggs in a rich tomato, onion and pepper sauce garnished with parsley; falafel, deep-fried balls of mashed chickpeas and herbs served in pitta bread; cholent, a hearty slow-cooked stew of beef, potatoes, beans and barley, and shishlik, a skewer of cubed meat - typically beef, lamb or chicken - which is flame grilled and served in pitta bread. Coffee is the Israeli beverage of choice although mint tea and mint lemonade are also popular drinks.
Should you choose to dine independently of the tour group in Israel, it is worth noting that Israelis tip 15% in restaurants and cafes. Often this is added to the bill, but if you feel that the service did not warrant this level of gratuity it can be reduced or removed on request.
The working week in Israel begins on Sunday and ends on Friday, when businesses may close early in preparation for Saturday; the Jewish Sabbath.