The stylish and beautiful port city of Helsinki is the world's second most northerly capital city (after Reykjavik in Iceland). It regards itself as a city where East meets West, having been heavily influenced by Eastern and Western culture. Helsinki is surrounded by a beautiful archipelago of hundreds of tiny islands - a beautiful region which can be explored on a scenic boat cruise (there are many available to choose from). The city is also filled with nature in its many public parks and open spaces. Within Helsinki you can see evidence of 450 years of the city's history in the architecture of its buildings. Finland is famous for its design styles, all of which can be seen in the country's capital.
One of the best features of Helsinki is how close together most of its main attractions are - it was once an extremely compact city. However, one of the city's most popular attractions lies just off shore. The Suomenlinna Maritime Fortress, which has UNESCO World Heritage status, is built on an island and has bastion walls, tunnels, cannons and an abundance of other related exhibits.
Find out more with a free brochure and enjoy weekly travel inspiration and offers in our e-newsletter.
Holiday ideas for Helsinki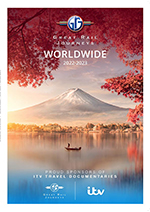 Prefer to browse our brochures!
Sign up to receive one of our Free holiday brochures and our email list to discover more about our fantastic holidays.