Rail Tours in New Zealand
Two islands, one unforgettable rail holiday
If the North and South Islands that comprise New Zealand were any more beautiful it would be necessary to invent new superlatives to describe them. Yet guests who join Great Rail Journeys in order to explore 'God's own country' on an escorted rail tour will soon realise improving upon New Zealand's film-star looks is an impossibility.
Dense rainforests, cascading waterfalls, mirror-like lakes, breathtaking mountains and paradisiacal beaches are merely the appetisers for the wonders that New Zealand offers. These and a wealth of fascinating towns and cities, the indigenous Maori culture, exotic wildlife and the country's cuisine add up to an unforgettable rail holiday.
There are 2 holidays in this category
Grand Tour of New Zealand
Enthralling scenery and breathtaking views are found at every turn in the 'Youngest Country on Earth'. Discover steaming geysers, picturesque mountains, bottomless fjords and lush forests on this tour showcasing the beauty of New Zealand's North and South Islands.
Departs in November 2016 and from February 2017 to November 2017.
Grand Tour of Australia & New Zealand
Take an adventure through Australia and New Zealand on this spectacular tour. From the vibrant colours of the Great Barrier Reef, to the ancient culture of the Maori, this incredible tour captures the true spirit of these intriguing countries on a captivating 26-day holiday
Departs from February 2017 to November 2017.
Get in touch with one of our New Zealand Specialists
Helping you plan your holiday to New Zealand...

Julie

Kathryn

Lori
Lynne
Visiting New Zealand with Great rail Journeys
When you join Great Rail Journeys for an escorted rail tour of New Zealand you can be sure of two things: firstly that you are in for an exciting and pleasureable adventure of a lifetime and, secondly, that you're obtaining exceptional value for money.
Since all flights, rail, coach and ferry travel, hotel accommodation, an itinerary filled with wonderful guided tours and sightseeing visits and a selection of meals are already included in the cost of your New Zealand train holiday, all you'll need is your spending money.
You'll also benefit from the services of a friendly, experienced and helpful Tour Manager who will be on hand throughout your trip to assist with any requests, answer questions and dispense information, advice and recommendations relating to the places you'll visit.
You'll stay in hotels that have been specially selected by us on the basis of their location and value, and which offer the highest standards of comfort, service and guest facilities. Where possible we prefer to use local, family-owned hotels for their preferential service and relaxed environment. In fact, with all of the arrangements taken care of on your behalf, you're entirely free to sit back, relax and enjoy the very best of New Zealand by train.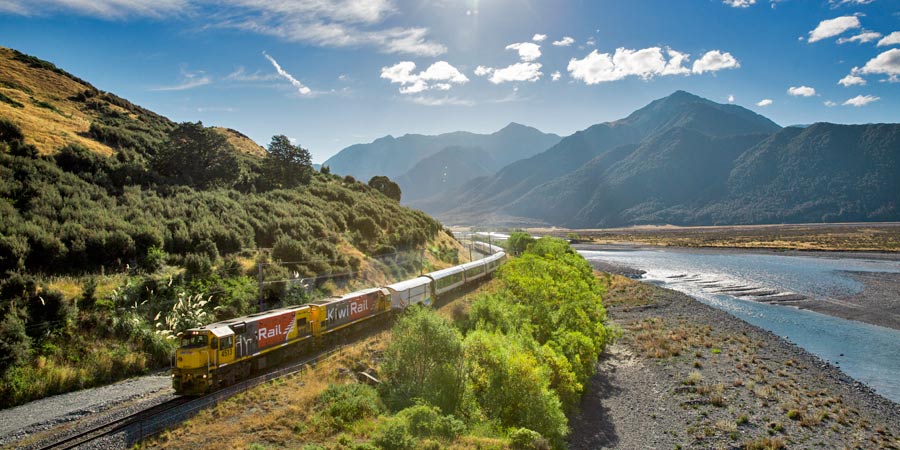 New Zealand traveller's guide
Located approximately 1,500 kilometres east of Australia in the South Pacific Ocean, New Zealand is roughly equivalent in size to Great Britain yet has only around four million inhabitants. The Māori people were first to inhabit the islands, around a thousand years ago. The seventeenth-century Dutch explorer Abel Tasman, after whom Tasmania is named, was the first European to sight New Zealand, but the British were the first to colonise the islands after they were mapped by Captain James Cook in 1769. The legacy of these European visitors remains in some of New Zealand's place names and a wealth of colonial architecture.
The islands lie on shifting tectonic plates, and as these sections of the earth's crust rub together geothermal activity results. Nowhere is this more evident than in North Island's 'sulphur' city Rotorua which is famed for its hot springs, geysers and bubbling mud pools.
New Zealand has a temperate maritime climate which brings plenty of summer warmth and sunshine. Temperatures lower as you head south. Winter (June to August) is cold and brings snow to mountainous areas but is generally dry. Temperatures are variable in spring (September-November) but this is a beautiful time to visit. Summer (December-February) brings long, hot and sunny days, which become cooler again as autumn (March-May) arrives.
New Zealand's Pacific Rim cuisine is world-renowned and involves the use of the island's freshest ingredients and particularly seafood such as crayfish, oysters, mussels and lobster. Lamb is an essential staple of New Zealand's cuisine, whilst fish and chips (usually snapper, terakihi or hoki fish) are a national favourite. Hangi, a traditional Maori cooking method in which ingredients are slowly cooked in an earth pit, produces some of New Zealand's most exquisite food. Naturally, any meal can be accompanied by a glass of outstanding New Zealand wine.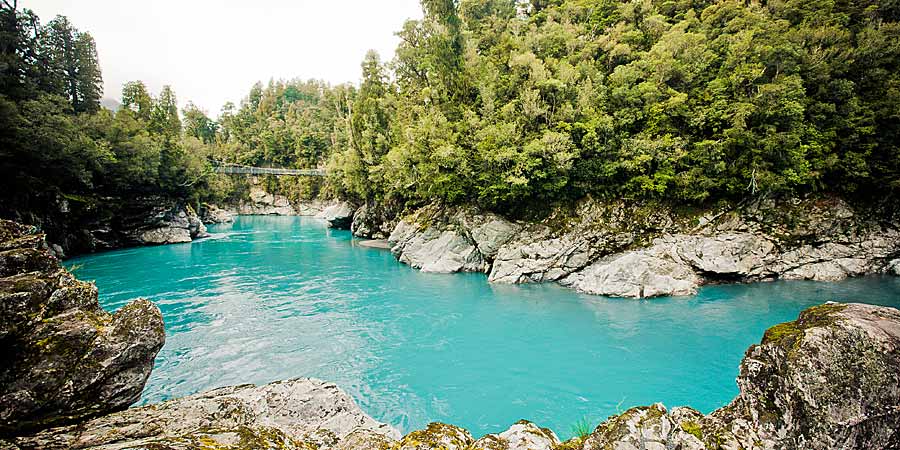 Due to its location in the Pacific Ocean New Zealand's indigenous wildlife has historically been composed almost entirely of birds. As you tour New Zealand by rail it is all too easy to see why the yellow eyed penguin, takahe (once believed extinct), kakapo, black swan and kiwi call the island home.
The tipping culture in New Zealand is very similar to that in Australia; exceptional service is often rewarded but otherwise tipping is not widespread.