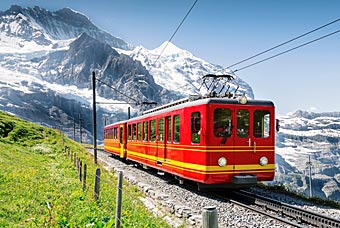 We have an unrivalled knowledge and understanding of escorted tours by rail, as we have more than 45 years of experience in organising them - yet we appreciate that many of our customers have never been on an escorted tour before, nor have they ever travelled as part of a group. In this section of the website we aim to address many of the questions you may have about Great Rail Journeys and our tours - and why you should travel with us.
The joy of rail travel
We believe that the journey really is just the start of the adventure. This is why we travel primarily by rail; after all, trains are the most spacious and comfortable mode of long-haul transport, as well as one of the greenest and most sociable. On a train, you can simply sit and relax, watching the ever-changing scenery from the large windows. Otherwise, you can get up and walk about, perhaps enjoying a conversation with your new travelling companions.
Stress-free travel

Another of our beliefs is that tours should be a completely stress-free experience for the traveller - and this is why all of our tours are escorted by a professional Tour Manager, who oversees the smooth running of all the arrangements, ensuring you can simply relax.
We also feel that travel is more than the seeing of sights. As travel is more than the seeing of sights, we include a true balance of excursions and free time to allow you to gain a true insight into the region visited - often by using the local transport network.
Having outlined some of our core values, in this section we explain more about how they work, the role of the Tour Manager, and what you can expect whilst you are out on tour. We hope that you will find this detailed section of our website helpful, and that it answers your queries. However, we realise that you may have a question that can only be really answered by a person. This is why our friendly team are ready to answer your call - to deal effectively with any queries you may have, or to find the best person for you to talk to.