Operated by the private, family-run Rovos Rail, the elegant Pride of Africa lives up to its name and is described by its operator as "the world's most luxurious train". Guests travelling with us on an escorted rail tour of Africa will be apt to agree. Each of the Pride of Africa's lovingly-restored Pullman-style carriages is finished in polished teak, and decorated and furnished in the opulent and decadently comfortable style of the 1920s, recalling the halcyon days of luxury rail travel at its most romantic.
Despite the authentically-detailed beauty of these heritage carriages, our guests benefit from every modern amenity and the highest standards of on-board service. Wherever our guests join and depart the Pride of Africa they will enjoy the nearest equivalent to a luxury five-star hotel that runs on railway lines and will be transported through some of South Africa's most compelling and spectacular landscapes.
Rovos Rail is a private railway company founded in 1989, it is family owned and trades out of Capital Park Station in South Africa's city of Pretoria. Rovos runs trains on various routes throughout South Africa and externally to Tanzania, Namibia, Zambia and Botswana.
Capital Park Station itself is a wonder to behold. Once a busy hub of steam trains this old colonial-style station serves as the base of operations and the starting point for many guests who travel with Rovos. On-site here is a small railway museum that anyone can visit, because of the historic nature of the station itself it essentially works as a living museum. Guests can expect the excellent service and attention to detail one would enjoy at a Five-Star family run hotel on board, with all needs catered to in a simply sumptuous setting. The restored Pullman carriages will transport you back to the golden age of rail travel.
The Observation Car
The train's marvellous observation car is a dedicated space in which guests can revel in the delight of watching Africa's passing scenery. The observation carriages were originally dining cars, permission was given to Rovos Rail to repurpose the cars with extended windows and the addition of unique open-air balconies. As these cars are located at the rear of the train it gives guests a unique viewpoint from which to view any wildlife or other areas of interest during the journey.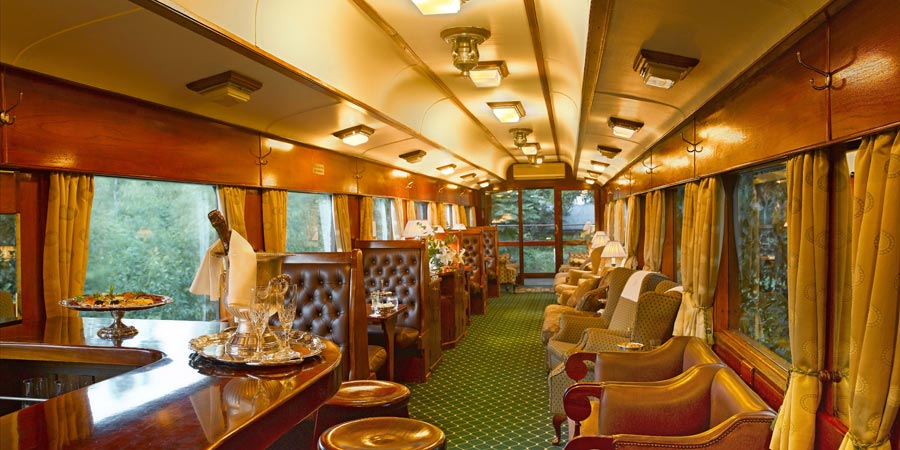 The Dining Car
For many the highlight of a Five-Star train journey is the dining experience, and without question, Rovos provide excellence on every front of their culinary experience. This is achieved through attentive service, mouth-watering cuisine and importantly the setting. Guests will indulge within the train's elegant pre- 1940 dining cars. These carriages are characterised by their carved roofs, supporting pillars and arches, all finished in polished wood. During your time in the dining cars you will notice a distinctly Victorian atmosphere.
The Lounge Car
Located in the middle of the train usually close to the dining cars the specially made Lounge Cars are ideal for a break away from adventuring. Geared for relaxation and nothing else, guests can enjoy the comforts of deep sofas and wingback chairs not unsuitable for a midday nap. On selected tours the lounge cars are used as lecture rooms and are also home to the train's small gift shop. The windows can be opened despite being an air conditioned carriage, perfect for letting the intoxicating sights and sounds of Africa into the train.
The Pullman Suites
Guests who travel with us on the Pride of Africa are accommodated in the train's newest Pullman Suites. The epitome of luxury, these spacious wood-panelled suites are air-conditioned and finished with Edwardian fixtures and fittings. The suite's comfortable sofa-style seat is converted at night into double or twin beds. Each Pullman Suite has its own en-suite WC and shower room equipped with an electric shaving point and a hair dryer. Guests also enjoy a writing desk, a personal safe and 24-hour room service.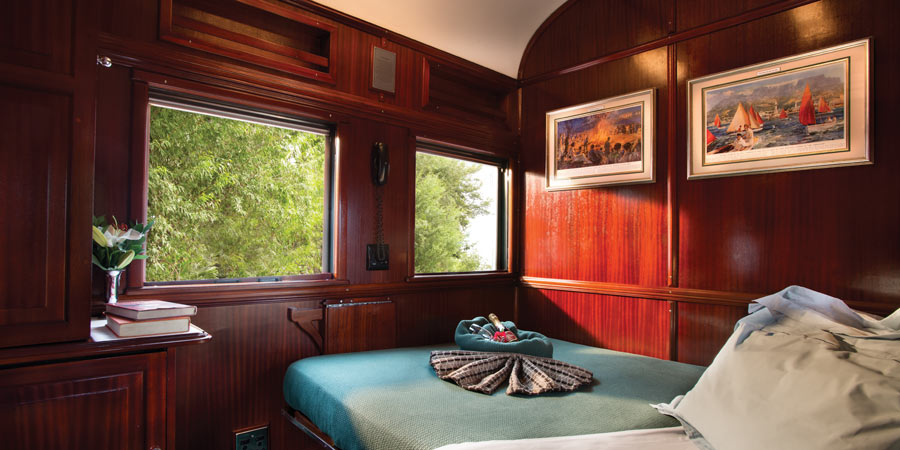 The Deluxe Suites
With either twin or double beds and rooms spread out over a generous 10 square metres the Deluxe Suites come complete with a lounge area and en-suite bathroom.
The Royal Suites
The fantastically elegant Royal Suites span half a carriage. With space in abundance set over 16 square metres and adorned with attractive wood panelling and a full-size bathroom, luxury is never far away.