Visiting Us In York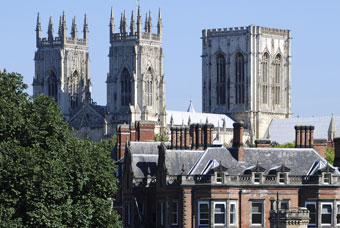 Though we hope our website provides you with a wide range of information on each of our tours, we do appreciate that you have some questions that can only be answered by talking to someone. Our friendly, welcoming team is waiting to take your call or, if you prefer to discuss your holiday ideas face to face, why not come and visit us?
If you are planning a visit to York, then we would love to meet you in person - our office can be found just a stones throw away from the train station. Please call us first to make an appointment on 01904 521 936, and we will arrange a time to welcome you to our office.

We offer appointments Monday to Friday from 9.00am to 4.00pm
As well as a truly personal experience, coming to visit us in our York office also gives you the perfect excuse to visit the many attractions of the famous city itself.

In addition to the charming flag-stoned Shambles and the narrow tangle of medieval streets that spread out around it, York also boasts its 13th century city walls and of course, the awe-inspiring Gothic Minster. Consecrated in 1472, the imposing cathedral is one of Europe's foremost religious structures. York is also the home of the ever-popular National Railway Museum. Set in two main halls, the museum is home to an impressive collection of locomotives and rolling stock, including an array of Royal carriages - and admission is free! With so many wonderful highlights in the city, we're sure you'll be truly inspired to come and visit us, to see your ideas shaped into a holiday that's perfect for you.
View directions to Great Rail Journeys